If I have to recommend one piece of gym equipment, everyone should include it in their home gym or just start with. Then, an adjustable dumbbell set would be my top recommendation.
Why it so? Because dumbbells are easy, simple to use, and truly Multipurpose.
Just carry it, juggle it for your bench press, bicep curls, or shoulder press, in multiple variations and angles and nobody is going to stop you.
It's best for cruising your set from the pebble to the heights of the mountain. Plus, it makes you stronger, helps burn calories, build muscle, and on and on- A staple for all bodybuilding gyms.
That's why you have seen 10s of dumbbells displayed to use on your gym rack starting from 2.5 kgs to all the way 50kgs or more but fewer of weight machines.
However, when you are at the gym you have an option to choose from a different dumbbell set, but what about when you can't match the gym timings?
Home gym machines are great, but the best adjustable dumbbell set India is even better and compact.
Depending on your budget & preference, you can either buy cheap Kore PVC adjustable dumbbells or one with the slightly expensive dial or selector pin dumbbells. (Not Bowflex)
For Indians, Make in India products are not much behind. But the only problem with doing something seemingly simple as buying a dumbbell can be a lot more complicated.
There is a lot to consider from choosing between style, material, and weight. Confused.
We have done the research for you. After finding 10s of companies and more than 200 products listed on Amazon, we have narrowed down our list to 5 Best Adjustable dumbbell set India for Sep, 2021, companies that are reputable and make great dumbbells.
Image
Product
Price

IRIS Fitness 25 lbs Dumbbell with Fast Adjustable Weight Plates for Home GymTop Pick

Each dumbbell can be adjusted from 5 to 25 lbs.
Compact, convenient, and easy to use and store.
Appropriate home fitness training and endurance aerobics.
Diversified exercise options in one.

Check Price

Durafit – Adjustable Dumbbell Set (25lbs)Best pin design Pick

Ideal for toning and build up bicep muscles.
Do a variety of arm exercises with single adjustable dumbbell.
Suitable for do effective workout by home itself.
Weight: 25 Pounds is a weight of one dumbbell

Check Price

Dolphy 20kg Chrome Iron Adjustable Dumbbell Set for Home GymBudget Pick

Constructed of high-quality, textured chrome handle for secure, firm, and non-slip grip.
Threaded ends with spin-lock collars provide a safe, secure workout & easy weight plate changes
Total weight is 20 kg. (includes handle, spin lock, weight plate and plastic box)

Check Price

BullrocK T-Rex Adjustable Dumbbells Set Kit of 2.5KG to 50KG Weight IronPersonal Best Pick

No plastic parts, not even cast iron is used, which makes it literally indestructible.
Cost & Space-Efficient compared to some fixed dumbbell sets.
Plates come with 7 tank Resin textured powder coat that provides a better grip & reduces the chance of falling the plate.

Check Price

PowerMax Fitness PDS-50KG Adjustable Dumbbell Set with caseBest for old school gym

Adjustable weight plates is available for multiple workout options
The bars are also durable and solid, able to bear weight plates without any problem
Includes 1.25kg x 4pcs, 2.5kg x 6pcs, 5kg x 4pcs durable Plates with baked paint Hammer-tone Finish for rust and maintenance free

Check Price
Best Adjustable Dumbbell Set India September, 2021
Top Pick
#1 IRIS Fitness 25 lbs Dumbbell with Fast Adjustable Weight Plates
Traditionally known for their gym equipment, IRIS Fitness India doesn't disappoint its customers with this adjustable dumbbell set either. This dumbbell is on the lighter side and can be adjusted from 5 lbs to 25 lbs, thanks to the simplistic push-pull design. It's the best we have ever seen in the category.
Comparatively new in the category and being with few 10s sales and all 5-star ratings provided by its customers. IRIS Fitness 25lbs Adjustable dumbbell set India is an emerging brand in the category. The model is unlike any other IRIS dumbbell, and one would be surprised with its radical design.
One could easily select weights from 5 to 25 lbs with 5 flies weight adjustment. Its road safety lock slot improves its usability to a greater extent. If you want an even lighter variant than IRIS Fitness 12.5 lbs option is for you. Though there are fewer to no options if you want to have higher weights than 25lbs. But this isn't a bad choice either.
People rave about adjustable dumbbells being extraordinary. Not to indicate the money factor. With these, you can then glide onto and off the dumbbell with different weighted plates to set your own poundages without having a whole dumbbell rack.
Thoughts on Price:

The product doesn't come cheap and retails at over approximately 20k on average for a piece of the dumbbell. (Not pair, the title is misleading 25lbs*2) This is a pricey unit if you want to hold something very premium in your hands, with a dial included that lets you add weights without making you struggle to screw nut & bolts after each set. (Decide iPhone or this?)
Second Best Pick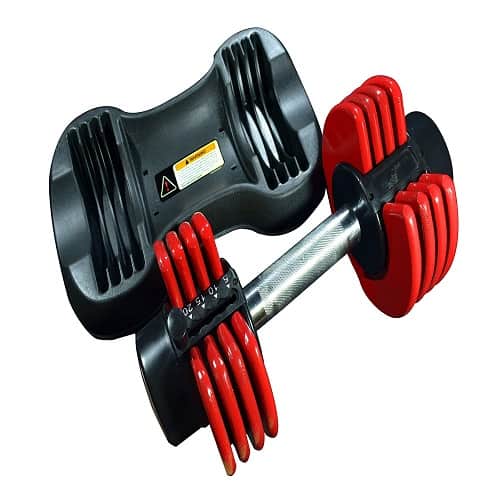 #2 Durafit – Adjustable Dumbbell (25lb)
Rated 4-star and being the most premium yet affordable adjustable dumbbell set on Amazon. The Durafit dumbbell should deserve no place other than your cart. It's best for home gym addition if you are looking for an upgrade. The spring mechanism is strong and not likely to be breakable for years of use. 
I name it, an Indian alternative of Bowflex dumbbells (Some high-quality stuff). This isn't exactly Bowflex but is no different. With its range and price as listed, Durafit– Sturdy, Stable and strong adjustable dumbbell set can be the only dumbbell you need to purchase.
It looks absolutely wow, in red color. You can be free to feel that the dial mechanism works quite smoothly, as one reviewer claims, "I was first skeptical about it. But the locking system here is really strong, so don't be scared if the plates move a bit when you pick it up."
Another buyer writes, "Built with keeping home gym in mind, these dumbbells are easy, snappy and good looking. Not like other companies." With Durafit, you get responsive customer service as well that would clear your doubts and provide after-sales. Sighs.
Thoughts on Price:

Durafit company doesn't sell a pair of dumbbells and these have to be bought separately. Definitely, it is for capturing the market attention for being a more affordable product, because anything priced over makes people think. Providing international quality at an Indian price won't be an easy deal to make. Thus, the price is still digestible to the product we get.  
#3 Dolphy 20kg Chrome Iron Adjustable Dumbbell Set for Home Gym
A chrome finish is its lightning advantage, anybody can fall for this pair of dumbbells. If you like iron dumbbells more than rubber or PVC. These 20 kg dumbbells from Dolphy will surprise you with its iron whacking sound it makes with the touch of the ground. Rust-free. Buy it and forget.  
For the lovers of old school iron weights, these Dolphy 20kg chrome iron adjustable dumbbell set India would have a special place in the heart. Iron is a symbol of pride. The whole set even comes with a case, and knurling around hand grips is better than expected which allows you to grip firmer during sweaty workouts.
It's a fact that the iron dumbbells are more durable, and more importantly, rust-free compared to any other dumbbell. However, changing the weights and tightening the screws can be trouble for some. But if you don't want to have 5 different dumbbells and also can't spend on a premium adjustable dial dumbbell, then don't worry it works fine. You won't find any issues with Dolphy.
However, one Amazon reviewer mentioned, "The only drawback I found is the absence of collars. There are no collar stoppers to hold the plates. The rubber gripper is not fixed on the bar and it slides over the bar. This is not a big issue once you tighten the nuts." Although the weight is incredibly well built and balanced, your hand can be found a little constricted inside the "cage".
Thoughts on price:

Priced lesser to dial and spring mechanism dumbbells (can't mention exact price due to policies, visit amazon), and that too with heavier weights for next stopping your growth. A buyer said, "Dolphy dumbbell retails at a genuine price." A nice dumbbell would cost the same, considering the weights and accessories included. 
#4 BullrocK T-Rex (2.5KG to 50KG) Weight Dumbbell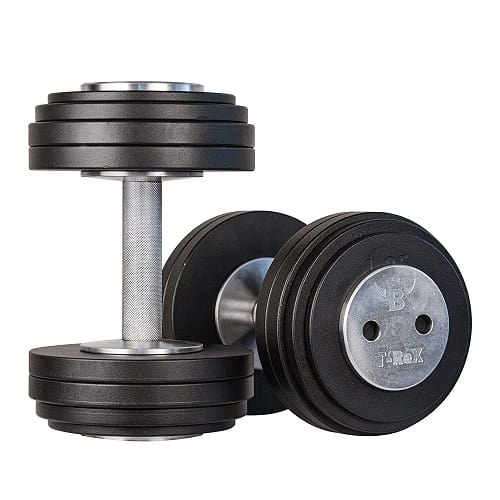 The Most Beefiest, sturdiest, extendable & budgetary training dumbbell on the list, Bullrock T-rex. From ranging from 2.5kgs to 50kgs options (yes, that's a lot!), this dumbbell is a choice for even pro bodybuilders. You get spanner, studs, handle, and plates along, but assembly is quick.
Bullrock T-rex turns eyeballs of every lifter once he/she glances at it. It doesn't look like any other iron dumbbell that seems not so pleasable with extra pointed rods extending from both ends at first look. In fact, this product is made of high-quality material and works as a professional gym grade one.
The whole dumbbell is made of hard-core steel, which is simple to use and could be dropped like any other dumbbells on a hard floor without breaking it. (Common case when we finish a strenuous set)
One Amazon buyer says, "The biggest thing I loved is its flat bottom surface, which is perfect for heavy benching since it can be rested on your thighs even with loaded plates, for me i.e. 50×2 =100kg with much comfort." You can find different variants of weights of it, plus additional spares parts to purchase if they went missing. No need to buy a whole dumbbell all together. Toggle the drop-down on amazon.
Thoughts on Price:

If you are a serious gym lifter, I would say it's the best you could have. You got a flat bottom surface, higher weights, great looks, comfortable gripping, full iron body. If you do plan to have a place in the rack for each weighted dumbbell, Bullrock T-rex would secure the place with no doubt. Pricing is kept really tight, but something with value would definitely deserve this amount. 
#5 Powermax Fitness PDS-50KG Dumbbell Set with case
PowerMax Fitness can get up to 50kgs in total dumbbell weight (adjustable, too!) for heavy lifting on both ends. The bars are also sturdy and strong, which can easily support weight plates. It looks like a tool kit of a mechanic (an expensive one) but its Durable Plates are baked paint with Hammer-tone Finish to make it look glossy. 

An alternative to Dolphy 20kg chrome dumbbell, Powermax fitness 50 kg dumbbell adds up the weight for enthusiasts who wish to increase the load. Powermax brand is the PROFORM of India, which makes indigenous treadmills. But in making dumbbells they aren't much behind.
These dumbbells come with a hammer tone finish and with different weights (15kg/20kg/50kg) for you to choose from as per your need. Iron plates remind us of the time when bodybuilding is done only in city basements. These dumbbells are here for a long time and will surely remain present for the next coming decades. Finally, if you wish to set up your home gym, look no further than these.
It's hard to spot any negative reviews around PowerMax, about these dumbbells slipping, peeling or flaking away, or eroding and breaking down over time. You can go for it if you like the color and weight plates design it comes with. Moreover, after seeing the product picture you would possibly be convinced.
Thoughts on price:

Versatile and tough- that's what an adjustable dumbbell should be. PowerMax has a sturdiness and is not a gimmick product, it's meant to be made for sole one purpose- lifting. It does exactly that. The price is an extra selling point here. For a complete home gym set, you have to pay half of your gym membership fees.     
What is the difference between them?
| ## | IRIS | DuraFit | Dolphy | BullRock T-rex | PowerMax |
| --- | --- | --- | --- | --- | --- |
| Max Weight adjustable | 25 lbs (11.3kgs) | 25 lbs (11.3kgs) | 20 kgs | 25 kgs | 50 kgs |
| Other weight options | Avilable in 12lbs | NA | Available in 30 kgs | All available | NA |
| Type | adjustable | adjustable | adjustable | adjustable | adjustable |
| Design | Dial selector | Dial selector | Spin lock | Extension Long studs | Spin lock |
| Dimensions | 16.7\(L) x 8.5\(W) x 7.9\(H) | 34*14 cm | NA | 19" x 12" x 29.75" | NA |
| Quantity it comes in | Single | Single | In a pair | In a pair | In a pair |
| Returable? | 10 days returable | 10 days returable | 10 days returable | 10 days returable | No |
| | | | | | |
Table of features
The Bottom Line.
There are various ways in which dumbbells can serve you an advantage of muscle building or losing fat, but having awful fragile dumbbells just ruins the experience at a drop.
In fact, you have many options to choose from when buying the best adjustable dumbbell set India.
But you are your true judge and jury to decide which is best according to your budget, weight need, type (adjustable/fixed).
Buying any of the 5 options above should set you down on the right path. You would never feel disappointed by these brands listed here. As all of these brands have above 4-star reviews and are well known in the gym industry.
Some are known for their high-quality products, some for their high price, others are known for the great value products they provide.
FAQs
1. Is a 7.5kg dumbbell enough?

Is a 7 kg dumbbell enough? Usually, you would find the dumbbell set listed from 12lb-24lb that accounts for 5kgs to 10 kgs. The beginner dumbbell set starts from this range and goes as high as 75 lbs for advanced people. You could choose the one according to your strength levels. 
2. Where can I get adjustable dumbbells?
3. What is the best adjustable dumbbell set?
Upon our finding of the best adjustable dumbbell set India – Bullrock T-rex, PowerMax Fitness and Durafit adjustable dumbbell are some of most recommended products to buy from Amazon India. You can get the surety these dumbbells never fail, and also you get a lot of weight at a fair price.
4. Are adjustable dumbbells good?
Yes, compared to any fixed dumbbell. They are best in terms of Practicality and cost-effectiveness. The adjustable dumbbell set you can pick from any store should be 20 kg (45 lb). They normally come with 4 x 2.5 kg and 4 x 1.5 kg plates, with 2 kg of handles each which helps you to make two 10 kgs dumbbells, and a single dumbbell with up to 18 kg. Ideal for a home gym.
5. Are Olympic dumbbells worth buying?

If you are willing to spend much money for a high-quality product, my advice would be to select Olympic Dumbbell set from any eCommerce, you can get stuff that goes up to 167 kg, which is two 77,5 kg Dumbbells (highly unlikely that you'll ever outgrow that).  
–
All right, that's all for this article.
Which dumbbell out of 5 you are planning to buy? Or any other would you recommend us to include. Comment below to help others like you to choose the best one.
We will keep updating the article in the future.
(Save it for later)
Also read:
Sharing is caring. 💖