Walk into the CrossFit box, or powerlifting gym today, and you would see one common but highly promising gym-gear worn by most athletes other than weightlifting shoes, which are weightlifting Knee support for gym, either Knee sleeves or Knee wraps.
Aren't they both the same thing? NO.
Talking about the Knee wraps, these are the most common and popular gym accessories used among the Olympic lifting and powerlifting community.
While knee sleeves are not just exclusive for only weightlifters, they are also a favourite of athletes' and people with knee pain which offers the same function i.e, compression, increases blood flow but contributes minimally to increase the lifting performance as compared to wraps.
Weightlifting Knee support is useful in providing lateral stability while limiting patella movement which can reduce inflammation and expedite the recovery process.
Both weightlifting knee wraps and sleeves are sold in the market as a solution to make athlete lift stronger, faster, better, and feel in control during your compound lifts mainly squats.  
However, most people are left clueless when to actually how to use them? So if you have ever thought of these questions:
I got all the answers for you ready here.
Let us discuss the difference between the weightlifting knee wraps vs sleeves more closely and find which is the best gym support for gym India and which one is better for you?
Roll up your sleeves and get on!
Why use the best knee sleeves for squats?
What's the actual point of using these knee sleeves for squats, it's joint health. When you warm up your knees by peddling on a bike, you get your blood moving before you start squatting.
Knee sleeves are helping that same process happen much faster, you wear these sleeves suddenly there's no snap, crackle and pop. It helps you keep-in each joint warm and lubricated and move healthily throughout the entire squat session.
So sleeves are just designed to be a stabilizer for your knee and add compression on a joint that's gonna help move the joint more efficiently and lead to longevity, means more years of healthy squatting.
Benefits of wearing a knee sleeve:
Who should wear knee sleeves?
Any weight lifter or athlete who does plyometric exercises or squats and has no previous knee problems could wear knee sleeves to maintain continuous compression on the knee and provide stability during major lifts.
People mistakenly believe that wearing knee sleeves would improve their technique and make them better squatter. Other people wear knee sleeves to mask an injury or reduce knee pain rather than treating the cause of issue.
No, knee sleeves are not made for that purpose. We suggest using a knee brace if you have had a past medical history of knee injury or surgery.
In the above picture, you can see Youth Olympic Games 2018 Gold Medalist @jeremy_lalrinnunga wearing – The SweatShop 7mm Neoprene Knee Sleeves. So it is quite reliable during lifts.
Why wear Knee wraps for squats?
Knee wraps for squats are mainly used by powerlifters who go extreme and sway pounds and pounds of weight on their back, and also by athletes who love to touch their PR (Personal record).
If you have never seen them, then think about if the bandage is made with thicker and more durable material, and you've likely got it.
The knee wraps are usually around 80″ or 2 meters long and as the name suggests need to be wrapped around the knee over and over (and over) again, that requires some knowledge to put on. You could refer to this video below to tie it correctly.
What it does is it provides you with Direct Mechanical Assistance that stores energy on the downward phase (eccentric) of the squat movement, the energy stored is elastic in nature, allowing you to shoot up from the bottom of the squat. This phenomenon is known as the "carry-over effect".
Carryover effect reduces the muscle activity of the vastus lateralis on the ascending phase using the same load and also glute max activity increased with knee wraps compared to no wraps.
Think it off like a spring, how it bounces back to regain its original shape after being pressed. Similarly, knee wraps help boosting your squat performance by 5-10% and also make you feel more strong, and locked in your squat.
Therefore, by wearing these wraps you would be squatting a few more pounds extra than the level where you could safely lift. But with reduced muscle activation.
Technique Difference:
Benefits of wearing knee wraps?
Who should wear knee wraps?
Let's keep it real: If you don't train hard and push yourself to do personal bests while going heavy, you DO NOT NEED wraps. If you know me, and read my blogs often you know I like keeping things real and not for the sake to SELL you anything meaninglessly.
Remember: It's not just something that you could wrap around your knees for every gym session.
Experienced and confident power-lifters use knee wraps to prevent severe injuries as they squat heavy. If you are a beginner, you won't be using them until you build a strong foundation. So Knee sleeves would be a good option.
Let your goal guide your decision.
---
So when we found out who should use knee wraps and who should wear knee sleeves, let's get on the bandwagon to discuss some of the best picks. 
Best Knee Support for gym India September, 2021
1. USI Line Competition ready Knee Wraps
The Good
Can be used instead of sleeves. 
Good for intense squat sessions.
It won't slide, bunch or shift. 
Competition grade elastic provided.
The Bad
No proper Velcro, kind of old school wrap.
All wraps need to be removed from time to time.
Topping our list, the best recommendation knee wraps for squats are from USI Line. USI sports company products are the golden fit that's why in sports in India you can spot their products anywhere and everywhere.
Talking about USI Line Knee wraps, these are the most durable and powerful competition-ready knee wrap found in India, and a lot of powerlifters say it is the best and most supportive wraps money can buy.
Made in India with excellent quality material, and its distinctive red line design marks the highest level of quality and performance, which ensures their longevity and sturdiness against wear and tear of heavy loads. The whole wrapping is made from slipping materials so you don't need to use chalk and other stickum sprays to keep them on.
Despite being super supporting, when comparing them to other stiff choices on the market, they're relatively comfortable. You can get them in different lengths, like 80"/203cm (this one), 60"/152cm, and USI three line wrap. My advice is to go for the 80-inch length, which is long enough for beginners and most veteran lifters.
2. Hykes Heavy Duty knee wraps for squats
The Good
Pretty strong & supportive. 
High quality elastic material used.
Zero itching feel.
Suitable to rebound from knees during heavy lifts. 
The Bad
Hassle to tie and untie again and again. 
Right technique to tie it should be learned.
At number 2 we have best looking and feel knee wraps for raw squats available from Hykes. If you are looking for a reliable couple options of knee wraps for all your bodybuilding and powerlifting needs, then this is your best option. Especially because Hykes knee wraps have been built to deliver support, compression, and stability on your knees.
The major highlight of Hykes is its rebound, which allows the lifter to bounce out of the hole while avoiding the sticking point. It got tough on the hardest flex of your knee joints. Confirmed from over 350+ amazon customer reviews.
You got 78 inches in length, which is suitable for any person lifting. It has to be adjusted and fitted properly, but with few days of practice you get okay with this.
Hykes got velcro (hook-and-loop fasteners) to hold and close the loop so that you'll worry less on how much stress your knee caps can endure in every training. You can always adjust it.
3. Xtrim Durafit -Elasticized Knee wraps for Squats
The Good
Available in different colours.
Very Easy to get on. 
Affordable price. 
Comes with a hook and loop closure.
The second best on my list of best knee support for gym India, are Knee wraps from Xtrim Durafit. It is the best inexpensive yet decent quality pick which is good for gymming, as well as for powerlifting. You would be pleased to try these knee wraps if you find it difficult putting on and off a knee wrap.
They are equipped with a velcro system that makes it much easier for you to put them. Though, putting knee wraps in a spiral or diagonal pattern still needs technique, but they're quite supportive and will stand the test of time.
Another big benefit of Xtrim Durafit knee wraps is its 78 inches in length and 75 mm in width size that goes well with lifters of all sizes and strength.
Only here you get an option to choose from a wide variety of colors that are available to match your other lifting gears. It is the best for one who wants to buy on a budget, yet not compromising on quality. Additionally, you can also use them for elbow supports while benching or doing heavyweight overhead presses.
4. Hykes best knee sleeves for squats, & Running.
The Good
Economical pricing. 
Does not stall your knee like wraps.
Didn't even slip or roll down all your workout. 
Its good quality lasts for a year or more. 
The Bad
Sometimes grooves leave imprints on the skin.
Corners feel tighter, choose size wisely.
At number 5 or say #1 in the Best Knee sleeves category, we have the Hykes knee sleeve, this compression sleeve from Hykes has a very minimalist look in gray mesh with black colour on the support areas. This knee sleeve is made from high-quality compression material to provide optimal comfort and support without being intrusive.
That will give your knee extra stability for doing all of the activities while keeping you always moving, as a large portion of the sleeve is made from a mesh material. The sleeve is very breathable and won't make your knee and leg overheat during activity.
Along with its sturdy knitted design, coupled with Nylon and spandex, it uses silicone gel strips on the interior ensure that your new brace always stays without restraining your freedom of movement and without risking blood clots.
Hykes understand sweating is always going to be a part of being active and the sleeve is built to quickly absorb sweat and odors to keep you dry and clean. There's no need to be self-conscious when taking it off at the end of the day.
5. Joyfit Knee support for gym squats- Anti-Slip Design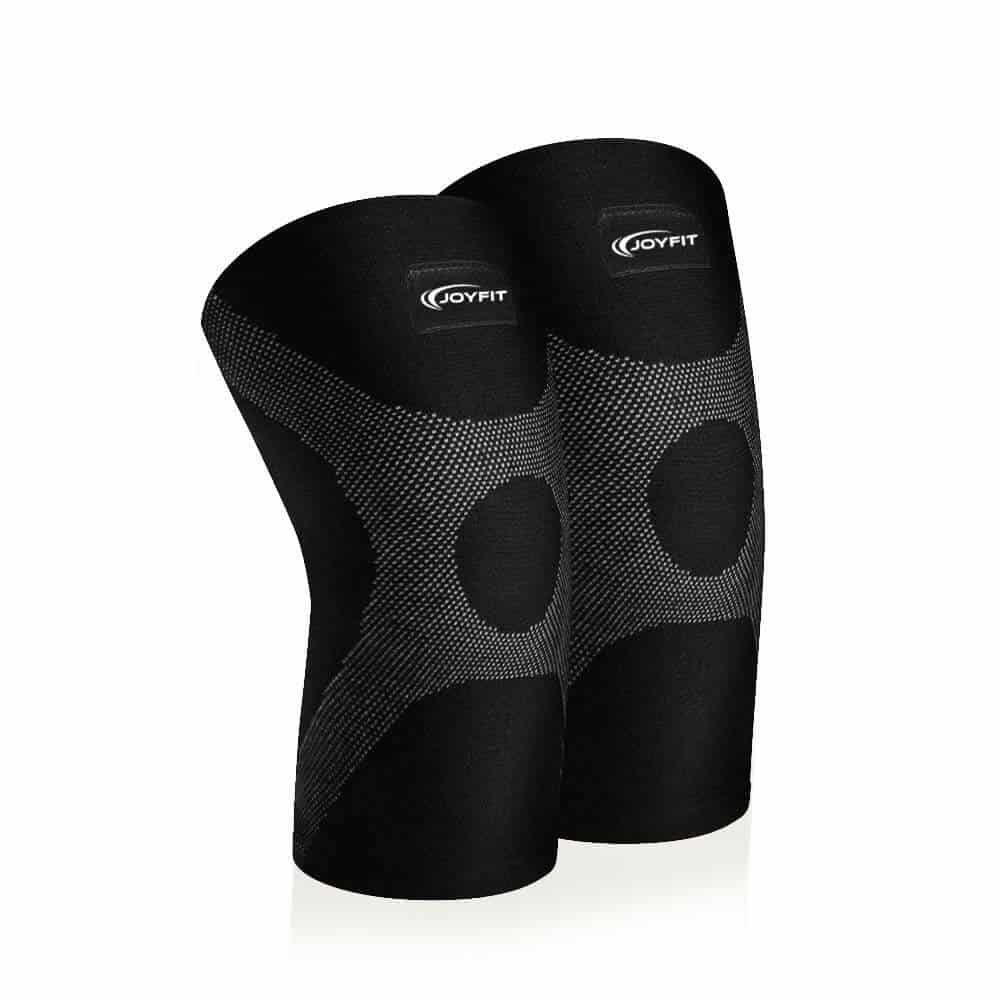 The Good
Feel sturdy and known to be a premium product.
Well fitted, not too tight or loose. 
Can be worn for any sports. 
No stiffness, no itching, and no slipping felt.
The Bad
Company tag could come out.
1 Size more or less ordered could cause issues. Order right.
At number #6 we have a pair of knee sleeves from Joyfit with the unique design in black with a dripping white pattern on the bottom these knee sleeves are going to be essential to anyone that wants to keep their joints stable while working their body.
They're going to give you great support while offering full mobility at the same time, they can be worn every day without issues.
Joyfit has designed these knee sleeves to be ultra-comfortable along with being supportive, these are made of made with premium spandex fabric for a perfect match to your gymming requirements.
The knee sleeves are going to be great for anyone looking to protect their knees while increasing strength and endurance, they are used in everything from contact sports to physiotherapy. These also come in six different sizes, so you will always be able to find the perfect fit.
6. FEGSY Knee support for weightlifting for Men Sports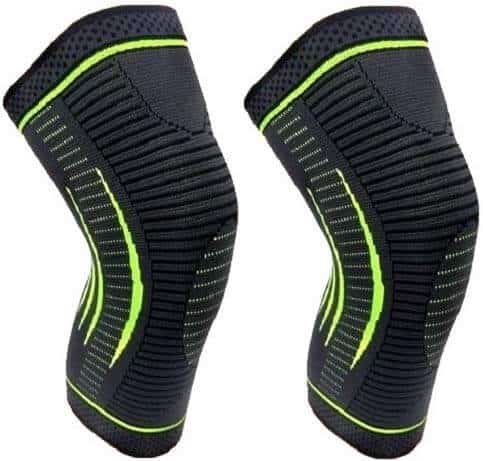 The Good
Price kept lower than other knee sleeves.
Post washing there is no change in fit.
Good to do squats and quadriceps exercise.
Fabric maintains joint stability regardless of activity.
The Bad
Threads could come out. 
Not-returnable product. 
No sizing options.
At #7 we have the FEGSY knee support for weightlifting, this stylish looking knee sleeve comes sporting knitted black mesh with bright neon highlights throughout the brace.
FEGSY uses the most advanced compression material available with their 3d knitting technology to produce a four-way stretching brace that is going to offer ultimate comfort and support for your knee.
To make sure your knee brace always stays where it is needed, they have added a wave of non-slip silicone on the inside to keep it from slipping. This is going to be essential for activities such as dancing, yoga and any type of running.
These rugged-looking knee sleeves are solid to suit just about anyone's sense of style, made from a strategic combination of nylon latex and spandex with a 65/20/15 ratio respectively, this combo of material is going to give you maximum support and comfort while staying very lightweight.
The Bottom Line
Not every athlete uses knee support for gym squats. But these are beneficial at the right time. The trend of using the knee wraps did not begin with bicep-curling goers. No, it started with the big guys. And now average tom, dick, and harry use them to CrossFit class, squats and even run-on-the-mill powerlifters are wearing them too.
They give you additional knee support and bounce that is crucial for stability so you can slay weight during 600+ pound on back squats without an injury.
Knee sleeves, on the other hand, help in keeping your knee warm for maintaining the right blood circulation to deliver nutrients and supply for optimal muscle recovery. Which ultimately means lifting heavier from the next time.
No matter which of the best knee support for gym India, you choose: weightlifting knee wraps vs sleeves. Both have their disadvantages and advantages, and neither one gives you the freedom to mindlessly pack weights on a bar that you can't lift with proper form.

Remember: It is just a tool in your toolbox to help the mechanics of a given movement.
Take Care of your Knee.
"An athlete is not known for how much maximum weight he can move, but for the number of years, he could train injury-free."
Guys' injuries could happen when we train hard, be smart, and wear all protective gear whenever you feel the need to it.
FAQs
Are knee sleeves necessary?

No, they aren't. You're not missing out by not wearing them, but if you want to wear them by all means, go-ahead. It is not gonna actually add poundage to your squat and also they aren't technically braces, but for knee pain, it can help reduce inflammation. 

Do knee sleeves help me lift more weight?

Maybe, maybe not. It's really just a piece of neoprene on your knees and if anything it just feels good to bounce off or out of the bottom of your squat. It doesn't prevent me from flexing or aid in the extension. It is just simply pre-emptive for its longevity and securing bone health. 

Are knee sleeves cheating?

No, it's just like wearing squat shoes when you squat or wearing a golf glove when you golf. You don't have to, but you can if you want. It gives you assistance, and you add some more pounds to what you can safely lift. 

Are knee sleeves supposed to be tight?

Yes, they should be but not worn so tight that it blocks your blood circulation and leaves imprints on skin. If the knee sleeves feel tight, means it's not of the right size for you, when in actuality they should be snug. Too flimsy, loose won't be of any benefit.  

Are knee wraps allowed in raw powerlifting? 

Every powerlifting federation has its own rules and approved wearables, which they adhere to. Yes, federations do allow the use of Knee wraps or Knee sleeves during a competitive lift, and this can be an important part of your performance. As it is helpful to create warmth for the knee joints, helps you lift harder.    

How do knee wraps help squat?

Knee wraps are tightly worn and wrapped around your knee in a spiral. Yes, wraps help weightlifters squat with heavier weights during the downward phase. For example, during your squat's, the wrap gets tightened and stores a massive surge of elastic energy. During the upward phase, this energy is released which allows you to move heavier weights.     

Are knee sleeves better than wraps?

Knee sleeves do not increase the performance (like knee wraps do) they are worn for the purpose to warm the knee joint for reducing the further injuries. On the other side, Knee wraps are tightly worn and help you to bounce out of the hole and avoid the 'sticking point. Both do not guarantee protection from previous injury from further injury in any way. You still need to work on your form. 

How much weight can knee wraps add?

To put it simply, knee wraps can increase your squat weight up to 10-30 pounds depending on the lifter. It will help you improve your squatting technique through minimizing horizontal movement and uplifting your force-generating capacity during the crucial section of a lift. Therefore, knee wraps are most utilized by powerlifters who constantly push themselves to achieve high PRs.  
---
Alright, that's all for this blog.
I hope you like the whole blog on best knee support for gym India. We always come up with more related articles on every sunday noon. Stay connected.
(Save this for later)
So, after reading this- Which better suits you Knee wraps or Knee Sleeves, did you see any difference after its first use?
Drop your answer in comments below, to help other discuss and know your views.
Thanks! Stay Strong.
Sharing is caring. ❤