Is there anything more majestic as a clean squat? Umm, not sure, but surely there is nothing near to it.
If you are the one who takes equal care of the girth of your legs muscles as you do of your biceps or other. Then squat exercise would be in your weekly exercise regime.
So for all the squatters out there who agree to this notion and who have an extreme love for the sport, called LEG day, this would be a bonus article.
But wait, if you have already dabbled into creating your own small or big garage gym, I assume you have all the basic equipment needed. (Check iron weight plates, an Olympic bar, leather weightlifting belt, and some other protective gears)
Searching for a while. Ok, Checked!
And, Do you have a squat stand (also known as a rack)? If, No. There you missed a beat!
Most of the injuries could be avoided if you don't pretend to be Mahendra Bahubali and take things easy.
Tripping shivling over the head and putting it down with utmost ease seems cool in movies, but not in reality, a barbell loaded with weights on each side could squash you badly if dropped.
What we did to help you is we looked around at the market and we said how can we make for you the best adjustable squat stand india to put in a garage/ home gym on a budget.
So when you think about the garage series squat stand which is sturdy and unshakable, we think best and budget.
"You can pay more and maybe get a better one, but you cannot pay less and get a better squat stand" that is an amazing fit for a garage or even a light commercial application.
Here we have listed the "Best Adjustable Squat Stand India of September, 2021" to be bought by any lifter of any height and strength.
Image
Product Name
Price

YODDHA FITNESS – Independent Squat Stand.Top Pick

Attachments: J-Hooks.
2″ x 2″ 11 gauge steel upright tubes.
Tough powder coat finish
Capacity: 300 Kg

Check Price

FITNESS YOUTH™ Multi-Function Power Rack Squat StandBest Pick

2×2-inch heavy-duty steel tubes with holes of 0.5-inch.
Frame weight capacity: 800 lbs.
Rubber finished J-hooks: 2,75″ and 19,5″ long spotter arms with mechanically fixed rubber pads.

Check Price

National Bodyline Multi-Function Barbell Squat StandSturdy Pick

A heavy steel structure can hold a max load of 350KG.
With 17 adjustable heights, it has a variety of combinations.
Quite suitable for squats and bench presses.

Check Price

Redex Multipurpose Squat Stand with Adjustable HeightBudget Best Pick

A Multipurpose Heavy Stand it can be used for Squats, Bicep, Chest Training.
Made up of Heavy Pipe 2inch x 4 base pipe
Load capacity: 150 kg wt.

Check Price

Protoner 4 LEGS Adjustable Squat Stand IndiaCheap Pick

Upto 6.5ft adjustable with a load capacity of 110 kgs.
Sturdy frame, excellent finishing, and durability.
Made of 2-inch x 2-inch hard steel pipe.

Check Price
Best Adjustable Squat Stand India September, 2021
Let's discuss the different types of squat stands that are out there and the options for you to really kind of know the pros, the cons, and my overall feedback on them.
Let's get started and move from the best-rated product to the most affordable in the category. (There are few options but we managed!) 😀
Top Pick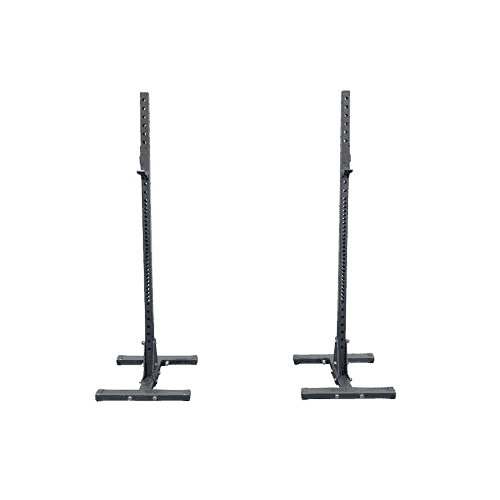 YODDHA FITNESS – Independent Squat Stand.
Sturdy, Stable with raw strength.
These squat stands from YODDHA FITNESS offer a considerable number of adjustable positions, helping to accommodate a wide range of height and exercises. Many prefer this because of its smaller footprint and low-profile design.
It's named as YODDHA (means warrior in hindi), and clearly, this independent squat stand is capable of leaving your legs feeling like they're made of liquid metal. It can easily hold upto the weight of 300 kgs, which is exceptional in itself. If you somehow out limits it, that means you'll have legs that put Arnold to shame. Though this product is pretty new on amazon and you won't find many reviews.
But I won't mention something as a top pick until I completely know the pros and cons. It is available for sale on Amazon India and you can take a look at the product review on Youtube. While simple in design and concept, it can last forever and offer a convenient way to optimize any training without having the need for a partner.
The YODDHA independent squat stand (priced around 10k) fits in any compact room or basement gym without you having to stress about ceiling height. The main attraction of the squat stand is it's tough powder coat finish that looks way awesome. You also get J-hooks with it, which are rubber coated so it won't damage your barbell knurling. Clearly the best portable and adjustable Squat Stand on amazon.
Thoughts on Price:
This thing comes with an option to add a lot of attachments to it. From J-hooks to spotter arms, considering that in mind a product for around 10k still seems expensive. But let me remind you are in a consolidated home gym market of India, where home gym products are fairly new.  
FITNESS YOUTH™ Multi-Function Power Rack Squat Stand
Get More stability with power
This multi-functional Squat stand rack comes with J-Hooks, Land Mine, and Adjustable Weight Horns. It's a buffet of attachments in the squat racks category and is as sturdy as a tank. With 800lbs weight load capacity. 
FITNESS YOUTH Multi-Function Power Rack stand provides a variety of chin-up locations, a lot of maneuvering space and several safety bars. It's like you have a full gym tucked away in your room corner. The compact squat rack helps you to workout at the convenience of your home gym.
The result is you get a fully loaded power-packed rack with features such as a fully 360-degree swivel built-in landmine post (included for greater variability/utility in the power rack), high pull up handles, exercise band link points, sturdy J-hook, and spotter arm and over 30 adjustment points making it appropriate for lifters of all sizes.
The high push-up bar supports broad and narrow grip positions to maximize the back and arms, shoulders, and core muscles. Knurling allows users to grip easier during higher repetition sets. You can do squat, hang, pushup, landmine exercise all from one place.
Thoughts on Price:
The basic model is very well fitted and has multiple safety and stability bars and hooks, there are no further adjustments needed.  You get an all-in-one single rack ready to setup. You'll be hard-pressed to find a better comprehensive solution other than FITNESS YOUTH (for a price around 15k.)
National Bodyline Multi-Function Barbell Squat Stand
Can handle 100 multiples weight.
National Bodyline adjustable squat stand cum rack is a durable, and well-made selection. It can carry as much load as you can throw at it, and you won't have to stress about playing nice.

After making a sturdy and multifunctional adjustable weight bench, National Bodyline has launched its first barbell squat stand weightlifting rack. It seems to look no weak because the entire frame is made of heavy steel gauge pipes. The base is T-shaped and is not easy to move around. The thick mainframe square tube increases the stability of the whole barbell rack.
With 17 adaptable heights and a number of variations it comes with, it gives you the most comfortable workout experience even for barbell curls and bench press exercises. The load capacity mentioned is 350 kg, which means it covers the human limits.
You get spotter arms, J-hooks, and a 67-inch height straight red colored frame that is suitable for squats and bench presses- and also compatible for standard and Olympic specifications.
Thoughts on Price:
As I said earlier, "You can pay more and maybe get a better one, but you cannot pay less and get a better squat stand". This squat stand for home is built to handle and match the potential of even the pro powerlifters, for that, a price has to be paid. And for this price (around 12k) it is a no bargain deal.  
Redex Multipurpose Bicep Chest Squat Stand with Adjustable Height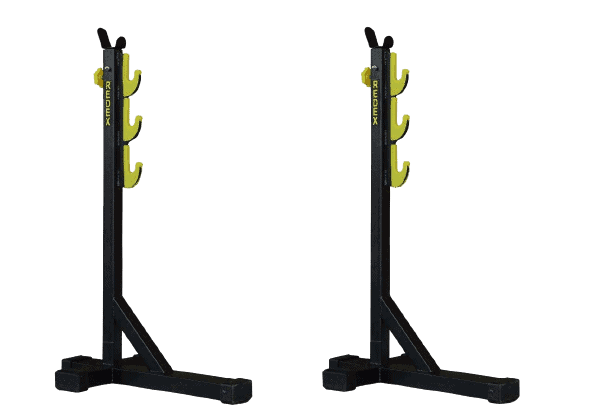 Quality with Budget.
Redex Squat stand is less wobbly compared to other 4 legged squat stands to give a firmer base during lifting. You can take weights easily upto 120 kgs or more with no issues. A good budget option. 
Think of a 4 legged squat stand, the main complaint you would hear is "it shakes which reduces my confidence." True, but REDEX squat stands are made quite sturdy and balanced, giving it a feel that it could be trusted. That's because most 4 leg stands come with equal length legs, but REDEX took advantage of the center of gravity and shifted it to the front by extending the height of one of the 4 legs. Making it more stable.
One buyer wrote: "Very good quality stands for squats, as mentioned in the description it is good for use with the FID bench and for shoulder presses. Quite sturdy of the product and I guess it can easily take weight up to 120 kgs."
It comes fully assembled and also has attachments: 3 J-hooks make it compatible for the lifter to show its creativity and perform many exercises with just one adjustable squat stand. Amazing!
Thoughts on Price:
The low price does not in any way impact the squat stand efficiency or efficacy. You can view 10s of 4-star reviews on amazon to confirm that, not only me who is impressed with this product. A beautiful coated rust-free squat stand would cost more, but this product is underpriced. (Under 5k)

Protoner 4LEGS Adjustable Squat Stand India
Best Entry Level Option.
 The most affordable portable squat stand available out there. It gives remembrance of the old gyms, it comes with standard 4 legged squat stands that could be moved around easily. Value for money product. 
Protoner squat stand for home is perfect for beginners who squat under 110kgs (sensible lifters), going over that could lead to a breakdown. Especially if you are new to the game, you have to be cautious about one more thing (i.e., stability), with keeping an eye on your form obviously. Since these have free-standing gaps, it can be adjusted or moved according to the size of the bar.
You have to be extra careful when racking/ unracking weights. Otherwise, it could get off from the position amid when the weight is on you. People complain that squat stands rock a little. The product's normal height (where the bar is placed) is 42″ inches and can be raised up to 48 inches. Also, it comes fully assembled so you don't need to pick a screwdriver.
One buyer writes, "The height of protoner squat stand is around 5 feet fully extended. It's perfect for me since I am 5.6' ft. It should be fine for anyone who is 5.10". Beyond that, the height will not be optimum."
Thoughts on Price:
Expect a product that is priced under 2.5K this what it is. While racking/ unracking the barbell is a bit shaky, but it provides safety compared to having nothing. Protoner is the best entry option in the squat rack category.
Comparison Table: (Find the Best Among them)
| # | YODDHA FITNESS | FITNESS YOUTH | NATIONAL BODYLINE | REDEX | PROTONER |
| --- | --- | --- | --- | --- | --- |
| Dimensions | (W)24″ x (L)26″/ Height: 6ft. | (L-40.75 inch, W-46 inch, H-82.75 inch) | L 38.5, W 65, H 67 Inches | 54.9 x 48.8 x 134.1 Centimeters | 128 x 18.4 x 16.2 Centimeters |
| Weight capacity | 300kgs | 362kgs | 350kgs | 150kgs | 110kgs |
| Item Weight | NA | 45kgs | NA | 21kgs | 9.68kgs |
| Includes | 2 Squat Uprights with base, 1 pair of J-CUPS | Powercage and hardware set | J hooks, spotter arms, squat stand | 2 pc Multipurpose Stand | Redex Multipurpose Stand 2pc |
| Made of | 2″ x 2″ 11 gauge steel upright tubes. | Heavy duty 2×2 inch square steel tubing with 0.5-inch holes | Heavy steel structure | Made up of Heavy Pipe 2inch x 4 base pipe | Made of 2-inch x 2-inch pipe structure |
| | | | | | |
Results conclude that Fitness Youth Squat Rack scored the maximum stars, no wonder because it has the maximum load capacity of 800lbs, plus it comes with a lot of attachments to make a no-brainer choice to opt for.
But it is a rack after all, and you came here to select a squat stand. Right!
I remember, but I have gone over the bar to make your 1-time investment worthy.
(But, I didn't even miss out to find a good squat stand) Yoddha Independent Squat stand is one sturdy option available online, it's least shaky, and can be adjusted for squat as well as for bench press exercises for most exercise performance. Go for it!
My Opinion on Buying an Adjustable Squat Stand India.
Just because I know I give a lot of suggestions out there, but what I think is optimal for most people might not necessarily be true based on your own preferences.
Here, I just want to kind of cover all my bases about the squat stand for home, let's break it down into points for better understanding:
(Read between the lines. Don't miss crucial points)
Why And Why not BUY Adjustable Squat Stands?
Compact in size:
The big selling point for squat stands is that they have got a very small footprint. No matter how much or how little room you have at a home gym. A squat stand might be a good fit. They allow you to do the main movements of squatting, benching, overhead press plus you could probably get pretty creative and find some more ways to do other things.
2. Affordable in comparison to full racks:
Just because they're so minimal and usually don't have a lot of pieces or a lot of steel attached for that matter that usually makes it very affordable in prices. You can easily get an adjustable squat stand India of around 3000 INR where a low steel gauge pipe is used, to 20000 INR payable for its higher variant. Possibly lower price means fewer accessories could be adjusted.
3. Sleek & simple Design:
The nice thing about them is the design aspect, they're made to not be bolted to the ground so you don't have to worry about plate storage, you don't have to worry about building a platform to bolt it down to or drilling holes in your concrete. They fit almost anywhere in terms of the vertical footprint as well, you can get very short.
4. Quick Assembly:
It's a fact you get little attachments with the adjustable squat stand which is a con in itself, but it makes it assembly quick and stress-free. Speaking of which some of the pieces that it comes with or the only pieces it comes with in terms of safety options are spotter's arms and while they'll get the job done.
I'm not a big fan of these and lifting outside of a rack because you can still have the chance of dropping the bar and having those safety arms not catch the weight, so I don't like to risk it in that regard.
5. Attachments:
In fact, after point #4 I realized they don't even have pull-up bars in some instances which leads me to my first con. Sometimes they don't have pull-up bars and they're not meant for a lot of attachments. (Our best pick FITNESS YOUTH power rack squat stand has a pullup bar attached)
This isn't really the feature that squat stands should come with. But then so many brands do offer them. So if you're looking at getting into a home gym and you want to get a lot of versatile things like attachments for your gym pieces, this isn't for you. It's raw and simple.
6. Weight capacity:
They typically have a lower weight capacity (100-200 kgs, if they are built and cost cheap) when compared to some of the other full cages we found in the market which could bear so much more weight than these.
Many people that I know that have bought these do eventually look to upgrade and replace them if they find it can't withstand the loaded weight. Eventually, these are not meant for powerlifters who push in 100 multiples, but bodybuilders are fine with these.
Decision Time: Should you buy the Squat Stand or go for Half Rack?
Overall, adjustable squat stand India is great for those who just want a no-frills solution at an affordable price, but I don't think it's really good for those who want to get into the accessory game or upgrade the features and functionality down the road.
Whereas you may say, full squat racks provide more usability, adjustability, and safety, but additionally, they're also extremely expensive for what they are.
So these are great for people who compete and want to kind of emulate the conditions and don't mind paying a high price for it, but for home use, I don't think full squat racks are very practical.
However, the squat stand doesn't have the safety of being in a cage because you have to lift outside of it so still you have to use spotter arms, and a lot of times having to set these things up can be kind of annoying. Which I think is a reason why a lot of people don't put them away as well.
Conclusion
In a nutshell, if you want a full squat rack then I suppose it's a good fit, especially if you plan on good money to establish a 1-time commercial gym for revenue, but I think an adjustable squat stand makes more sense for most people.
The undisputed Champion of Squat Exercises. 
Think of a squat stand as a throne – A centerpiece of your home gym. You cannot be a master of your game without a throne so that without a portable squat stand or squat rack/cage you can't lift to your highest. (Choose one squat stand which will set you higher, not limit you)
FAQs
1. Can you bench on a squat stand?

Absolutely you can. Just bring the bench close to the squat stand. Adjust the J-hook to a lower hole setting and put safety bars low enough to achieve a full ROM, but high enough so if you fail it can support you. Set the barbell and continue your exercise. 
2. Are Squat stands safe?
Yes, they are safe, but if you compare them with full racks, full racks are safest. As long as you choose some squat stand that has high grade features and that's well built, squat stands are ok. But if you have bought something cheap, which wobbles and rocks then you have to be careful.  
3. What can I use instead of a squat rack?
Squat stands/ rack are the wisest option if you do barbell squats. But if you don't have a budget, then you can altogether skip it and instead do a variation exercise. Do hack squats or deadlifts, which targets the same muscle groups while saving you from unexpected injuries.
4. Do squats without squat rack?
Unfortunately, if you do not have a squat rack or a workout partner nearby, you will have to be content with just how much weight you get from the floor to your shoulders. To do this, olympic clean and jerk (or clean to press) is the safest thing to do. But experience in the game to get the form right is extremely important. 
5. Are squat stands any good?
Squat stands are great for those who just want a no-frills solution at an affordable price. You can perform two of the most important compound exercises, one is chest press and second is squat obviously. Plus it can be adjusted with different heights to allow you do overhead presses. A multi-purpose solution for home gyms.
---
Alright, thats all for this article.
Which do you say is the best: Squat Stand/ Squat Rack/ or Full Rack for a home gym? Tell your opinions in the comment box below to help others like you.
If you like any of our recommendation we are highly contended to make this blog.
Read some of our other article:
Thanks! Stay Strong.
Sharing is caring. ❤