Today, I'm going to take you over to the basic equipment required to set up gym at home and walk you through the 7 must have home gym equipment list in India for bodybuilding.
Let's put this straight. Getting gym equipment needed at home is all about the basics. Having all the fancy machines, cables, pins, and plates is cool. But it's not necessary to achieve the body you desire and deserve.
Ask yourself?
Do I need a bunch of dumbbells?
Do I need a bunch of different barbells?
Do I need a bunch of cardio equipment?
If yes, then where to purchase gym equipment in India is the next question you may ask that would be cost-saving and also have great functionality? Decathlon, Amazon, or any other.
Gym equipment isn't an inexpensive thing. You can spend lakhs on it and still be miserable, and also could get things for a few thousands.
But seeing the bigger perspective of home gym shoppers, we need to first find out basic equipment for home gym India which can help you get a lot done with body weight. We all know that if you're trying to get a different physique, that is more muscle and less fat, which ultimately comes down to different people differently. Then you need to add resistance training.
But we may not have space, or have room, and certainly don't have the budget to go and want to get a bunch of equipment for home gym workout that will give us everything we need for a complete fat burning, muscle-building body transformation.
So if you're tired of the overcrowded gym scene or simply want the freedom and flexibility of training and comfort of your own home. Follow along and find out exactly what you need to transform your physique at home.
These are the 7 must have home gym equipment in India, that would build out everything that you really need.

And just like anything else in life, "You do what you can with what you've got".
7 Must Have Home Gym Equipment List In India
1. Squat Rack With A Pull-up Bar:
A power rack/ or squat rack functions as a mechanical spotter for a free-weight barbell. It is designed is 4 upright posts with 2 horizontal bars that catch the barbell on each side in case of mis-lift. The squat rack is big, heavy, and uses a lot of metal, so they're made expensive.
First up, you need a squat rack in your home gym with a pull-up bar. This way you can perform the big compound movements as rack pulls, and bench presses safely.
Also you can get the multi-purpose benefit without needing a separate setup for pull-ups and chin-ups. Make sure you invest in a strong quality built squat rack for this piece, like one available by Decathlon – Squat Rack 900, most home gym in India have this model.
When you're loading up hundreds of pounds on a bar and relying on j-clips or safety arms to save your neck in a heavy lift literally, it's not something you want to cheap out.
The internet is already full of fitness fail videos with j-clip snapping and equipment breaking. Don't be the face of one. Spend a bit of money and invest in quality. It will last far better and you'll thank yourself for it in the long run.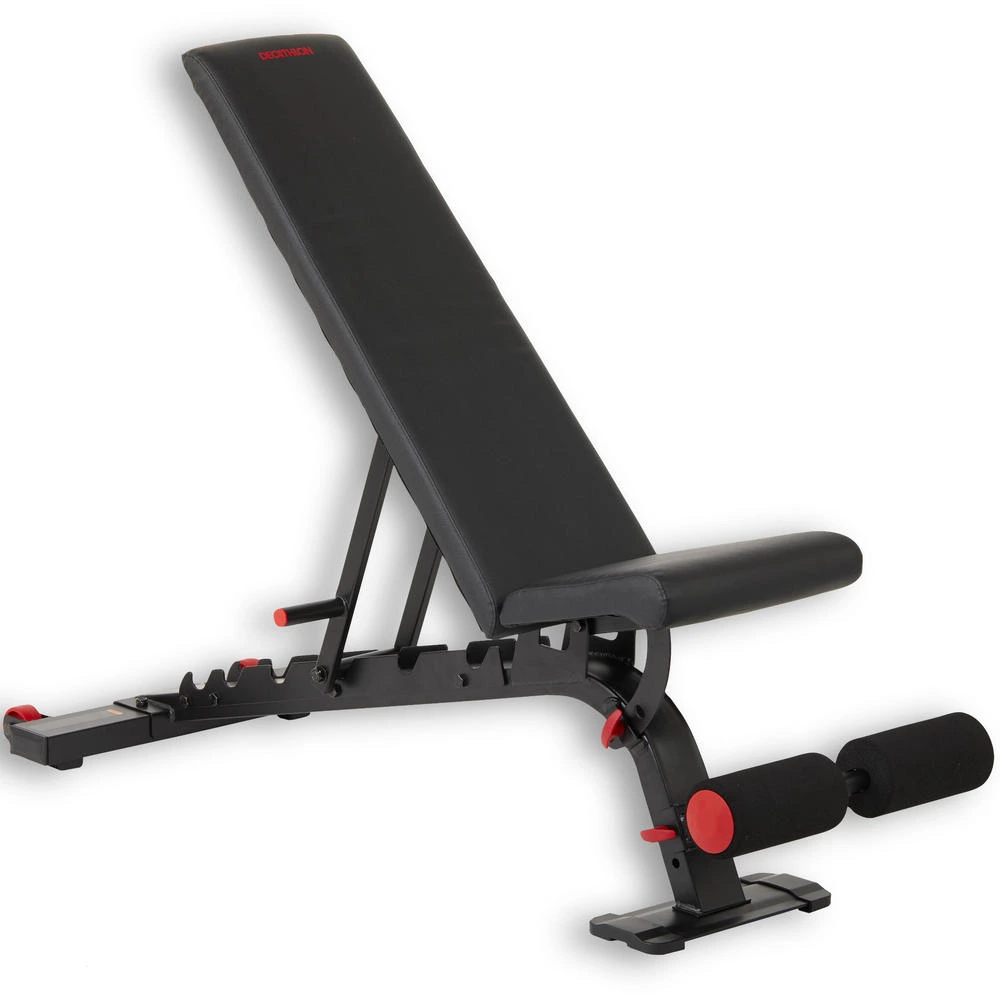 2. Adjustable Weight Bench:
Adjustable weight benches sell on their versatility. Unlike on (many) traditional benches, you can adjust the backrests of the adjustable bench in 7 or 8 positions to target and develop different muscle groups, making it well suited to dumbbell and barbell workouts.
The next thing you'll want to go along with your squat rack is a quality adjustable bench that can be set at least from flat up to 45 degrees incline. This will allow you to perform all the most effective variations of presses and rows that require a weight bench.
You can even set the bench inside the squat rack and use the safeties to spot you and keep you safe when you're training at home alone. Make sure it has enough surface area to rest your back on comfortably.
Also, when we buy gym equipment needed at home in India, like weight bench, then it would be space-efficient to fold away completely when not in use, and made with audacious load capacity of at least 250 kgs like one from DOMYOS Weights Bench 900. I believe when you are shopping for home gym essentials on a budget, then it's good to buy a bench from the same place from where you get your rack, or any other equipment.
But the flaw here is these individual benches don't have a pole to keep barbells on them (if you buy one). They are only good for using dumbbells or if you have a rack that you can use as an extra support for placing barbells.
If you can adjust on space, but not on usability, then having an FID bench with poles is more practical for doing heavy presses, like one from Kobo multipurpose home gym bench India.
3. Barbell & Weight Plates:
We have included barbell and weight plates together because each one of them can't go well singly. Of course, you can pick up a plate and do some front raises, or use a blank barbell to do some deadlift movements. But together they make up a powerful combination. Get barbells and plates if you want to compile the best equipment for home workout!
Next, you want to invest in a quality Olympic barbell and some weight plates. Again, you should be sure to spend your money on a good bar here. Because you're going to be loading hundreds of kgs in this thing and putting it through quite a beating over the years to come.
You don't have to break the bank, but you do need to think about safety and longevity and make a smart decision. If you're deadlifting 200 for X reps, don't get a bar that's only rated for 180 kgs. Step it up and get a real bar that isn't going to come anywhere close to bending or cracking.
Bullrock fitness (check red cerakote Olympic barbell India Review) and Challenge are highly reputable brands that have some great affordable bars that will hold up and last for years of use.
As for the plates, I'd recommend getting bumper plates so that you don't have to worry about damaging your floors or training on different surfaces like a hard garage floor or even outdoors.
We like competition color bumper plates by Bullrock, but you can make do just as well with used bumper plates you can find at a facebook marketplace or on the secondhand market for weight plates.
You don't need anything fancy, the only thing you need to worry about is the weight. So as long as the plates aren't missing chunks out of them, they should do the trick.
4. Pull-up Bar/ and Pull Up Band:
A pull-up bar is an easy-to-install and powerful piece of equipment fixed on the wall, doorway, or anywhere. It is primarily used for pull-ups, chin-ups, and muscle-ups to train the upper body parts and build bodyweight strength. If you miss on them, you leave the chance for training to your side.
Basically, if you're starting to build your home gym from 0, and you aren't getting a full squat rack (that comes quite expensive, though) that has it as an attachment, then get a separate wall-mounted pull-up bar India. Don't buy that flimsy-looking pull-up bar that gets attached to the doors, they are worthless.
Get a legit pull-up bar that won't be shaky and has a 1 and a half or 2-inch metal pipe.
You can also get wooden gymnastic rings to do pullups and dips, muscle-ups, front levers, back levers and everything. But only get them if you are a calisthenic person. For all others, getting a pull-up bar and a pull-up resistance band as an accessory to do things like pulling motion, pressing motions is a practical option.
We can also add pull-up bands to our bodyweight exercises and the kettlebell exercises that we're doing to increase the difficulty of those movements. It's also a nice tool that gym must have for mobility training.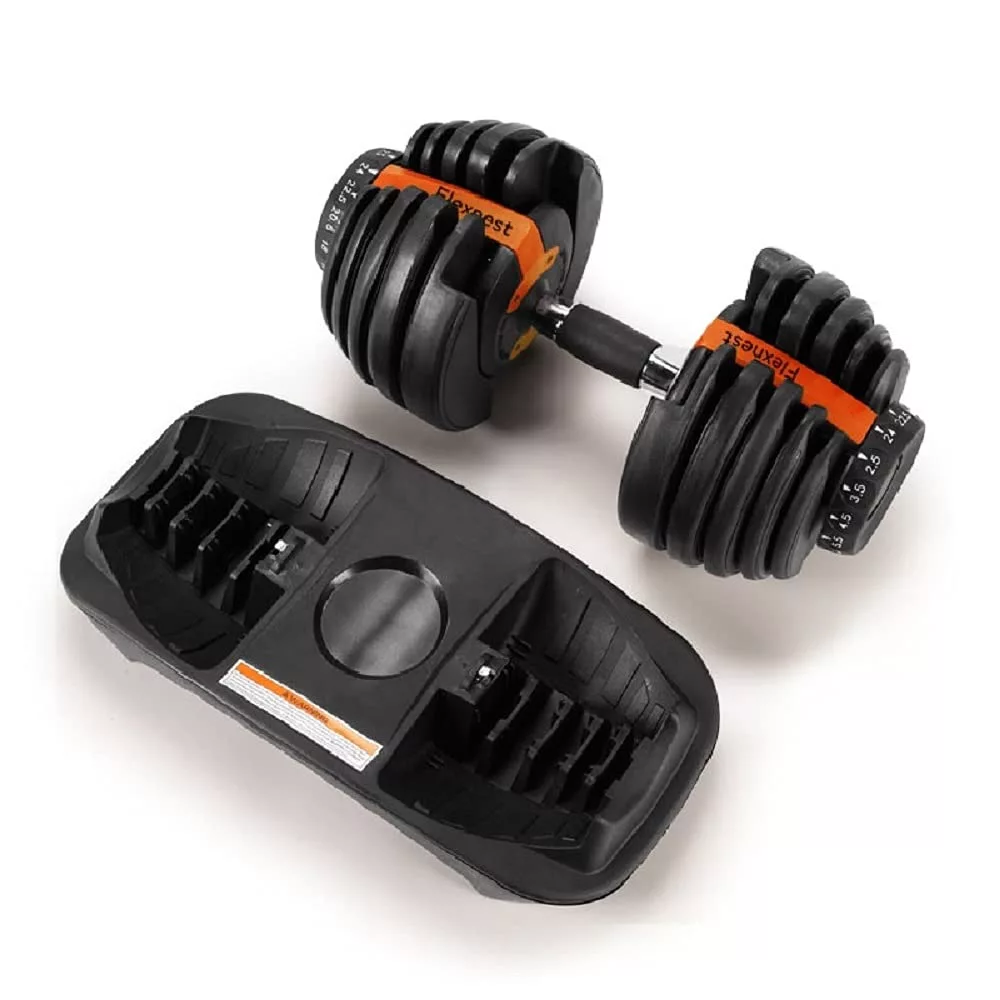 5. Adjustable Dumbbells:
Adjustable dumbbells are strategically designed to adjust weights, remove them, add them as per need. It is a good replacement for the old set of 5kgs or 10 kgs dumbbells we often see. There are 15 or more dumbbells set adjustments for you to decide here, which will decide the minimum weight and weight increments.
Dumbbells are a common thing people buy when shopping for home gym essentials on a budget. Also, maintaining 10s of fixed weight dumbbells in a home is tough. They are expensive, and they could probably rust, they take too much space and an additional dumbbell rack to maintain them.
For a home gym, 1 set of adjustable dumbbells is enough to live up to your expectations or be able to replicate the feeling of a real dumbbell. You can go with a 24 kg flexibell dumbbell in India, which is the twin brother of Bowflex. It is the most innovative and cost-effective dumbbell piece you can look at to design your gym. It's a gym must have.
If you're much stronger, then go with the 48 kgs cube club PowerBells India, but follow a general rule with these kinds of dial mechanism dumbbells. Don't drop these, otherwise, it won't last and break out.
Keep in a note: You want weights you can use for any exercises, for example, to do a concentration curl, to do a heavy deadlift or bench press, and for that a pair of 10 kgs, and a single 20 just won't cut it. So start with what you know you can make good use of and gradually expand your collection as you progress in strength and training variations.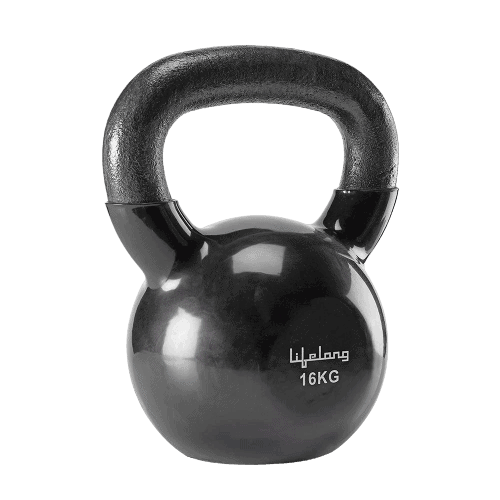 6. Kettlebells:
Usually, most miss out on these large cast-iron ball-shaped weights called kettlebells in India. But they are equally good as dumbbells to keep at home. The difference is you need to learn to use it first.
The kettlebell is one of the most versatile pieces of equipment that you could have at home. It pretty much acts like a dumbbell. In fact, it's probably more challenging than a dumbbell because its grip is not in the center of the weight but actually off-centered. That actually requires a lot more of our control and understanding of how to use a kettlebell.
You can play with a kettlebell that you might not normally do with a dumbbell or a barbell. In fact, when we use a kettlebell, we eliminate the need for anything, such as a bench, a rack, a dumbbell, or just anything.
You can start by buying three different weights to begin with. Get a heavy, medium, and light or an adjustable weight kettlebell altogether. You don't even need it in doubles (or pairs) as a dumbbell would.
You can use single weights for unilateral movements and then just perform both sides separately, which is actually challenging your core more a lot of the time- but first learn some of the kettlebell movements.
7. Medicine Balls:
A medicine ball (also known as an exercise ball, a med ball, or a fitness ball) can be used to build strength and help with balance, posture, and overall wellness. It can be used for cardio work as well – a one-two punch.
You can get away without these guys if you're trying to be as budget-conscious as possible. But these can especially be great for abs workouts and metabolic conditioning training.
Whenever I'm cutting down for summer, I always make sure to take the blade in order to crank up my fat loss, skyrocket my metabolism, and combine it with some intense metabolic conditioning sessions using medicine balls. Try to stay away from sandbags that are filled with sand. They end up making a mess and invariably they end up messing up your gym.
There's no other exercise quite like the med ball slam for head-to-toe power, explosive core strength development and torching excess body fat.
You can get up to 30 pounds and that's plenty for you if you want to go heavier. You certainly can, but that wouldn't be considered essential. This would complete the 7 best equipment for home workout in India.
Conclusion
If you have all of these items discussed in-home gym equipment list India, you will be all set with a fully loaded fully functional home gym. All in with a high-quality rack, barbell, plates, free weights you could bring in your brand new gym to last you the next decade or two. 

For under a lakh rupees or more, you can take it far beyond depending on how far you want to expand. Either way, it will be a worthwhile investment as long as you choose to use it. 

That's the 7 must have home gym equipment you should get. Definitely!!!

With these simple pieces, you can build your own world-class facility right in the comfort of your own home and can train whenever you want and never have to wait for a dirty piece of equipment with the previous guy's sweat stains all over it ever again. 

For many guys, this means the difference between a focused, high-intensity, convenient workout and the frustration of dealing with crowded machines, poorly kept equipment, and the hassle of travel time.
If you have questions about "Must Have Home Gym Equipment List" drop them below in the comment section.
Sharing is caring.