A pull-up bar for home wall can help you to stay focused and stick to your exercise routine during and after the corona. Believe it or not but it can prove to be a tremendous motivator to exercise because it is right in front of you every time you walk into your room.
The psychological benefit of having a pull-up bar at home is significant, as you can immediately associate the push-up bar and escape all plans to delay or dismiss training at any point in time.
So, we are here to give you every small detail on the pull-up bar. After doing intense research and testing, we've got our top picks for the best wall mounted pull up bar India. 😀
➡️ In addition, you'll find important information about why a pull-up bar online in India is a good buy, and at last, we will answer some of the FAQs about the best pull up bar for home India.
Our Top 6 Choices For Best Wall Mounted Pull Up Bar India
| | | | | | | |
| --- | --- | --- | --- | --- | --- | --- |
| | | | | | | |
| | Home Gym Dynamics Multi grip Bar | | Magic home gym pullup bar | Home Gym Dynamics Removable Model | Sapphire Wall mounted multi grip Bar | ALLYSON FITNESS Pull up Bar |
| | | | | | | |
| | | | | | | |
| | | | | metal frame (Life time warranty) | | |
| | | | | | | |
| | Multiple wide narrow grip | | | | | |
| Additional Exercises option | | | | Pull Up Bar, Dips Bar, Push Up Bar | | Pulley to add more exercises |
| | 8 wall anchor bolts and spanner are included, rgds | Load-bearing wall installation. | special wall anchors are provided with spanner. | | Nut Bolts, Wall Anchors and Spanners | |
| | | | | | | |
| | | | | | | |
Continue reading more about individual pull-up bars and don't miss the ending.
(Usually, good things are kept to an end! 😀)
Top Pick
1. Best Pull up Bar for Multi grip: Home Gym Dynamics Pull-Up Bar
Brand: Home Gym Dynamics
Material: Steel
Item Weight: 8 Kilograms
Colour: Black
Item Dimensions: 90 x 50 x 18 Cms
Multiple wide narrow grips
✔️ This pull-up bar got the most comfortable grip that minimizes any risk of calluses or cramps. With you get a five-grip position that provides deep conditioning to all the major muscle groups of the upper body.
🥰 The Home Gym Dynamics wall mounted pull up bar has grabbed the first position on our list for some very good reasons. The product has a multi-grip option that gets you five grip positions on the pull-up bar for the home wall to provide deep conditioning to all upper body's major muscle groups.

Made up of heavy-duty construction, it can easily support up to 120 kg of weight. You can install it on brick walls, concrete columns, or beams. For mounting, you'll additionally get unique wall anchor bolts.

This sturdy pull-up design provides a comfortable grip that reduces the chance of calluses or cramping. The pricing of this multi-grip pull-up bar is kept under Rs. 5000, which is to be expected for this kind of product.🖐️
Customer Review:

➡️ "The product is wonderful, and it can be used for any pull-up bar activity. The only reason I gave it four stars is that I did not receive one of the tighteners that they said would be shipped by air courier."
Why should you buy this?

If you are tense with developing cramps or calluses during your hangs, then no worry. With this product, you get an angular grip that provides superb muscle isolation so that you can switch your hand position regularly—giving you secure, clean & healthy palms.
Pros
Comes with 5 grips pull-up position. 
Heavy Duty Pull Up Bar made of steel.
Premium look and sturdy design.
➡️ If you're willing to buy pull-up bars for the home, the most important thing is to figure out which pull-up bar will fit in your wall? What grip do you feel most confident in? Think about the load the bar can hold? 

Of course, if you're heavy, which means above 100 kgs, this is the first thing you should check. Most ordinary pullup bars aren't made that strong, and if you made a wrong selection, you could end up risking your health. 

Top Pick
2. Best folding wall mounted pull up bar: DOMYOS Pull-Up Bar 900
DIMENSIONS: L: 115 cm H: 37 cm D: 58 cm
Warranty: 2 Years
Country Of Origin: China, India, Turkey
INSTALLING the pull-bar: Mount the pull-up bar on a sturdy wall.
✔️ Only foldable unit on the list. Apart from this, it is the only product in our list whose physical store is available and if there is any problem, you can go there and fix it.
DECATHLON is a popular fitness and sports equipment store and my personal favorite sports store to buy home gym equipment. This pull-up bar 900 offers you 3 grip types: Narrow, Wide, Hammer (that puts less stress on the shoulder or biceps) like most pullup bars out there. 😇
But what's special about this product review is, we found that its design is well-constructed, sleek, and only foldable wall mounted pull up bar you'll find that is also very strong to support user weight up to 130 kg.
The grip handle can be removed and folded down so that it takes up significantly less space. However, many people who choose this Decathlon 900 pull-up bar should have some room for it.
If we move towards its price range, it comes at a very reasonable price of Rs. 3200 compared to other wall mounted pull up bars priced slightly higher. The Pull-Up Bar for Home Decathlon 900 comes with a 2-year warranty, and most of the time, they offer an exchange from your nearby decathlon physical store for any manufacturing defects.
Customer Review: 


➡️ One of the buyers said, "This pull-up bar is a value for money. I have fixed it in my hall. When I don't need it, I fold it up. Its design is innovative and can't be compared to products available in the market. Overall, I had an amazing workout experience with this pull-up and chin-up bar."
Why should you buy this?

If you are worried about stressing your shoulders to lose your grip, then no worry. According to our experts' research, we found out this product comes with two grip options and can be mounted to a wall, adjusted according to your hanging height.

And if you kind of like experimenting with grips, this particular product allows you to change your grip multiple times, so you could pile up on your pull-up sets more easily and grow a full rounder back.
Pros
Comes with comfortable non-slip foam
Ultra-durable and rigid frame. 
3 possible grips to protect your joints.
Cons
This product comes without mounting screws.
Also read our trending articles like Best Adjustable Dumbell set 
Top Pick
3. Best Pull Up Bar for Single User: Magic Home Gym-Wall Mounted Pull up Bar for Home
Material: Iron
Item Weight: 3.5 Kilograms
Item Dimensions: 91.4 x 63.5 x 20.3 Cms
Mounting Type: Wall Mount
Excellent after-sales support.
✔️ This pull-up bar is made up of heavy-duty material and a multi-grip pull-up bar that comes with six grips and is ideally designed for the starter, intermediate, and expert level of difficulty.
📌 You will find, Magic multi-grip pull-up bar is designed to help you discover your power position without going to the gym. This pull-up bar has a minimalist form, taking up much less space than the others. When mounted, it provides enough wall space for completing a variety of workouts.
Magic multi-grip pull-up bar black anti-slip foam improves comfort when working out and protects your hands from harm caused by friction within a highly affordable price range under Rs. 3000. The tubings are powder coated to avoid rusting and to make the bar look great on your wall.
It can support a user's weight of 120 kg. Some necessary things are only given by a few pull-up bars, and the Magic Home Gym pull-up bar is one of them that comes with a special wall anchor with spanners provided for wall mounting with instruction manuals. If we talk about after-sales service, it is absolutely amazing.
Customer Review.

➡️ "The product is too good and robust, I got a most reliable experience when working out, but the installation process was pretty tough because the size of drill to be used, as well as the length of drilling, is not stated in the manual."
Why should you buy this?

When it comes to gripping, you can notice that it is padded with firm gripping so that the user may use it efficiently while working out because it ensures a nonskid grip.

Additionally, you will also get abs straps, multi-grip, chain pulley, and lat pull-down options.
Pros
Heavy-duty design allows it to withstand very heavyweights
Quick to assemble and mount.
It doesn't consume much space.
Cons
Overall, it is a good product, but according to some customers, it bends easily.
Top Pick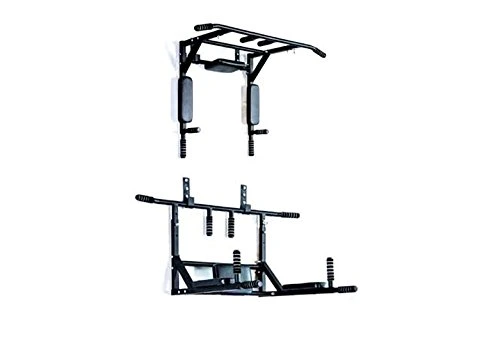 4. Best Wall Removable Model: Home Gym Dynamics Pull Up Bar
Colour: Multicolour
Item Dimensions: 63.5 x 91.4 x 40.6 Cms
Item Weight: 9 kg
Removable Design, Pull-Up Bar, Dips Bar, Push Up Bar
✔️ Searching for a lifetime warranty with high-grade materials that complete your full-body workout need? You should definitely go with this home gym dynamics multi-use pull-up bar product.
Home Gym Dynamics Pull up bar is a complete body workout machine. It comes with adjustable power towers. You can do pull-ups, dips, push-ups, and so on for a better workout. This pull-up bar is designed to provide a serious upper body and mid-body workout. It can sustain up to 120 kg weight.
After testing this pull-up bar, we find it is made up of a tough steel frame, a heavy-duty metal frame that can provide outstanding strength compared to other pull-up bars present in our list.
It is the best pull-up bar for home use in India because it is constructed with non-slip and large rubber mats to protect you from the slippery grip when exercising. 🙂
Home Gym Dynamic Pull-up bar is one of the best wall mounted pull up bar India available online; it is not only reasonable under the price range of Rs. 6000, but it is also ideal for home use; you can easily mount it anywhere in your home without causing any inconvenience. It is not a permanently mounted pull-up bar. Once you've completed the workout, just unhook the bar.
What exercise variations can be used?
Customer Review

➡️ "It's a great product and very useful. I love it, so no complaints from my side. It can carry 90 kg easily."
Why should you buy this?

If you like to work outdoors, it is the best product for you because it is convenient for indoor and outdoor workout needs. It's quite simple to install, and it does not require any additional tools.
Pros
Comes up with a removable Design.
Designed to provide a serious upper body and mid-body workout.
Convenient for both indoor and outdoor wall mounted pull up bars.
Top Pick
5. Best Pull-Up Bar for Beginners: Sapphire Wall Mount Multi Grips Pull Up Bar
Material: Metal
Item Weight: 12 Kilograms
Colour: Red Black
Item Dimensions: 127 x 55 x 10 Centimeters
Type: 5 grip positions, pro-level workouts
Capacity: 150 kgs, hardware and tools included
✔️ Beginners who are still gaining strength can start with this adjustable pick, which is perfect for modified pull-ups. You get 5 grip positions, to complete pro-level workouts.
😊 Sapphire wall mount multi-grips pull-up bar is specially designed for beginners and pro-level enthusiasts. The product multi-grip feature gives serious conditioning in the major upper body muscle groups and is made of heavy-duty materials that can sustain users weighing up to 120 kg.
You can fix this wall mount pull up bars on brick walls, concrete pillars, and beams in your house. For mounting, special wall anchor bolts are provided.
This product feature includes sweat absorption, less hand pain or fatigue, and tear resistance as the component and benefits of having an extra long-form grip give increased comfort. 😇
If we talk about its price, then it comes under the decent price range of Rs. 3000 with excellent customer care service. Good after-sales service is guaranteed. Target2BFit is a renowned workout brand that guarantees the metal frame on all of its items for life.
Customer Review

➡️ "Very nice pull-up bar with different grips! The frame is sturdy and solid and looks very premium! The Nuts and bolts provided are solid. 100% satisfied!"
Why should you buy this?

If you are a beginner and concerned about hand pain or fatigue, you don't need to worry because it comes with extra-long foam grips, which help in reducing hand pain or fatigue while hanging.
Pros
Comes with a heavy steel chain
Strong and slip-resistant
Comes with a comfortable grip
Easy to fix.
Top Pick
6. Best Pull Up Bar in the budget: ALLYSON FITNESS Wall Mounted Chin up Bar
Material: Alloy Steel
Colour: White
Mounting Type: Wall Mount
Maximum weight supported: 120 kg
INCLUDES:- PULL UP BAR, LATS BAR, TRICEP BAR, SINGLE HANDED GRIP, U BAR, AND ANCHOR BOLTS
✔️ This innovative design pull-up bar also has resistance bands included to help you use a substantial amount of weight for other exercises also. Available at a most reasonable price and it can be easily fit in any corner of your home without demanding much space.
The Allyson gym equipment brand offers the highest-quality fitness equipment to turn your home into a smart gym. It allows the user to do calisthenic-style training within their home's comfort, naming chin-ups, pull-ups, muscle-ups, and other hanging exercises.
😅 Made up of heavy-duty steel, this pull-up bar is an excellent addition to achieving outstanding results during your back training. A soft high-density foam grip has been added to the bar for a stable and comfortable grip.
With it, you also got a pulley system attached, where on one side you can add weights, and on the other side, adjustments can be fitted for doing tricep, and all back exercises. 🙂
This all you will get within the price range of Rs. 2300 only. If we talk about design, it's very sleek, which can fit in any corner of your home without demanding much space. It is user-friendly and an easy to assemble unit which can hold up to 140kg, making it suitable for exercisers of all body weights.
Which pulley adjustments can be made?
Customer Review: 

➡️ "Excellent equipment. Unlike other pull-up bars, this one is built with solid material. I give it a 5 stars rating. It is recommended to all who love to do home workouts."
Why should you buy this?

It features non-slip foam grips that are extremely comfortable and helps to prevent calluses and cramps. Due to its sturdy and slip-resistant grip, you could maintain consistent reps without discomfort or fails.

You also got a one-year standard warranty against manufacturing defects included. This is the most practical and feature-loaded pull-up bar on the list. 

Find more amazing pull up bar, which we haven't included in this blog, from USI Sports here.
Pros
The grips are made of high-density foam.
Made up of heavy-duty steel.
Get extra safety and comfortable PVC grips.
Cons
From the hardware, the wire keeps escaping that holds it.
Why Pull Up Bar For Home Wall Is A Good Buy?
Following are the reasons for pull up bar for the home wall is a good buy:
Final Verdict
KEY POINTS
Are you a little bit confused about which one you should buy out of the 6 best pull up bars for home mentioned above?

Then, we say if you need a simple, stock pull up bar for home exercise with all the features or anything else, then go with the DOMYOS Pull-Up Bar 900.

If you are looking for an alternative to Magic Home Gym, then ALLYSON FITNESS Pull Up Bar deserves to be your favorite. 🖐️
It is a good choice for you which comes under your budget with all the features that come in any high-priced pull-up bar for home.

Buyers mostly care about the price factor; if the same thing comes under the low price, why not go with the less price product.

Frequently Asked Questions About Pull Up Bars For Home:
Q1. Did a single brick wall have the capacity to hold a pull-up bar?

Yes, there is a chance that if you pull out the bar with more force, then it may cause the brick to fail. If there is a concrete wall, then you must anchor through the brick with wedge anchors or sleeve anchors and mount a pull-up bar on it.
Q2. Which one is better: Steel vs. Iron pull-up bar?

Both steel and iron pull-up bars are good for upper body exercise, but steel bars are good for core muscles, too, because steel pull-up bars come with more adjustable handles with cushioned grip as compared to iron bars.
Q3. Are wall-mounted pull-up bars safe?

Yes, wall mounted pull up bars are safe but are not always very stable. If you have any doubt, you can check it by pulling down the pull-up bars with your bodyweight to ensure it is perfectly mounted and doesn't move.
Q4. Can a wall hold a mounted pull-up bar?

Pull the bar down a couple of times without using all your weight. If the bar is centered and level with the back frame, it is strong enough to hold all your weight. Normally, the average pull-up bar is capable of holding between 300 and 500 pounds, making it is a fairly durable and safe option to purchase.
Q5. How to install a pull-up bar on the wall?

Attach the bar from 1 side of the wall, using the screws, nuts, and bolts that came with your pull-up bar. Take someone's help for holding the bar for the other side after all bolts have been installed. Check the stability of the bar by pulling the bar down.
Q6. Can 5 feet women grow height with a pull-up bar?        

Pull-up bars do not increase your height and shouldn't be used as a height enhancer. Because the anatomy of the exercise itself is totally different and "hanging from the bar" is barely for the second. So whoever thinks that hanging would increase height would set up themselves for disappointment.
Thanks for reading the "best wall mounted pull up bar India" blog.
If you've any questions as always, you can leave them in the comment box below and we will come with the answers to solve any queries you may have.
Sharing is caring. ❤️