Bullrock Red Turtle Bar is here; it is the go-to best cerakote barbell for Olympic weightlifting in India and the latest addition to Bullrock barbell India lineup. It is considered to be a versatile, and multi-purpose bar that is loved by all athletes who do follow different disciplines of lifting. 
This new cerakote bar is stronger, resilient, and flashier than all other barbells, but still, the cerakote barbell didn't get much limelight since Rogue in 2017 came out with their first cerakote bars and the lifting community gave it good attention. 😀
But Rogue didn't spearhead it in India. The bullrock barbells noticed a good thing and jumped on it.
It's easy to see why you don't see very many bright red barbells, let alone cerakote versions of it, especially for the price that Bullrock Fitness India charges for this.
In this Bullrock Red Turtle Barbell Review, I am going to address why cerakote coating is better than any other barbell coatings. We will talk about what's different, which is better, and whether a cerakote Olympic barbell is best for you or not? After other flashier barbells that have some coating on them, like
Bullrock Sabertooth Bar (a very good 29mm powerlifting bar) that comes in a black oxide coating on the shaft,
Bullrock Deadlift Bar (a 20 kg, 27mm specialty bar) with phosphate coating and then, of course,
Bullrock 28mm Red turtle bar/ Bullrock 25mm Lady Turtle bar, the cerakote coating olympic barbells.
So here I want to give you a review as a weightlifter. I say that because if you take a look at this barbell and the specs behind it I would really classify this as an Olympic weightlifting bar that has miles on it of any bar in the gym. 😀
Let's begin.
What is Cerakote?
Cerakote or ceramic coating has been around for a while. It is used most often on firearms and is used in many of the harshest environments in the world because of its hardness and durability, but even more so of its corrosion resistance. Nothing gets through it. 😅
Because cerakote is used on the weapons, you get military-grade protection with barbells that have a cerakote coating.
Moreover, it feels like there's a slight layer of permanent chalk that's applied to the steel.
Cerakote is good for many things and it's not the fancy color or pattern it can be applied with – it's important because the ceramic coating resists corrosion better than all the other barbells, except perhaps for stainless steel (which is a kind of material, and not a coating).
Check the below image to know the coating & tensile strength of the different barbells.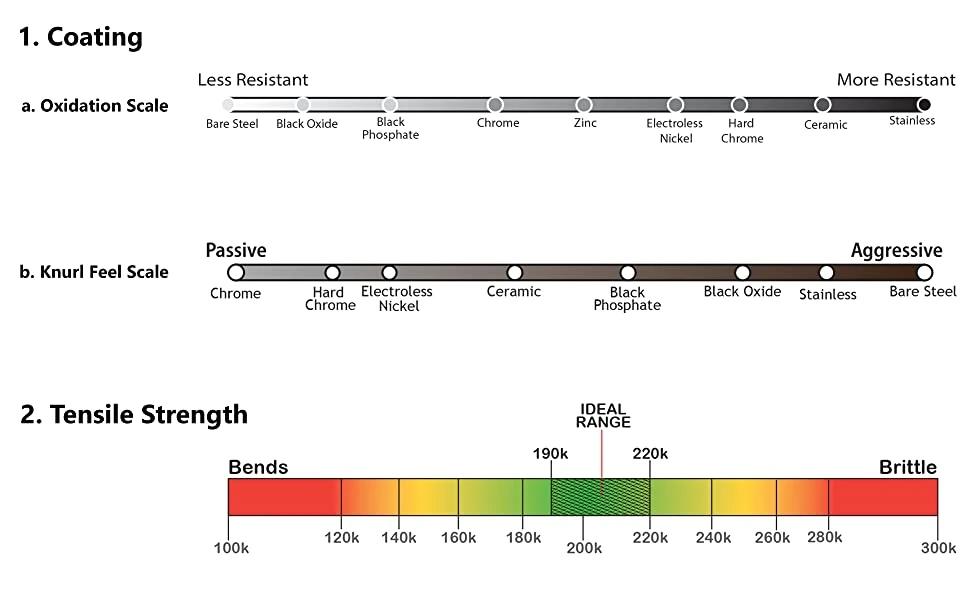 Why does it make sense to buy a cerakote barbell?
Environment: If you live in a humid environment, then the extra cost of buying a cerakote barbell, compared to a bare steel bar, is going to be a no-brainer.
Corrosion salt spray testing shows that this coat lasts 70x longer than chrome.
Also, cerakote offers 100X corrosion resistance of standard black phosphate. Sea air, dust, sweat can do nothing to this Red Turtle Cerakote Barbell.
So if you don't want your bar to rust, then you're must have to go only with the best cerakote barbell, or the stainless steel, or the budgetary priced hard chrome bar like Bullrock Wild Rhino Power bar. 😀
But on the contrary, if you live in a dry climate, then I don't really see the benefit of the stainless steel bar or the cerakote bar, unless you plan on leaving your barbell outside for some reason.
What's the Bullrock Red Turtle Bar Review?
Bullrock Red Turtle Bar – The Best Cerakote Olympic Barbell India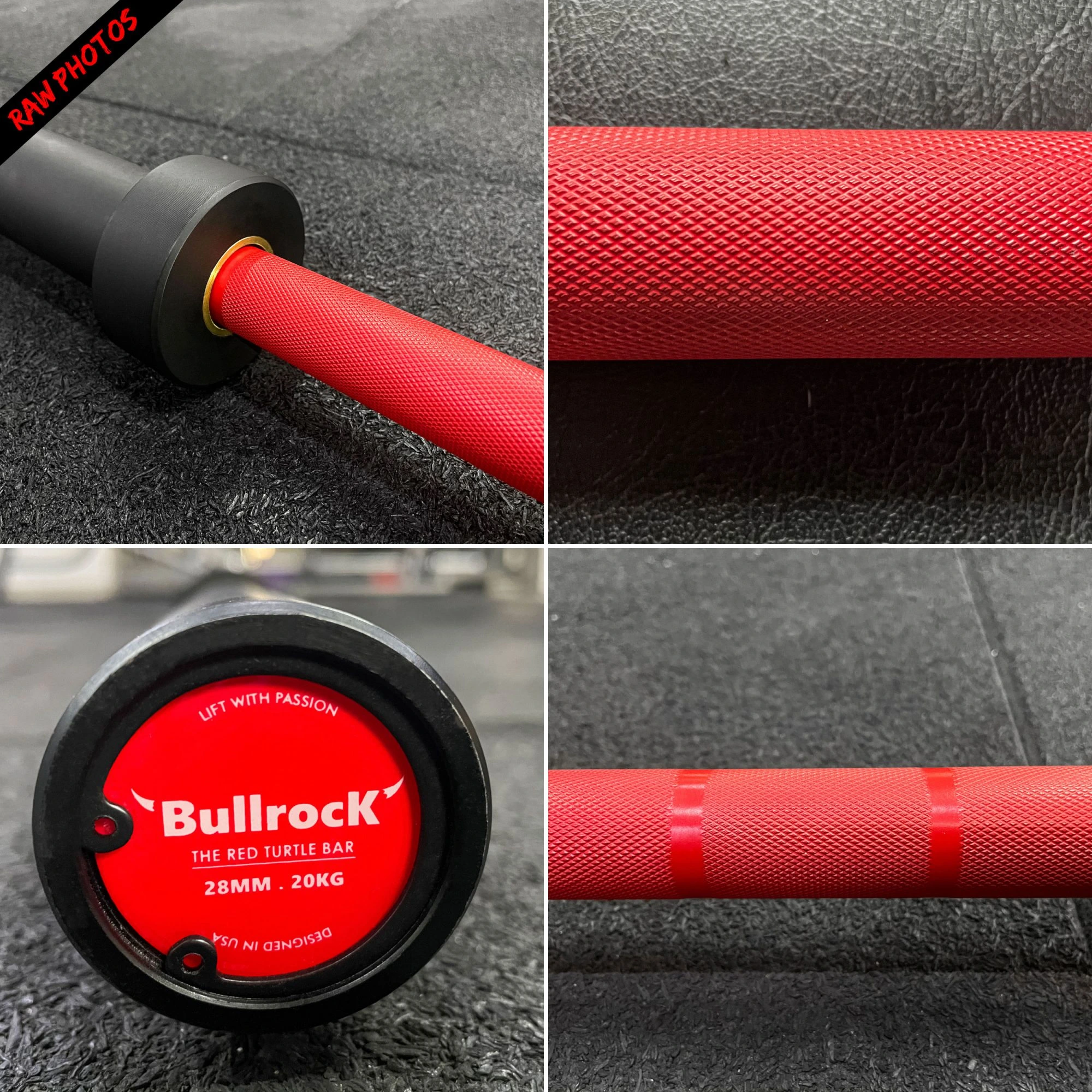 A corrosion-resistant bar
We finally have a new cerakote barbell in India. This new Red turtle bar is an alloy steel made, and it's finshed in cerakote instead of, black oxide or black zinc, its unique not only in Bullrock line-up but unique in the whole marketplace. It's stronger, more resistant, and yes little expensive at about Rs. 28k. The cerakote barbell is more or less an Olympic barbell that you can use to do snatches, C&J's with, which makes it a definitely the most popular choice among lifters community. 🏋️
➡️Dimensions: Starting with the specifics of the bullrock barbell, the shaft you get is of 28 mm diameter, weight 20 kg, and 2200 mm in length. That is of the same features as pretty much all the 28-millimeter barbells that are in Bullrock fitness barbell lineup.
➡️ Shaft & sleeve: The shaft is made of high-grade alloy steel and the sleeve has snap ring construction. It is capable of 210K psi tensile strength which provides a good whip to the bar on max loads. 😀 You get a high-quality 8 NK needle bearing (4 per sleeve), made from high-quality small needles that roll within the sleeve, and 2 bushing that provides it with smooth spin.
➡️ Knurl: This cerakote Olympic bar has dual knurl marks i.e., IPF + IWF, with no center knurl. You get a 1.2 mm diamond knurl, which is a slightly less aggressive knurl type for comfortable gripping.
➡️ Coating: There is a unique polymer ceramic composite coating/ or cerakote on the barbell, offering up to 100x the corrosion resistance of standard black phosphate. Now, unlike the other cerakote barbells that are on the market, Bullrock India uses 2 coat layers of the same cerakote coating to cover the entire barbell from sleeve to shaft. This coating will ensure that the barbell remains in a pristine-looking condition for a long time.
➡️ Feeling when holding a bar: If you've never used a cerakote barbell before, the feeling is way more matte compared to their glossy or zinc counterparts. Though you may see some scratches. Metal to cerakote does not mix well. But the shaft itself is where it shines as it's the place where sweat, skin, and chalk will go.✌️
➡️ Warranty information: The barbell isn't meant to exchange on a year-to-year basis. You get a 1-year warranty against manufacturing defects and a lifetime warranty against bending. You just have to maintain the condition of the barbell, clean it from time to time and you'll be good with them. 💖
Pros
Good for people living in a humid climate, or near coastal areas. 
Known for its hardness and durability.
Rust-proof. Corrosion-resistant. 
Moderate whip for Olympic-style lifting. 
The maximum load capacity of 816 kgs. 
Can be used as a Power and CrossFit barbell. 
8 NK needle bearings used for smoother spins. 
Made of high-grade alloy steel.😀
Cons
For serious squat & bench lifter 28mm shaft diameter, less aggressive knurl & absence of center knurl makes the bar less attractive.
Can scratch easily from metal to metal contact. 
Shouldn't be used with iron plates.
Product Specifications:
| | |
| --- | --- |
| Bar Type | Men's Barbell |
| Bar Weight | 20 KG |
| Bar Length | 2200 MM |
| Whip | Moderate |
| Shaft Diameter | 28 MM |
| Knurl | 1.2 MM |
| Knurl Type | Dual IWF + IPF |
| Center Knurl | No |
| Loadable Sleeve Length | 415 MM |
| Shaft Coating | Ceramic Coating |
| Bushing/ Bearing | 8 NK Needle Bearings + 2 Bronze Bushings |
| Tensile Strength | 210,000 PSI |
| Max Load | 1800 lbs/ 816 kgs |
✔️ What I Love About Bullrock Red Turtle Best Cerakote Barbell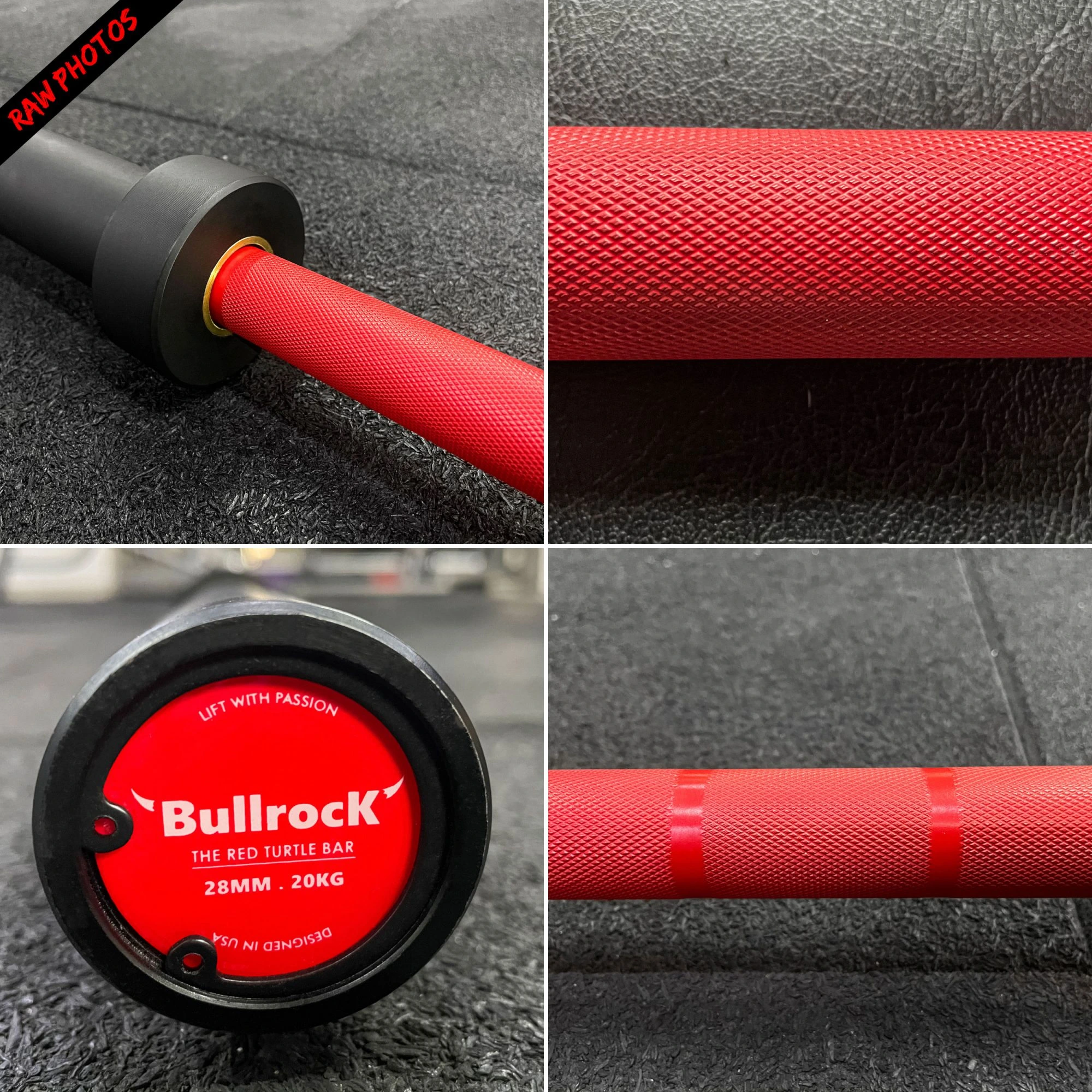 When you take a look at the actual knurling of bar, it's not very aggressive. This makes it ideal for weightlifting settings. It's also doesn't have a center knurl, which is important for people doing front squat or cleans because when you spend a lot of time in a front rack position, you don't want that aggressive knurling digging in your collar bone.
Surprisingly, it does have powerlifting IPF knurl marks but obviously; it has weightlifting IWF no marks as well, and perhaps one of the most interesting features on it is in the sleeves. It actually uses bearings instead of bushings.
The people who don't know the difference must check this blog on 👉 How to choose the best barbell. But the general rule of thumb is for weightlifting: you want bearings because it allows for less friction and smoother spins.
They are really great for the faster lifts versus bushings which can still provide some great spins, but it's geared more towards slower lifting.
✔️ Another thing about the Bullrock red turtle cerakote bar is its matte finish holds chalk really well. It doesn't get slippery like zinc does. The real reason you should be looking into buying a cerakote barbell is because of its corrosion resistance property. It's going to last much longer than a typical zinc coating barbell.
Thus, it will not rust as fast as a zinc bar will, or a chrome bar. But the stainless steel barbell is still going to be my top pick, as far as corrosion resistance. But shortly after that, it's going to be the cerakote barbell.🏋️
❌ What I Don't Like About Cerakote Barbell India
I definitely want to see someone using Bullrock cerakote bar as a full-time bar if they liked to follow a lot of different disciplines, I say that because if you're simply focused on powerlifting I don't think this is the best barbell for you and that's for a couple of reasons:
1. Thinner Diameter:

Because red turtle bar has a thinner diameter at 28 millimeters, whereas most powerlifting bars are usually 29 millimeters. This makes it less fit for powerlifting movements.

👉 This might sound like a small difference in theory but in the application that 1 millimeter gap does make a big difference. When you perform heavy squat or bench press, you will feel that while pushing the weights, the 29mm seems much comfortable & efficient than the 28mm.

But it's obvious because greater the surface area for pushing makes the rep more efficient.

This can be a little bit off-putting, especially on squats, and I assume if you bench enough that it would be a problem as well.
2. No center knurling for squats:

It doesn't have center knurling is a benefit for deadlifts, but for back squats, it's a big negative. Because in my low bar squat position I really depend on that center knurling to help really grind that bar into my back. And the fact that this bar doesn't have it makes me really worried about the bar slipping off my back.

Actually, the reason for this is because the cerakote Olympic barbell has a more smooth finish, which makes it pretty slick.

👉 This isn't a problem if you wear a powerlifting style grip shirt, but who would spend additional Rs 2000 or more on a shirt just because this barbell demands it. The bullrock red turtle bar description says it clearly this is an Olympic lifting barbell, so judging its application for pure powerlifting sport isn't the right thing to do.
3. Scratches can be seen:

The major setback with bullrock best cerakote barbell India is it can be scratched from metal to metal contact. The sleeves are coated with cerakote as well and they show punishment when weights spin on them really, really fast. 😅

Make sure that you are using at least bumper plates on these barbells and not metal plates. Using cheap cast-iron plates on the ceramic sleeve can chip off the coat too.

Also, you have to be careful to use only rubberized J-cups while racking the barbell either on a squat stand or squat rack. This way you can ensure its long life. ✌️
👉 So if you're in the market for an all-around cerakote barbell, which kind of does a little of everything. This is really something you should consider, especially if you just want to get into the cerakote game or if you're interested in picking up weightlifting and want a weightlifting specific bar because this as a power bar is LESS ideal for serious powerlifters. ❌

How it will be shipped to you – Packaging of the Cerakote Barbell
I can't really understand or undersell this one, is the fact that it's an affordable bar, but it came probably with the best packaging you would ever see for any barbell. Even which retail for about three times as much as this particular one does.
So when it is shipped to you, it will be in its normal cardboard tube, as all bars do. But in this case, it used screws to attach a very heavy and thick end cap, which was nice to see. Because dealing with a bunch of staples, a bunch of tapes, and a bunch of thin plastic would lead the barbell to break either in shipping or trying to take the bar out of the packaging itself.
Here you get four screws per side, a very thick well-secured end cap. It actually took about 5 minutes to get the bar out as opposed to literally usually taking around 20 minutes and anyone who's had to pry staples or tape or those cheesy little end caps off or try to peel the barbell.
You know it can take a lot of time to do that and it's very frustrating to experience. 😅
This was the easiest bar to unpack and, again, the most nicely packaged. Once you open it, you have it in a bag which is supposed to help fight corrosion and rust. ✌️
I say that because I've also had barbells that show up to me rusted already, even though they're supposedly brand new. Chances are they were sitting in a warehouse somewhere or in transit, they are exposed to conditions that led to some of those issues. ➡️ But bullrock barbells do it nicely.
Cerakote Barbell Vs Stainless Steel Barbell

✔️ Difference: Let's understand first, stainless steel is a material and cerakote is a coating. Stainless steel bar doesn't have any type of coating or finish on it. It's also the most corrosion-resistant bar type. But it's not true that stainless steel barbells don't corrode, leaving them unused for years, or people who use them in humid temperatures do experience some type of corrosion in their barbells. Which isn't with cerakote coated alloy steel barbells.

✔️ Price: Stainless steel is the most resistant material to corrosion and is priced as such compared to any other material barbells.

✔️ Knurling: With a stainless steel barbell, you'll have pristine knurling, which is more aggressive. But with cerakote barbell knurling could be antiskid.

✔️ Maintenance: For Cerakote barbells, as far as coatings go, they pretty much make your barbell maintenance-free forever. Stainless steel also doesn't require maintenance. However, cerakote barbells are prone to scratches. And for both barbell general cleanliness is to be maintained, brush off the dead skin and chalk out of your bar's knurling from time to time.

✔️ Durability: Both of them are super durable. Stainless steel barbells, unlike other steel alloys, cannot be hardened. As a result, it is weaker than hardened steel. Cerakote in this manner provides the benefit of hardened steel with a good coating that is extremely tough. But it can peel off its paint, where stainless steel bars won't run into problems.

✔️ Color: You get tons of color options to choose from in cerakote barbells. Stainless steel has one colour only.

✔️ Coating: There is no coating on the top of the stainless steel bar, to be effective at preventing corrosion. As a result, there is no corrosion-resistant coating that will wear away from grinding against your J-cups.

✔️ Conclusion: At the end of the day, people choose how their barbells look when they train with them, are they fashionable. If that is you, then apart from stainless steel bars, all barbells are coated with some or other kind of coatings, that may be zinc, cerakote, or chrome. In that way, you can be assured that your barbell is coated to get some protection against rusting.
➡️Should You Buy It?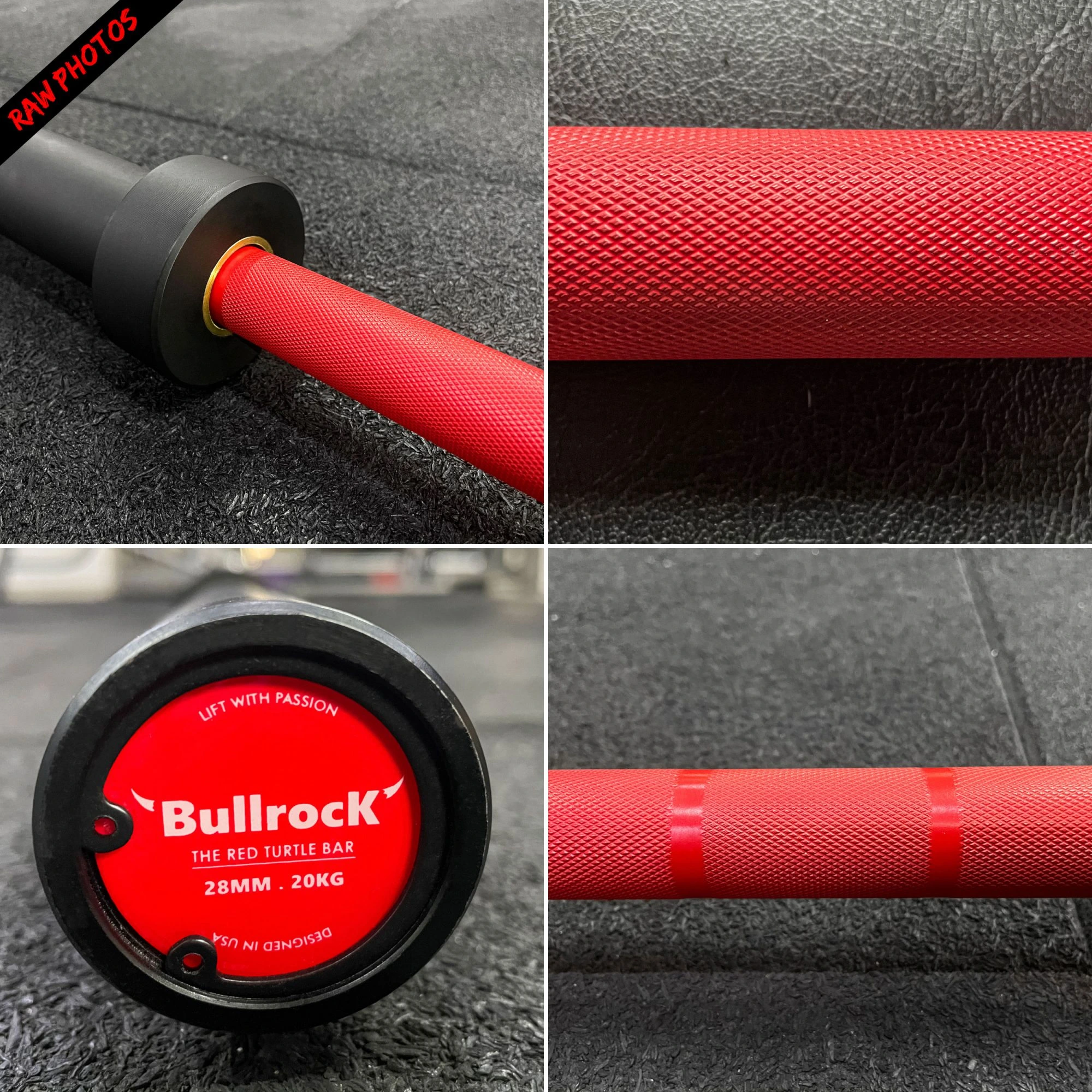 Verified
Bullrock Red Turtle Bar Review
Best cerakote barbell – Work on finest quality needle bearing. Get more consistent, and quieter spin for your Olympic lifts.
10 People Used
3 Only Left
Bullrock Fitness cerakote bars are arguably the most popular barbells on the market and that is for good reason it's because they are just good at everything. When it comes to performance, the bullrock olympic barbells in India make some of the best all-around barbells.
They're probably the best CrossFit barbell, best multi-use barbell. You can use them for deadlifting, bench press, any kind of Olympic weightlifting, and pretty much anything you throw at them.
I would recommend the Bullrock's Red Turtle Bar – Best cerakote Olympic barbell in India, if you're in the market for a bar that kind of does it all but isn't geared specifically towards powerlifting.
And I really say that when you consider the price of this barbell which is retailed for Rs 28000 (approx on amazon) and when you take a look at the market for best cerakote barbell in India, I believe that's probably one of the cheapest if not the cheapest but most affordable bar out there. 💖
Competitors:

For comparison's sake, the closest bar spec-wise is from USI Universal that comes in camouflage cerakote paint and retails for Rs 30000 approx on amazon, but due to its very low sales and bad product info. We don't have much information to share about this product. So we can't really count it as a competition. ❌

Moving on, the other and only Cerokate barbell after the bullrock red turtle bar is available by Challenge barbell. This actually is a pure powerlifting barbell in India, not an Olympic weightlifting barbell.

Though the company claims, with a 29 MM shaft and solid knurling, it does offer some whip and flexion. You get two color paint options with this, that is green/ blue cerakote paint. If you want a Cerokate version of a bar I think this is the second cheapest option which retails at Rs 24000 from Challenge barbells. But the availability of this barbell for purchase is still a mystery. 😅
Shipping Cost:

I take a look at shipping because in some cases, some of the non-name manufacturers that we're really familiar with will really get you. But when it comes to the shipping cost, they charge a heavy fee, and it's understandable because barbells are heavy pieces of gym equipment and sometimes they're coming across the country or, in some cases, overseas.

So I wanted to see what they would charge inside India and I had it in my mind that they would probably be one of the higher cost options out there.

However, I went on their website and typed in my information, and there I actually saw that I qualified for free shipping, which is really nice. 😅

I am liable to pay Rs 28000 without shipping on Amazon. What's even nicer, they periodically run discount sales, but that ends up really fast, so if you see a good price it's high time you consider buying this barbell.

Or if you just like buying a bunch of equipment, this could be a very attractive option there and for the price point that you get. I really think you guys should probably consider this. ✌️
Hopefully, this blog on "Bullrock Red Turtle Bar Review" has helped answer some questions. If you have other ones let me know in the comment section below.
Also Read:
1. How To Pick Best Safety Squat Bar? 5 Things You Must Check Before.
2. Specialty Squat Bar: Do You Really Need It? This Will Help You Decide!
Sharing is caring. 💖