When you're first getting started weight lifting or doing CrossFit or powerlifting, it's easy to get caught up in buying tons of equipment and reading a lot of online reviews to find out what's right for you.
Today we're going to talk about how to choose one of the most important pieces of gym equipment that you can invest in, and that's the best weight lifting belt.
Most people don't understand the importance of having a good weightlifting belt in their gym arsenal. It's not comparable to a waist trainer or a sweet sweat. It does so much more than that!!
Some say it helps them lift with better technique and keeps their spine safe and neutral. Some wear it for their entire workout for every exercise. Some only use it for their maximum attempts to test 1RM. And some never wear one at all.
So who is right? (clearly only 1 in so many)
We have provided complete information that you would ever need. In this article, we got for you why to use a belt, a comprehensive buying guide, how to wear a belt, our Top picks, and FAQs listed at the very end.
Let's begin with the beginning.
Take a quick view: But if you don't have time to check out the whole blog, I get it. But I suggest you must.
| | | | | |
| --- | --- | --- | --- | --- |
| | | | | |
| USI Universal Power Lifting Belt (Heavy) | Kobo WTB-08 Leather Lever Belt | Kobo WTB-05 Leather Power Lifting Belt | Harbinger 4-Inch Nylon Firm Fit | Aurion Leather Weight Lifting Belt |
| | Ideal For: Powerlifting/ Weightlifting. | | | Ideal For: Powerlifting/ Gym |
| Thickness 10mm, Width 4 inch | 4-inch wide 10 mm thick lever belt | Thickness 10mm, Width 4 inch, Length 100 cm | Length: 14.3 inch, width 4 inch | Length: 46 inch, Width: 4 inch, Thickness: 8 mm |
| | | | | |
| | | | | |
What weight lifting belts are meant for?
In simple words, a weightlifting belt provides the lower back with extra stability & compression.
It does so once you put the belt on, and dive into doing a heavy squat. Just before you descend into the squat, take a deep breath and hold it, pushing your abs against a belt helps you generate that intra abdomen pressure which then prevents your back from extra flexion.
After you reach rock bottom, you maintain that pressure. Then attempting to exhale powerfully with a closed glottis as you drive up without actually expelling any breath, this is known as Valsalva Maneuver.
Without using the Valsalva Manoeuvre the belt will offer little profit. You can actually exhale until you reach the top of the squat. You can feel your stomach rising and fall if you breathe correctly during a hard lift. Not your chest.
Here the belt does really help, especially impactful when lifting heavy loads.
It is important to highlight that belts should only be used once the proper form is achieved, otherwise it can create a false sense of security and mask discomfort.
Most people, in general, can lift more with a belt on than they can off so that's just something to consider, especially as you're training for the long haul and long term down the road it's gonna help with strength gains.
Do you or do you not wear a weight-lifting belt?
A weightlifting belt should be used sensibly and only when you really need one, and you only need one whenever there's a heavy load on your spine.
We want to look after our spines, show it some TLC, tender loving care whilst we lift some heavy sh*t … (in a no-ego manner, it's all about being sensible).
It's a definite purchase, but you need to see it as an INVESTMENT! After all, you have ONE SPINE, take care of it in every way possible.
Let's just get this out of the way first…
"WEIGHT LIFTING/ GYM BELTS aren't magical, they won't allow you to lift more. They help so that you don't injure yourself amid lifting heavyweights."
The only exercises where you experience this kind of heavy load are your barbell lifts, squats, deadlifts, strict presses, barbell bent-over rows, and there are various Olympic lifts.
With a lying-down bench press, you don't need to wear one. There's no 'LOAD' on your spine however wearing one while benching can remind you to 'take that big deep breath in and hold' whilst doing the lift — which I will talk about down below.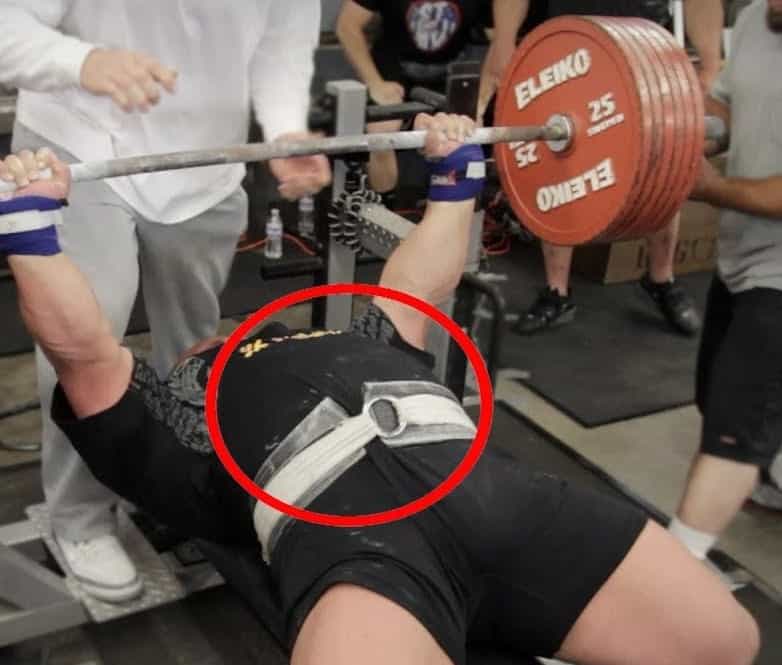 Firstly, your body – core, torso is like a sponge, I'm talking day-to-day conditions, it's soft and flexible — you can bend side to side, forwards and backward, and twist in many positions with ease.
.. so
You've got nearly double or MORE your body weight on your shoulders, about to perform a barbell back squat.
Do you want your torso to be like a sponge? No, not really, your spine would probably start crying for help.
This is where BELTS come in handy, nice and tight, everything will be straight, hard and rigid – just like a telephone pole even on heavy 1RM lifts!
Now you must be wondering at…
What point is a load considered "heavy"?
If you're just starting out with training, you can probably get away without using a belt while lifting for a few weeks or months. The load just isn't heavy enough to necessitate a belt. You can create enough tension in your core to perform the lift safely.
If you have already been lifting for a while and you lift more than your body weight, then for your warm-up sets go beltless until your last set.
At that point, put on the belt, do your last heavy warm-up set, and then keep it on for the rest of your working sets. Feel free to loosen your belt between sets.
Even if you are an elite lifter, don't be naïve to skip belts for your hardest set. It would only keep you injury-free and give max confidence to approach your sets.
Effects of Training with the Belt?
Does wearing a weightlifting belt help improve your performance? It is a no-brainer answer that wearing a belt "generally" improves performance. However, there is a learning curve.
Well, most people wear it for the first time and throw on a belt and hit PRs, while others take time to learn how to use a weight lifting belt correctly.
If are interested to know the numbers and read charts. Then I highly suggest you check out the Belt Bible by Greg knuckles over at the Strength Theory.
Let's revise what we have learned until now:
Why wear the lifting belt:
When not to wear the lifting belt:
Now when you have known so much about lifting belts, then find out how to purchase the best weight lifting belt for squats and deadlifts (among many available).
How to choose the best weightlifting belt in India?
This checklist's primary focus will be around the weight lifting belt, not to be confused with the training belt, the bench belt, or the Olympic lifting belt. Truth be told, no belt is strictly made for a specific lift, but a belt job is to prevent your back, increase abdominal pressure and stability.
One reason these belts have so many questions around them
#1 they're pretty expensive, and
#2 they're not readily available for local pickup.
In most cases best weight lifting belts are offered in three sizes:
6.5 millimeter
10 millimeters, and
13 millimeters
A general rule of thumb is that the thinner the belt, the more comfortable, pliable, and easier break-in the belt will be.
There's been discussion around whether a 13 millimeter provides more overall benefit or not, but I haven't found anything to support this theory.
What thickness of weight lifting belt to choose from?
I found from using both and speaking with a lot of different lifters that it doesn't really matter; I haven't seen anything that would suggest you get more out of a thicker belt as the amount of intra-abdominal pressure you can create.
Paired with the support of the thickness of the leather isn't likely to be compromised with the loads that we're lifting.
Carrying over to weight training other than the belt just being more firm, it should be noted that the thickness of a 10 or 13-millimeter belt typically includes both the leather + suede and…
that the belt is wrapped with on average a piece of suede which will be between one and a half to four millimeters thick.
So, for example, a 10-millimeter squat belt is usually a 6.5-millimeter piece of leather wrapped in two thin layers of suede.
Going with suede oftentimes lets you customize the look of your belt, but one without it will be more firm due to their being more overall leather.
That being said, I'd suggest most people go with a 10 millimeter, as I've known many people who find the 13 millimeters to be uncomfortable to a point where it's discouraging to use.
Which buckle type to choose?
Another choice you'll be faced with is choosing a type of belt. Gym Lifting belts are typically offered in three fashions:
Single prong
Double prong or
Lever.
A prong belt allows you to adjust the belt's fit between sets and exercises by adjusting which hole the prong is inserted to. The downside here is that it can be difficult to get a tight fit and undoing the belt can be quite difficult depending on how tightly it's closed. It's for this reason that if you do decide to go with the prong belt, I'd highly suggest you go with a single prong.
A double prong may look more appealing or heavy-duty, but it offers no additional support and is only more difficult to get on and take off.
If you don't like the sound of a prong, you can always go with a lever belt, lever weight lifting belts allow you to open and close the belt very quickly and easily, the lever also allows for a very tight fit. The downside here is that you're unable to adjust the tightness between sets or exercises without having to completely take off the lever with the help of a screwdriver.
Which material to choose: Nylon vs Leather lifting belt.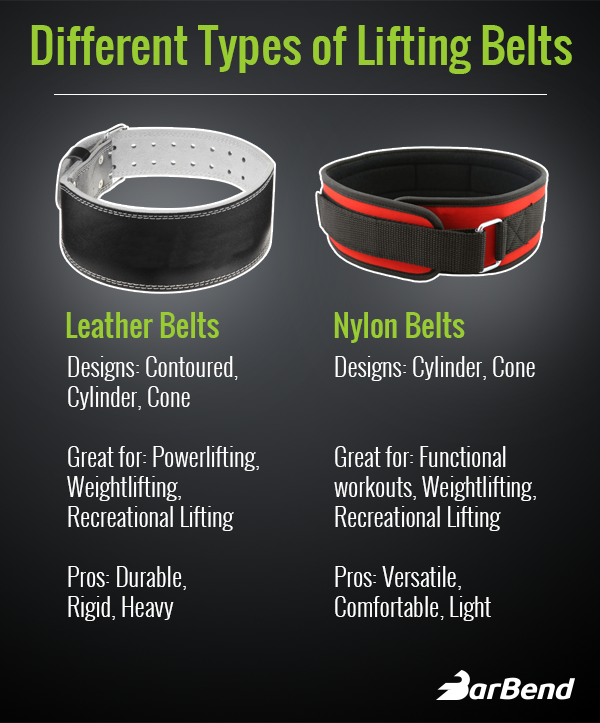 Among all the differences in lifting belts there are two different base materials that belts are made of, one is leather and other is nylon.
Multiple material blends, foam inserts, and cloth variations are present in the belts, but the basis usually often drops to either leather or nylon.
Among, two styles of belts, which is the best? For the experienced lifter, this information may seem too basic, but a newbie may not fully understand what we categorize as two belts for two uses (sports).
What are the key differences?
Leather Belt
Buckling System: The leather belt utilizes 3 different options: Single prong, double prong & lever. All use a stainless steel or metal buckle to ensure durability. They have pre-made holes, so you can tailor the belt on your torso to find a perfect fit. Like a daily-use belt.
Construction: Leather belts are thicker and made with multiple layers of leather enclosed in double & single stitching. It provides more rigidity to the torso while lifting heavy weights due to its thickness.
It's best for: Leather belts are best suited for powerlifters, weightlifters, and strongman competitors. They give maximum stability, so lifters can rep their numbers with ease.
Competition-Ready: Leather belts can be used in competitions. Most importantly depending on what strength sport you're in you're gonna want to make sure that you check the Federation that you compete in to see what is allowed and not allowed.
Nylon Belt
Buckling System: The nylon belt also makes use of metal buckle, but only on the actual fastening section. You didn't get any pre-made holes and the strap that tightens the belt can be adjusted as tight as you may want.
Construction: Nylon belts are thinner compared to leather belts and have varied stitching patterns, which depend on the belt to belt.
It's best for: Nylon belts benefit CrossFit, functional fitness athletes, and recreational lifters. It gives more flexibility, maneuverability through a variety of movements. Also, for new lifters, who are new to using, and bracing into a belt.
Not Competition-ready: Ideally the powerlifting organization has its own set rules of approved equipment and anything between 10-13mm is ideally allowed depending on federation. Nylon belts however have 6mm thickness making them ideal for practicing.
Both the belt aim to provide the stability to the torso. No one is better than the other. Your perfect weight lifting belt should be aligned to your needs, wants, and sport which you play.
Choose one over the other, if it makes most sense to you.
How to size the belt correctly?
Sizing of lifting belts is probably one of the things that get asked about the most.
You'll find some manufacturers have sizes listed that don't have an overlap, which can make size selection very tricky.
(I didn't get size list of Indian brands, below examples are just for reference)
For example, an inzer belt for medium fit, waist sizes is 30 to 33 whereas they've large fits waist size is 34 to 38. Now if you're a size 33 or 34, which belt do you choose? Confusing…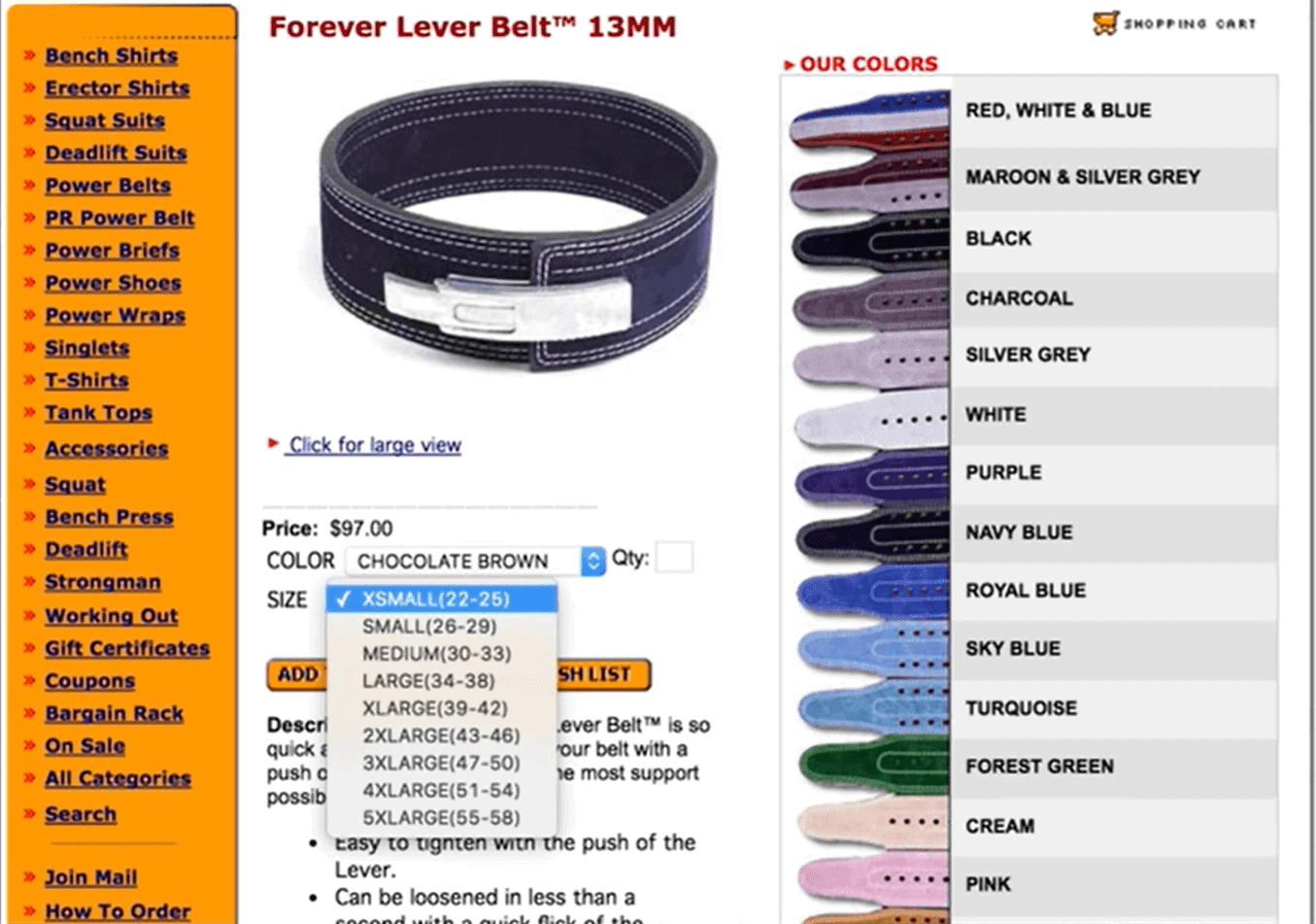 Other manufacturers like pioneer have given overlaps to make selections easier, their mediums fit sizes 31 to 40 and their largest 35 to 44 this way there are no gaps.
Make your selection less complicated.
Pro-Tip: If you're still unsure what size to get the best thing to do is measure around where you'll be wearing the belt for most this will be somewhere around the navel area.
How to wear a weight lifting belt/ How to remove a weight lifting belt?
Your belts should be snug around your stomach, but not so tight that it pulls the belly in. Pulling your stomach too far completely defeats the purpose of wearing a belt.
As your belly sucks in, your lumbar spine flexes over. Your belt should be at a place where you can press your belly against for added support. "It is a great reminder to take a deep breath and maintain intra abdominal pressure before wearing a belt".
You can adjust it with different exercises you perform, most prefer wearing it near the rib cage, slightly over the belly button during a squat, and changing it for other exercises. You must find the correct position for yourself.
How tight should you wear it?
Here's a good rule of thumb: If you could stick your four fingers between the belt and your abdominals you're doing it the right way.
Make sure the belt fits well.
Then take a nice deep breath in the strap and check if it's not uncomfortable, too loose, too tight, or cause bruises. You want to be able to press your core.
Then get ready to pick up some heavyweights.
(Top 5) Best Weight lifting Belt India in Oct/2021
Take a look at some amazing, best weight lifting belt India available that you may consider buying at a not-so-out-of-pocket price that later feels blunder.
A normal gym belt normally comes for 700 INR, but the best lifting belt that supports your vision to lift heavier with safety, costs you easily 5k INR or more. (Remember, quality doesn't come cheap.)
Service
Main Features
Rating

1

Best Weight lifting belt India

Best Weight lifting belt India

USI Universal Power Lifting Belt (Heavy) (790PLH)

Thick Leather Layered Construction
Color: Black
usapl and ipf compliant.
Item weight: 1.09 kgs
Thickness 10mm, Width 4 inch

Check price

2

Best Lever Weight Lifting belt

Best Lever Weight Lifting belt

Kobo WTB-08 Leather Power Lifting Lever Belt

Made with quality suede leather and the lever buckle.
usapl and ipf compliant.
Weight: 1 kg 300 g
4-inch wide 10 mm thick lever belt.

Check Price

3

Best Powerlifting Belt

Best Powerlifting Belt

Kobo WTB-05 Leather Power Lifting Belt

Leather weight lifting belt with suede lining.
Color: Black, Red
Item weight: 1 kgs
Thickness 10mm, Width 4 inch, Length 100 cm

Check Price

4

Best Olympic Belt

Best Olympic Belt

Harbinger 4-Inch Nylon Firm Fit Weightlifting Belt

Thick, flexible heavy duty nylon web
Extra wide 3 inch support strap
Weight: 0.35 kg
Length: 14.3 inch, width 4 inch

Check Price

5

Best budget Lifting Belt

Best budget Lifting Belt

Aurion Genuine Leather Pro Weight Lifting Belt

All made of suede and leather.
Fits well and has colour options.
Weight: 300 g
Length: 46 inch, Width: 4 inch, Thickness: 8 mm

Check Price
Top Pick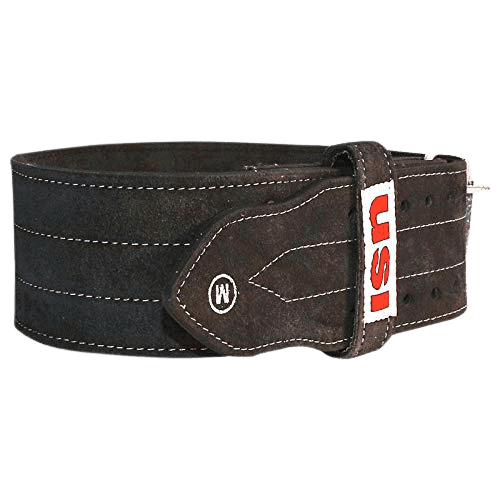 1. USI Universal Power Lifting Belt (Heavy) (790PLH)
Ideal for: Powerlifting, and weightlifting.
Skill level: Performance.
Manufacturer: USI universal
Sizes: small & XL
Pure powerlifting belt. A very good option to get alike imported quality belt for few bucks in India. Definitely a 5-star rated product.
The belt topped our list, no wonder it comes from the USI brand which made quality leather belts that last forever. You may find two models by USI: 790PL (light), and 790PLH (heavy). Both gym belts are made up of suede leather and have double prong buckles (For secure fit) to ensure that it remains at its place when it is tied on.
The major difference between the two models is that the light model is 6-7mm thick and the heavy model has 10-11mm thickness. You may take a call for a lighter version (if beginner) as it would be softer, lighter, and easy to accommodate your needs.
However, the heavy model is rigid, thick and some lustrations can occur around your stomach area but with time it will heal. As every leather belt has a brake-in period. For power lifters, the heavy belt model makes the most sense because of its solid finish and ability to hold your waist tight for proper bracing technique.
Pros
The product is backed by the reputed brand name, which looks very solid and well put together.
A great belt when you don't want to shell out hefty money on imported belts.
Double prong tightens the belt quite firmly.
You would be able to pull 1 RM quite confidently and felt safe with your lower back.
Cons
Issues with the correct sizing. If your waist size is 36" buy M size, and if 30" then buy S size. It might not fit the plus sized people.
The edges are sharp so it can cause bruises to first time wearers, but with time it will go away.
Longer break-in period, so expect to spend a lot of time sitting, rolling this back & forth.
Best lever belt
2. Kobo WTB-08 Leather Power Lifting Lever Belt
Ideal for: Powerlifting, crossfit and weightlifting.
Skill level: Performance.
Manufacturer: Kobo
Sizes: small medium & Large
For a price quoted, this product is under-priced compared to other imported lever belts. This belt maximize performance, durability, take care of safety & comfort.
People like custom lever weight lifting belts due to their easy to put on and off feature. It is comfortable because it has a lever mechanism which saves time & effort. Traditionally these lever belts are used by powerlifters or people doing super low reps like 1RM because they can be comfortable once you cinch them super tight with this lever.
They are unlike prong belts in which you've to struggle to lock the belt and unlock it, and when you are burned out things aren't that easy. No Fiddling around with the prongs, easily shut it to the preferred thickness and get away with your set.
Kobo lever weight lifting belts are close to brilliant in India, but one drawback is it doesn't have adjustable notches so have to unscrew and set it to right tightness whenever you lose 1-2" inches off from your waist. On the other side, Imported Pioneer belts allow you to multiple notches without having to unscrew the metal piece on the lever belt.
Buy Kobo custom lever weight lifting belt if you tend to participate in competitions to lift heavy, want an easy-to-use lever mechanism, or want a belt that doesn't have tacky logos.
Pros
The speed that you can put this belt on and off does pay off if you're doing an event that requires you to take the belt on and off under time.
Comes with heavy-duty stitching on the black suede lining inside out to make the belt stick on the torso mid-lift allowing you to lift with full safety and peace of mind.
Ready for competitions, the Kobo belt is usapl, and ipf compliant.
Cons
Difficult to adjust, you need a screwdriver to tighten the belt according to your waist size.
The metal piece attached can get broken if the belt is tossed on the hard surface.
Lever belts are premium belts and generally come at a higher price.
Best Power Belt
3. Kobo WTB-05 Leather Power Lifting Belt
Ideal for: Powerlifting, and weightlifting.
Skill level: Performance.
Manufacturer: Kobo
Sizes: small, medium, L & XL.
For the strongest and most durable leather power lifting belt on the market today, you can go for Kobo WTB-05. The black edging on the belt add a WOW factor!
This belt is built specifically for the sport of powerlifting, with 10 millimeters thickness and 4 inches wide, this is a very sturdy belt and it's meant for lifting heavier loads.
Made of suede leather with a foam material insert in the middle. The belt has a much better build quality than something like our beginner gym belt found in India (like Xtrim, protoner, Aprodo belts) which meant it would last much longer. However, it's nowhere near big international brands like Rogue, Inzer, or pioneer. But those belts are expensive and not easily available until you fly to another country, so it's okay!
One thing you should be careful about before ordering is. For most belts, sizing is a problem that doesn't have an overlap which can make size selection very tricky.
Remember pant size is not an indication of the size of belt you suit best. To better understand the sizes are: Small (22″-29″), Medium (24″-33″), Large (27″-37″), X-Large (33″-43″). Please see the size chart beforehand ordering.
Pros
10 mm thickness, 4-inch width, and suede leather material make this belt good for powerlifters and Olympic lifters.
Made to IPF (Indian powerlifting federation) specs, and can be worn in competitions.
Cons
It won't last you a lifetime, the hardware used can start wearing off after a year's use, same with stitching.
Sizing is tricky.
Because leather belts are thicker, so they have a longer break-in period.
Best Flexible Belt
4. Harbinger 4-Inch Nylon Firm Fit Weightlifting Belt
Ideal for: Strong man, crossfit, presses and weightlifting.
Skill level: Beginner.
Manufacturer: Harbinger
Sizes: small, medium, L & XL.
Apart people suggest nylon, velcro belts are not so supportive. But after you finished with a heavy gauge steel tensioning buckle belt a customisable fit belt is what you will love.
It is the most underrated belt, which you can wear more often than any leather belt on the list. Exercises or movements that require a lot of movement like a clean and jerk, a snatch in the Olympic variations for that this Harbinger belt is perfectly made.
Supposedly you are training for a strongman and carrying a sandbag or you're doing tire flips. You don't want a bulky belt. Instead, the belt size (equal or less than 4-Inch) and weight should worry you less. Harbinger brand is known worldwide and we accept they come at a premium price in India but the product wouldn't complain.
They are easy, portable, to roll up and stick in your travel bag. It has a 3-inch support strap that provides maximum abdominal support during lifts. The parallel lines of 346 nylon stitching go well with the entire belt length to stabilize the belt for uniform support.
Pros
It's very lightweight, and it's fairly cheap, so it's pretty accessible to everyone.
For beginners, it helps you learn how to breathe and brace into a belt without breaking the bank.
The belt is very flexible, and ideal for Crossfit and sometimes Olympic lifting to jump in and out quickly. It has a lot of FLEX in it.
Steel roller buckle makes tensioning easy.
Cons
It won't last for a lifetime.
It's not as rigid as a leather belt so when you try to increase your squat, deadlift you will not be able to brace as well.
If you're lifting a lot using this belt a lot you can expect to replace these probably at least once a year.
Budget Pick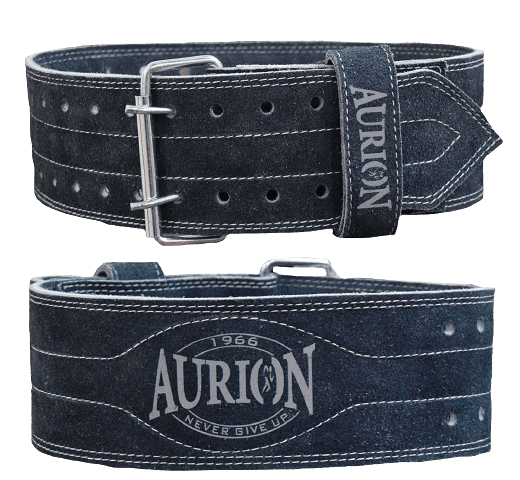 5. Aurion Genuine Leather Pro Weight Lifting Belt
Ideal for: Presses and weightlifting.
Skill level: Beginner.
Manufacturer: Aurion
Sizes: small, medium, L & XL.
This belt is an exception to getting quality without paying a huge price. If you are a powerlifter go for thick ones, like Kobo or USI with 10mm thickness, this belt has 6mm. Which is decent for the fitness people.
Aurion provides the best balance of both quality craftsmanship and price, this one seems to be the best bang for your buck. Now when you're ready to make a serious commitment to powerlifting or lifting. It's completely IPF approved as was the previous belt, however, the main differences between this belt and the previous belts are cost and build quality, retailing under 1000 INR this is the most inexpensive belt for budget seekers.
It looks fresh and comes in pristine condition. The finishing material is detailed and intricate. The one downside is this belt is of 6mm thickness, well suited for beginner lifters but not Olympic/ powerlifters.
It's not too thick, which can be a good thing because it doesn't obstruct your exercises and keeps tugging into the skin. You must not also worry about the number of holes, it has more holes than you would ever need. Drop your screwdriver, you won't need it.
This belt is also meant to last a quiet time, and I don't anticipate having to replace it very soon. So if I have to make a recommendation to a beginner or to the intermediate lifter, I would actually recommend this belt from Amazon.
Pros
The belt is value for money at this price.
Company says it has, "double reinforced stitching, riveting underpinning, and ultra-resilient oil leather craftsmanship".
Not made of cheap materials like fake leather, plastic, nylon, or velcro.
Many color combinations available to choose from.
Cons
If you are planning to grow stronger, not more than 120-150kgs on deadlifts, then this belt is for you, otherwise, go for USI or Kobo.
Less thickness, so won't be a long-term deal for elite lifters.
People complain about colour leakage, so reach it out of water.
FAQs
1. Are weight lifting belts necessary?
No, weight lifting belts aren't necessary to wear unless you are an advanced lifter. But the time you need one is, whenever you are lifting extremely heavy (2-3X of your bodyweight). It develops that sense of confidence, but over-reliance on belts can keep you away from learning how to brace correctly and you will lift with improper form. Nothing can make up for your bad form.   
2. What are weight lifting belts used for?
Weightlifting belts can increase intra-abdominal pressure, which can reduce compressive forces on spinal discs during lifting exertions. Although this is particularly important in heavy load-bearing exercises (e.g. squats, deadlifts, shrugs…) wearing belts can still aid with trunk stabilization for other weight training modalities.
3. How to wear a weightlifting belt?
Most people wear gym belts over their navel. This is in line with the area between your hips and your ribs so the belt is not restricted by bone. But this is also the area that you'll be pushing into using intra-abdominal pressure. Some lifters prefer to wear their belt slightly up or slightly down based on personal preference and body type.
4. How tight should a belt be?
Since our goal here is to give us something to press out against and maximize intra-abdominal pressure. We want our belts as tight as possible while still allowing us to take a fully expanded breath out. 
5. How do I break it in weight lifting belt?
Many find that belts are pretty stiff upon arrival and can be somewhat uncomfortable initially. This can especially be true with a 13-millimeter belt as opposed to a 10 millimeter. The best way to break in your belt is just to use it this way can conform to your body over time but another popular way is to roll the leatherback and forth when not in use.
6. Should we wear weightlifting belt during disc bulge?
Muscle spasms cause disc bulge. During a disc bulge/ herniated disc people should avoid doing strenuous exercises if it causes pain because it can aggravate the pain. Weight lifting belts/ gym belts aren't meant to treat or cover medical complacency and neither lumbar support belts do. You must consult a doctor for any help.    
7. Is there any difference between Ortho backbone belt and gym belts?
Both are meant to wear on the waist. Both increase intra-abdominal pressure (IAP), which may counter the forces on the spine. Both belts have supposed benefits, but one is often utilized in the gym and the other for relieving lower back pain and spinal problems ( or believed to be). A stiff muscle or painful joint may just be a symptom of a problem elsewhere, no belt can diagnose or treat for that.     
Conclusion
The significance of weight lifting belts can't be disregarded, belts help create better body biomechanics. In other words, belts allow you to lift more with the legs and less of the back, which is the most advantageous biomechanical position to use.
I highly recommend all athletes to use lifting belts. Also, normal people should use any regular gym belt when they feel they can't maintain the right pressure in their stomach to keep their spine from extra flexion.
But firstly, you have to give more importance to learn to brace correctly and use the right form.
Avoid any over-dependence on belts. To get maximum benefit, you also have to fit your belt properly. Once you have the belt on, you must breathe deeply with it.
Remember belts do not prevent injury, and if you have an existing injury it's not gonna make any of those feel better. But it does support your midline for limiting the softness in the core, so if you're gonna put one you will be at no loss.
Best Belt We have found.
The USI powerlifting belt has been rigorously tested for form, fit, and function by many professional athletes and those who need to maximize core support for big lifts. Most liked its design, manufacturing, and build. If you want to have a very stable belt, that lasts a lifetime if cared for properly. USI Brand India will never be a disappointment.
Alright, that's all for this article! I hope you get educated about using belts.
PS: You may read our other FREE articles in our SQUAT ESSENTIALS series:
What other questions do you have about weight lifting? Please drop your comment below so all can interact with it.
Happy lifting! Stay strong.
Sharing is caring. ❤