You won't ever become a dad. You would get a hernia.
Your balls would get smashed between your two legs. And the famous one, your testes will get filled with water, known as hydrocele, if you don't wear a men's supporter in gym.
These are some of the many spooky answers everybody must have received to the question: Is gym supporter necessary? or Why wear gym supporter?
Relatable, right! Once I was also in your's place.
These answers haven't done a lot to convince me easily that gym supporters are essential to any men's gym wear.
Also, if I want to remain potent for a lifetime.
How did gym supporters get in the trend?
The prominence of wearing the men's supporter is believed to save your testicles (male organ) from some of those reasons which are been said and also to give you nice, tight support while playing sports.
True. Otherwise, you may risk getting hit in the groin.
Take an example, cricketers wear abdominal guards, cups. Cyclist's suits are designed in a way so their groin area remains protected.
For the same reason, in Indian culture, people do wear langot (a red ribbon supporter) or jockstrap for the game Khusti (mud wrestling).
It is evident that these sports needed such a piece of clothing that protects their groins and gives them an advantage in the game rather than leaving a person in a constant struggle to adjust and guard their dear parts, which may shift away their focus off the game.
Good enough reason to use it.
And why not to wear?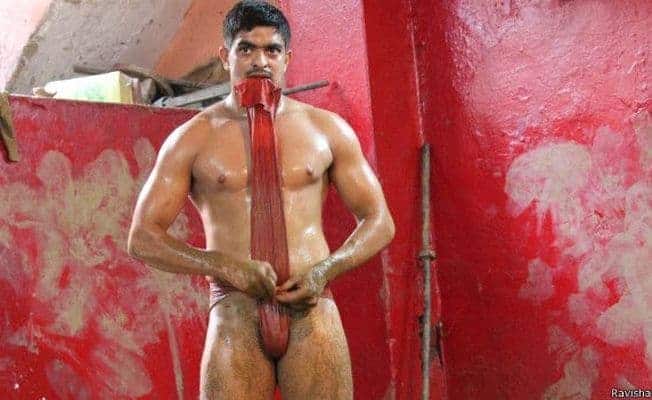 For ages in India, we have grown up seeing pictures of Indian pehalwan (wrestlers) wearing red langots wrestling or performing any form of physically straining activity, paying tribute to the lord Hanumana (a symbol of perseverance, strength and devotion) color RED.
The devotees of Shiva were said to be wearing kaupinam.
This ideology is enough for us to inculcate the picture in our minds and put it into practice whenever we come to the iron battleground, (the gym) in quest of becoming the strongman.
That's how langots become "gym supporters" and people start wearing it also inside the gym.
So when there is so much significance of this cloth, why so much hypocrisy and myths around it?
What are some?
Popular myths around wearing men's supporter in gym!
Let's get on with the #1
Gym supporter saves you from hernia?
What is hernia? A hernia is a condition where abdominal walls are damaged due to relatively excessive pressure applied constantly to the area.
Since the benefit of wearing a gym supporter is to prevent excessive bouncing or blows during exercise, it has been anticipated that supporters prevent hernia.
But the fact is gym supporters do nothing good to treat or prevent hernia. A hernia is an unexplained condition. Some people are born with weak muscles or tissues. Most people, though, get hernias as their body ages and muscles weaken.
Wearing a gym supporter can't save you if a hernia is going to happen.
The only advice is to stay cautious of any warning signs and increase the load in the gym to a stage as per your fitness level can withstand.
You need to wear a gym supporter in every workout?
A simple answer to that is NO! You don't need this piece of clothing in every workout, in fact, this is rather pointless to wear when you are training biceps muscles.
You get it right! The entire body mass is balanced by the lower body highly pressuring the muscles of the male genitals.
But wearing tight clothing could also do harm to the genetical nerves, which further puts pressure on the abdomen that might lead to herniated testicles.
So the notion "the tighter it is, the better" is clearly FALSE. Wear what is comfortable for you, yet keeping things in a safe place.
Your testes will get filled with water, known as hydrocele.
Hydrocele (HI-droe-seel) is a fluid-filled sac surrounding a testicle that causes swelling in the scrotum. An older man can have a Hydrocele if they have gone through any injury in the scrotum. It isn't painful, but you have to avoid any physical activity for the time being.
People confuse swelling inside the scrotum with water, it's not all water but fluid-filled which is your natural body repulsive action when any part of your body gets a hit. So if you do get a hit there, it would swell anyhow.
Wearing a supporter after won't be a smart choice. Instead, wear a cup if you play any sport and set things safe before any blow.
😵
Hope you get the answers to the most popular disbelief people say to make you wear a supporter.
But this clearly doesn't mean gym supporter is a waste of time.
At least inside gym on a LEG day.
It helps you practice proper lifting technique and form with a lighter, more manageable weight and assist you gradually move to heavier stuff.
Why wear gym supporter underwear?
A gym supporter, or athletic supporter, or langot whatever you may call it.
It has only one purpose to fulfill, save your groins. That's why it has a pocket inside to keep your belongings safe.
It is a very thoughtfully designed undergarment for men to support the genetical during important power lifts, squats, or deadlifts.
There are so many myths floating in the context that you got to wear supporters daily to the gym.
Which makes it extremely stressful to think and wear for peoples.
No, actually, this piece of clothing only requires your attention when you are training the lower parts of your body. People who mainly visit the gym for Yoga, Zumba, cardio may not require this piece of clothing.
You could skip it.
The next question arises, we get it supporters are an extreme necessity for cricketers, cyclists, rugby players because they get unexpected bumps and hits during their game.
Why? Why does a gym-goer like me who just want to be fit, doesn't move or lift much, maintain a steady flow of exercise frequency need it?
Yes, you may still need it. If you train-it-all kinda guy.
But if you miss going on bigger lifts in your exercise plan. Don't push that much or plan to push 100kg, less or more ahead. Which is a huge mistake by the way that erodes your plans to look muscular.
Then the gym supporter isn't going to do much help to you.
So if you feel you have a weaker abdomen, then only go for it.
What are the benefits of wearing a gym supporter?
The common benefits of wearing men's supporter in gym are:
These are the major ones. If you get more, you can share them in the comments below.
Can it not be done without a gym supporter? I mean naturally…
The human body is smart to automatically adjust itself to the conditions. For instance, during winter's scrotum gets contracted and remains close to the body, whereas during summers it loses and hangs.
However, if you feel your scrotum (a pouch carrying testicles) hangs back and forth like a pendulum and interferes with your body movements.
Then regardless of how gibberish this feels to you, you got to wear gym supporter where you are prone to groin injuries.
In fact, the requirement to prevent unnecessary movement of balls downside is met optimally also by wearing a normal pair of tight briefs. If you got the good one!
But gym supporter is one of its kind!
Lastly, gym supporters aren't on the costly side of pricing, so most pass saying I don't have money.
Within 300 INR, even a person on a budget can have them without second thoughts.
So why thinking much about it?
After all, it is good to wear protection. Like a helmet.
A Worth it Advice: I recommend you to buy 2 at once, wearing the same on-on daily can make you hate your own sweat smell.  Maintaining proper hygiene down there would save you from infection & rashes, too.  A common problem with many underwear.
How to wear gym supporter?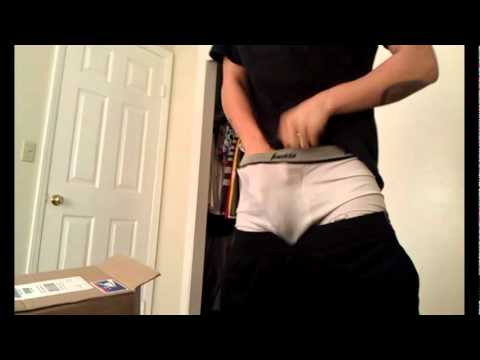 Nopes! Eyes closed.
I wish life could be so easy if tutorials can be made of everything.
Hell no! Something you gotta do by yourself. And gym supporters are that "something".
Wear it the same way as you wear normal underwear and keep the support pouch to your front and let your male organ be protected by the pouch.
When you are finished wearing the gym supporter men's.
Anything that you may like, gym shorts or track pants, can be worn over it.
And you are ready to hit the gym!
Which are some best gym supporter for men's use available?
Gym supporters are the very basic piece of sports gear that you would get at all sports shops around your nearby market. Available in all sizes & colors.
But I want to keep some of my favorite picks in front of you for your better selection.
The brands I have personally liked and have bought earlier.
I do wear them often to the gym. Possibly I would be wearing one this time.
Take a look:
Omtex Gym Supporter- Black

100% pure cotton.
Double fabric pouch.
High quality elastic material.
Ultimate comfort for sportsman.

Omtex JP Supporter Back Covered

100% cotton.
Low rise design for everyday use.
No undue strain after long day wearing.
Ideal for runners and sports person.

Gym Supporter for Men Jockey

Modern fit with square cut styling.
Double layered contoured pouch.
Durable & soft high tech waistband
Label free for comfort.
The Bottom Line
Gym supporters are must recommended. Though you shouldn't wear them only because it may prevent you from hernia or all. Because there is less research available to confirm that.
Also, foreigners didn't wear them and they are just good at producing babies and staying at a distance with a hernia.
But it isn't also like Indians do something terribly wrong wearing them. It's better for saving your groins and focusing more on the game. Then any second thing.
Remember, if you have weak abdominal muscles, you must focus on fixing that first.
No matter what people say and claim. When anytime you train (heavy lifts), make a code to always wear gym supporter underwear, lifting straps, weight lifting belt, or any preventive gear you feel a need of, to prevent any expected injuries.
"An injury-free training is the only way to last longer." Prioritize that first, before focusing on any other trivial scientific finding done with 100 subjects in the lab of Pennsylvania. It doesn't matter.
Stay safe. Stay lifting.
So, do you wear gym supporter to the gym? Comment below on what you feel about them.
Sharing is caring. 💖