This guide is an honest rundown of different types of weight plates you'll come across building up your own home gym.😃 Well after researching over 60 weight plates of over 10 companies, we've determined that choosing the best weight plate for most people can be tiring due to the amount of variety that's available in the market. 
Here's what I mean, there are thousands of people like you who ask google daily🔎 "Which plates are best for home gym? What weight plates to buy? Where to get weight plates?" and end up getting confused about the options.💢
Well, the promise of this blog is straight: We outline the different types of weight plates which make the necessary components of having a great barbell and weight set, taking into consideration rubber used, durability, bounce, noise, appearance, price, availability, and other important things.
➡️ What should you note, though, you can't have one weight plate for everything. But you can always have the general all-purpose weight plate.
So, if you are hesitant about picking the best weight plates for home gym, commercial gyms, or CrossFit spaces, there are many ways to skin that cat.
✔️ Not only in this blog we have rationales for the number & different types of weight plates available but also have uncovered a lot of reasons why these gym plates are as useful as most believe, so you can make an informed decision.
We also have a detailed practical guide on how to choose best barbell for home gym, in our Build Your Home Gym Series- 101. As weight plate go together with barbell, you shouldn't miss adding that blog to your read list as well.
But first stick with us, to find out about all weight plates. 🤙
What Are Weight Plates? ⭕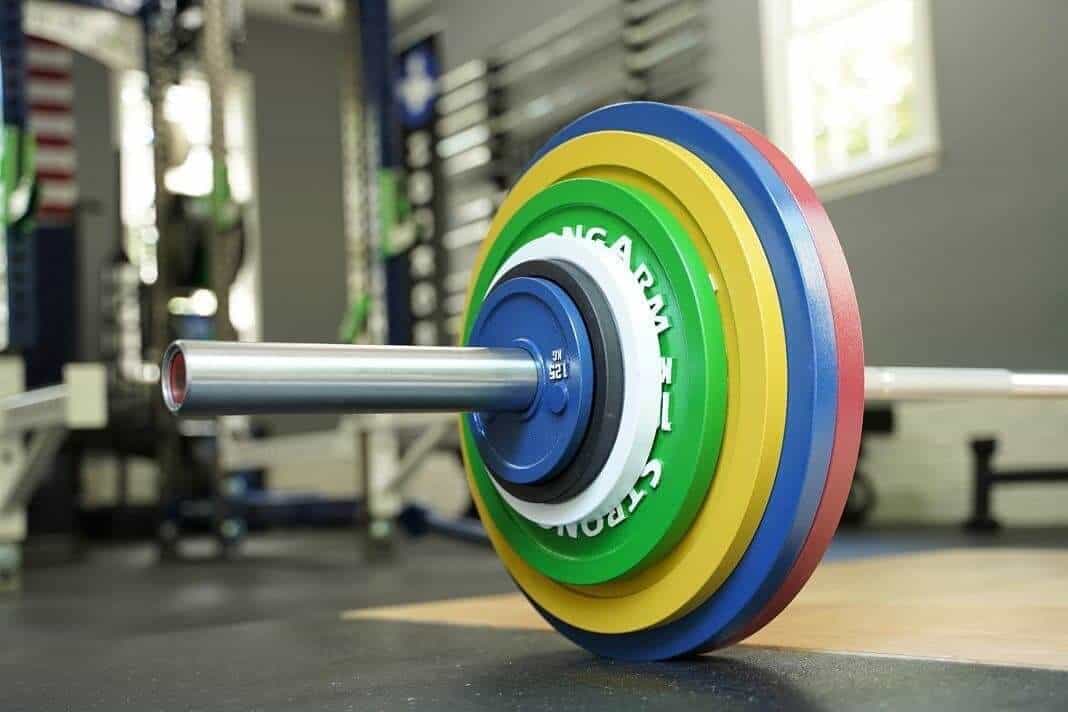 I already know all this – show me all the different types of weight plates.

Quick Tip💡: I know not all of you would like to read all the information I put out here. So if you're in hurry and have a certain type of gym plate in mind. Quickly navigate to the start of the blog and select the heading you wish to read from the table of contents block. It would save time and help you make quick decisions.  
The basic definition goes like this- "Weight plates are usually flat, heavy discs that are used in combination with barbells to create a barbell set for a lifter with his desired total weight."
◀️ As a key design component, each plate spin and slides into the barbell sleeves in the plane with a center hole, that provides an efficient, yet balanced weight on the standard barbell which then is used for completing many strength workouts.
➡️ But where do they come from?
What is the history of weight plates?
Most of us go to the gym, use equipment, and leave without ever thinking about how the equipment we train with was created.
However, if you're a history, buff you may know the invention of wheels back in ancient Mesopotamia was evolutionary. 🧬
Not because it gave us a means of easy transportation, but because it also gave us our weight plates.⭕
Though, you won't see their application for weightlifting sports until the international Olympic committee reports that weightlifting was first conducted as a high-level sporting event in the year 1896. And since then, the Olympic weight plates are used for the same reason we use them now "as a tool to measure force and power".
Ever since their invention, the basics of weight plates are believed to remain unchanged and they become the go-to equipment for all those who want to train with brute-like strength.🏋️‍♂️
🤔 And today there are over a dozen of weight plates available, which come in all shapes, weights, and sizes.
Some are made fat, some are thin. Some come in hexagonal shape, while others are made circular.
But, what's the real difference? And why does it matter?
Let's talk about it. 🔰
Why We Have Over 10 Types Of Gym Plates? Simplified!
At first, I will give an answer to this question. "Why are there so many different types of weight plates to choose from?" Can't they have one size for all?
Unfortunately, selecting the barbell weight plates sounds simple, but not everyone trains the same way, and the weight plate variants that are available give most of us the flexibility to choose from based on our individual needs. 😊
📢 From colorful rubber bumper, steel calibrated, to old and weathered looking black cast iron ones. You can find multiple plates lined up in a queue at your disposal.
That's when you can tell you have walked in a real lifting gym storefront.🏋️‍♂️
These all barbell weight plates, feature new artwork and have evolved to enhance weight training movements, but the evolution is only refinement and not a quantum leap.❌
➡️ The reason is obvious: the technology of the barbell weight plates is primitive, for the most part, old. There are about a dozen of companies that sell their 20+ different types of weight plates designs and this is likely to grow with international American & European brands starting to emerge.
But don't worry to sort all the different types of weight plates, we have created this nifty guide without a bias as I hate sales pitches disguised as independent reviews.
✔️ Though I also have showcased some best weight plates for home gym, they are here just here for relevance. You may or may not choose to buy them.
What Are The Different Size Weight plates?
Now comes the real DEAL!! "Skip, reading this section at your own peril."
Before we go into detail about the different types of weight plates, first get to know the difference of the center hole diameter each plate has. Why? If the weight plate hole size doesn't match precisely to the barbell sleeve, then they are no good. So pay attention, so you won't scratch your head later.🤔
From what we know, there are three general sizes of plates that exist.
1️⃣ Olympic Plates (50mm): Olympic plates of 50mm center hole size are meant to fit only on the Olympic barbells (or say quality barbells having 20kg weight). These plates are good for CrossFit, Olympic lifting, powerlifting, and for every competitive sport.
With heavier plates generally being larger in diameter, and in thickness, or both you would find them cover a wide spectrum of weightlifting world. 🗺️
2️⃣ Standard Plates (25mm): "Standard" plates, have a center hole of approximately one inch (25 mm) and are usually paired with adjustable dumbbells and standard home gym equipment.
These plates are perfect for lifters with minimal experience🏃‍♂️ because they also fit in standard barbells snugly, which makes them affordable and also a good option in the budget range for buying cheap weight plates for home gym. Remember: Using standard weight plates makes compound lifts quite unworkable and inefficient.
3️⃣ Studio plates (30 mm): The studio plates are made specific to group exercises and are a popular weight room training tool for people who want to build their biceps, chest, shoulders, back, and forearms.
These soft and safe vinyl weight plates fit well with a 54-inch barbell which may be straight or contoured (like curl bar) for easier gripping. This makes them very impractical for many other lifts and that's the reason these plates are not commonly used in gyms. 😶
🔰
Meanwhile, the difference between the standard vs Olympic weight plates is only one-inch and two-inch center holes for the bar that they fit through. Else there is no real difference in weight each one holds.
👍 You can find standard weight plate sizes at most gyms because they come cheap in an abundance and if not dropped, they have long durability but remember they fit only on the standard 1" bar which weighs less and has a smaller load capacity. For all other quality Olympic bar/ power bar/ squat bar, 2" (or 50mm) Olympic weight plate binds well.
Hope I made my point clear. Next. ⏭️
What Different Materials Are Weight Plates Made of?
✔️ The differences in the material of barbell plates have an influence on the way they are used, and how long you can expect them to last.
Unless you are fortunate enough to train in a varsity strength gym where you will have access to enough weight plates of all kinds. 😇 You don't need to think about the material, and could drop them (when the gym owner isn't near, ha-ha) because the equipment doesn't belong to you.
However, in this case, when you need to build your own home gym (probably on a budget) choosing a single best option that doesn't crack and gives you the freedom to increase the load in small increments gets very important.
During our search🔎, we find the only problem with the material is that the heavier plates are made pretty thick and can break in half if the material isn't right. For that reason, you must only use each type of weight plate for the intended purpose only. As, because some weight plate materials are more resilient than others. While others can break easily. 💔
➡️ What Material is the best to choose?
Cast Iron: ✔️Most weight plates are made of cast iron, or encased with other material as they're the only economical option. Cast iron is the most durable out of all materials and retains its resilience for cracks and damages, but they're meant to be dropped. Best of all they make that metal-to-metal noise when you jam them against each other. Note: People who live in a humid environment ❄️have to take extra care of these because iron is susceptible to rust.
---
✔️ Rubber: On the other hand, rubber-coated weight plates are designed out of either iron or steel and then a coat of rubber is added on the top. They tend to be more expensive, thicker, but are a standout option for those who drop weights off the floor at the hip height or from overhead height. 💥This adds a bit of safety and durability to the bar as well as to the floor. As a design feature, you can get them in multiple color options. Note: If you're allergic to latex then you must avoid this material.
---
✔️ Steel: Steel is an alloy, which means it is more durable than cast-iron plates. Though it's expensive, due to its increased strength, tension, and compression properties. Steel is used more often than iron, and won't rust as easily. This material has a good finish and feel in hand and you wouldn't find uneven bumps on its surface as you would get in cast-iron plates. Of course, this all comes with an extra price.
---
✔️ Chrome: Certainly not most plates are made of chrome, only some high-end plates do have a chrome coating which adds a nice finish on the plate and helps the weight plate last longer. 💦Chrome as a material is corrosion-resistant, scratch-resistant, and tarnish-resistant. It is used on some steel plates and in cases where there is a need for high strength, low cost, and corrosion resistance.
---
✔️ Urethane Coated: Urethane is much more durable than rubber plates and is priced higher than all other materials indeed because of the quality control, it goes through while manufacturing. That is the reason they most likely will not get damaged and last from the test of time. As such this is the best material to invest in if you don't want to replace plates anytime soon.💛
---
✔️ Cement-Filled Plastic Plates or PVC plates: These are the cheapest plates you ould get with money. Vinyl plates are filled with sand or cement and are coated with a polyvinyl chloride sheath. In the course of time, the cement breaks down and leaks out of the sheath, and weights become less dense than iron. Though it isn't an easy chip-off and for a low-cost option for casual lifters, this won't be a deal-breaker.↔️ Note: This material plate isn't recommended for more advanced lifters or those who desire durability with quality.
---
But hey, weight is just weight. Can't we buy weight plates of any material plates and handle them with care. Ultimately they would last, isn't it? ❌
You know there's no difference in how we use rubber, steel, or iron-weight plates. But the material used to make them makes all the difference in resistance they provide when we test them.
🤜 You can't equip cast iron/ steel plates on an Olympic bar and toss them on the floor. You just can't. It's unethical. It's not smart.
Similarly, you can't stack cheap 10kg PVC plates on a barbell and expect they would be made of precise weight and measure them as your true strength in competitions. You will fail badly.
That's why we are here to make your choices smart.
Here Is A Quick Synopsis:
👍 Cast iron is more old school, while steel is more durable.
👍Rubber plates are quieter and don't vibrate as much, while urethane is more robust and offers the best of all worlds.
👍Steel and chrome have got a nice finishing, but PVC plastic plates are more of a budget option.
What Are The Different Types Of Weight Plates Found?
Case in point, my motive here is to acknowledge you about which is the best weight plate for your needs. Not distracting you with showing another shiny object on the internet🌟 Let's get REAL this time.
So without further delay. We start with #1
1. ✅ Rubber Bumper Plates
Bumper plates are often made from solid rubber; they have a metal ring/ or stainless steel disc in the center that ensures its snug fit and absorbs the impact caused to the barbell. Whilst they are designed to be dropped (gently) onto the ground from an overhead or hip height- without damaging the bar or the floor.
All particular rubber bumper plates have the same diameter and hole size (that is 450mm/ 17.72″ diameter) to abide by the competition standards. All plates are made equal in size (diameter) no matter how heavy or light they are, they only alter in thickness.
✌️ What's the benefit? This shares the impact as well as balances the weight load when resting on the floor.
You may find them come in vibrant colors, choose between the standard training plates or the full-colored bumpers which help you easily recognize the weight load when training. For example, ⚫ grey for 5kg, 🔴 red for 25kg, and others.
Plates lighter than these are of small diameter and are called "change plates" and can be paired with bumper plates for strength gaining programs.
✔️ Who sets the standard for these colors?
🤔 Why use bumper plates?
➡️ Bumper plates become extremely important when training for CrossFit, powerlifting, and Olympic style of training.
For clean & jerk, snatch, and deadlifts, where you are always at a risk to get hurt from the weight during the end part of your lift, since with bumper plates you can comfortably drop the weights from a height away from you, without putting excessive stress on your wrists and joints.
The bumper plates make far less noise and give dead bounce when bumped on the floor. This ensures the safety of the lifter without damaging the construction of the plate and bar – in a way you could say they do damage control. 🤕
Though you'll be unable to see a difference unless you're loading a large number of plates at any one time.
All Rubber Bumper Plates With Price Comparison.
📌 In options, more or less you can get bumper plates in a variety of designs, each has its different use. Below we have listed different bumper plates and their qualities:
1.1 ✅ Color Rubber Bumper Plates 2.0
⭕ Color bumpers should be the top choice when looking at rounding out your home or commercial gym. They are softer than black bumpers, so the bounce and noise they produce are significantly lesser. (a sign of better, more durable rubber.)
Most of the time you can tell the cheap quality of bumper plate how shiny it looks, the virgin rubber that goes in making for color rubber bumper plate doesn't fade away and follows an IWF Standard color code specification, i.e. 450mm in diameter & 50.4mm collar opening with steel ring insert which makes for better plate life.😀
✔️ What's the difference between- Color Bumper and Competition Bumper?
A whole bunch of people gets bewildered by this dizzying swirl of knowledge about bumper plates. What you must know about the difference between competition color bumper plates and this standard color bumper plates is Steel inserts and rubber composition.
They are almost the same, except that the color bumper plates aren't calibrated for weight accuracy (not that exact), so thus they aren't certified to be used for competitions.🏋️‍♂️ But if you do home workouts, and don't need some plate that is competition approved they are an ideal choice.
✔️ Which to buy between KG and Lbs Weight Plate?
IWF and IPF use the KG denomination plates for competitions, so if you compete it's not practical to compete with KG and train with pounds weight.
But it's evident that the choice to make a decision between the two KG and LB for most people is confusing. But it shouldn't be confused more than this. 😬
What's the catch?
"Progressing weight is always the goal of resistance training. Right? And weight plates (of the lb variety) come in 5 lb, 10 lb, 25 lb, and 45 lb increments. Whereas, kg plates, you have 5 kg, 10 kg, 15 kg, 20 kg, and 25 kg. Thus with kg plates, you get an even step to move up in weights with every plate you add on to the barbell, thus they're easier."
Though with every manufacturer you get an option to buy either one.
But which is the best? To advice on this, Gymcrafter writes:
For those people who live in a country wherein metric system is used (Like in India), kilos plates are an excellent choice. But if you live in USA where pounds is used as a unit to measure weight, still kg plates are good if you compete. Otherwise for all others, you can go with lb plates. - Tim from GymCrafter.com
✔️ What is the significance of color-coding schemes?
Color Rubber bumper plates do also follow the same color schemes as competition bumper plates do, but they're designed to solve some common problems. How tiring it would be if we deload the entire bar weights one by one only to see which weight is which?
The fundamental color system makes it easy for athletes and coaches to distinguish between weight poundages and coaches can easily detect the overall weight of an athlete with a quick scan to make up for more efficient workouts. 🙌
➡️ Moreover, speaking of the size and weight of the plate, IWF defines the competition plates to be 10 kg and heavier and must be at least 450 mm (18 inches) in diameter. So you won't see a 5 kg bumper plate.
✔️ But do we need color schemes for home use?
Clearly NO, but the colored plates look good and it lets us train like the competition style. So it doesn't hurt. Rest can either also choose all black bumpers or training bumper plates if you like to go that way.
These plates follow the color coding schemes that is,
✔️ Is color a paint? 🙄 No color is a part of the rubber and is not paint.
If you're satisfied with them, absolutely go for it they're good to invest in. There are multiple USA manufacturers like Rogue, Bell of Steel, Synergee, Vulcan strength, and Fringe sport that sell IWF approved color bumper plates in the US. One can buy from any, and you won't ever have complaints. 🛒
1.2 ✅ Competition bumper plates
This one is more accurate. They would last long, have a zinc-coated central steel plate, and are made to be very accurate according to IWF rules, +0.1%, and -0.05%, meaning a 20kg plate only has a 20gm margin error.
The high durometer rubber indicates that there will be a limited bounce, which is excellent if you don't want to be caught off after breaking a snatch lift. 😳
How are they different from color bumper plates?
✔️ So the core differences between competition rubber bumper plates and a normal rubber bumper plate (with no central steel plate) are first off the quality, style, and material we use to produce them.
These ones are actually heavier weight, but it's thinner, denser, and harder, which gives them a dead bounce and they better support a barbell. 🙂
➡️ The chrome-plated stainless steel plate insert adds to the durability and functionality of the plate which allows them to remain secure against impact and also concentrates the weight by which the thickness of the plate gets reduced.
Making them good for competition lifts that require precision, where training bumper plates and other bumpers could be significantly off from the rating.
1.3 ✅ Black bumper plates
Black rubber bumper plates are a fusion of recycled high-density vulcanized rubber and a 2″ stainless steel insert. It is a must-needed alternative to the damaging clangs of iron plates, but here the quality is all about performance.
➡️ As another key design component, these black bumper plates like one classic Rogue Hi-temp plates, is built for dead bounce, the collar is inset from the plane of the plate, which gives additional protection when many plates are stacked on the bar.
This helps decrease the risk of inserts getting all crinkled up and popping out which is an old-school problem that seems to be most manufacturers have figured out. 😁
👉 If you are interested in finding more about what other black bumpers options Rogue offers, this video would help you understand what's the difference. Tap to play.
Though here with Rogue by Hi-temp black bumper plate, you won't get a more expensive steel-hub that you get in competition-style bumpers which are almost always color-coded🟠, which keeps things relatively simple.
Also, it bounces higher than standard bumper plates and their steel insert ring often falls out due to the molding process, that's why most don't like crumb bumper. 🙅‍♀️
But the best thing it provides for the price point is it boasts an ideal durometer hardness rating and serves as the go-to for most training types; has lots of use, not task-specific, and great for generally anything. 😊
So ideally if you're looking for something at a low cost and want them to use for all purposes, this plate is planned to support more all-style lifters.
1.4 ✅ Training bumper plates:
Although competition bumpers come in all different colors, for most people, some plates are never used for competition and hence need not have IWF color-coding specifications. Also, the colors are used just for appearance and means to identify different weight increments.
Choosing a training bumper plate accomplishes both of the purposes, despite their name they are not 100% black. ⚫
They have coloring options on the sides and edges to mark for identification, and we recommend these over full-color plates.
👉 Why training bumper plates are recommended?
Due to their better price, lack of scuffing, and the fact they are colored in areas that make identification extremely easy to know which ones are which.
✔️ First off these plates are made of virgin rubber, which means the rubber isn't recycled which gives the plates their durability. They come in both kg and pounds weight denominations you may choose depending on what suits you best.
The training bumper plates have a Shore A Durometer rate of 94, which gives a small bounce to lifters who use them for Olympic lifting and for powerlifting. 🏋️‍♂️
Similar to calibrated bumper, here you get a central hub which is a two-piece steel disk that is chrome plated and secured with stainless steel bolts.🔩 The weight tolerance is +/- 15grams which is accurate, but not as a competition bumper plate, making them fit for only training at home or gym.
If you're planning on doing some platform work, this is a really good plate. Because the impact would me most absorbed by platform and do less damage to rubber. Mostly you should always plan workouts keeping rubber mat beneath.
1.5 ✅ Technique Bumper Plate
As a replacement for rubber plates, "Technique Plates," made of high-density polyethylene (HDPE) plastic, are provided. Technique plates are costlier than "home gym set rubber plates" or bumper but hold better to repeated drops.
The common function of these technique bumper plates is to hone your form, with a lightweight on the barbell.🤚 These give you the freedom to drop them countless times from overhead height without much thought, which otherwise could place too much lateral stress and can damage the rubber plates at one point of time.
Technique plates are practically indestructible.💥 But don't believe that. And they are not at all compulsory. 
Usually, a pair of them will suffice, and you can add them with other bumper plates for climbing up the desired weight.
✔️ Who needs technique bumper plates?
👉 As aforementioned, they are good for beginner lifters who want to learn to hold a barbell at proper IWF height to start their first snatch. They are louder than bumper plates when the bar is dropped and are more expensive.
Though in most cases you shouldn't consider buying them, because they add to the complexity of the list. And in every other situation, you first buy a color or black bumper plates. 💯
2. ✅ Cast Iron Plates/ Steel Plates
For anything that isn't Olympic lifting, iron plates are sufficient. These are not bounce plates, if you drop them from overhead they might break or damage your floor, or your bar.
Cast iron plates normally made with a sand cast mold. Once the plates have been cast, they usually have two 'pockets.' The pockets are filled with lead, the lead is what provides the required weight.
The finished plate is then powder coated and covered with enamel paint or a hammer tone paint, which looks amazing but they aren't machined using the lathe machine for giving better finish so they may have some minor blemishes. 😬
✔️ Are cast-iron plates better than rubber plates?
They aren't expensive or better than rubber plates, but best of all they make that cool metal to metal noise when you jam them together "the real sound of thunder".⛈️
Because cast-iron plates are not utilized in competition, they come in all shapes, thicknesses, and sizes.
😬 From circular to hexagonal, from standard Olympic diameter to smaller plates. Some also do come in 2-inch center holes, while others come in the 1-inch size. So they can be fitted in any cheap, or standard barbell, unlike bumper plates.
🤯 But keep in mind cast-iron plates can break easily. And once they're broken, they're no good. And even if you coat it with plastic, they can develop hairline cracks. As a solution, most consider buying rubber-coated steel/iron plates.
💯Coating the plate is the personal preference, however, a plate with no coat may not last long.
Price Comparison of Cast Iron Plates
There are many other different types of weight plates made of cast iron but mainly there are two types: calibrated plates, and machined steel plates. What's the difference? Let's talk about it.
2.1 ✅ Calibrated Plates
🥇 Calibrated plates come in kgs and their use is evident in competitions, they are colored in accordance with the Global Powerlifting Alliance and International Powerlifting Federation norms, yet most gyms use Lbs iron plates that are usually are of low precision that means inaccurate weights.
They are easily categorized by their different design, look for a steel plate that is smooth on one side and have numbers and manufacturer name printed on another side.
✔️ How accurate are Calibrated Plates?
➡️ So, the calibrated kg plates are good to be used by those who lift substantial amounts of weight in a competitive environment.⚡
As regards the accuracy, ⚖️calibrated plates are quite accurate and every plate's weight must be 0.25% or 10 grams (whichever is lighter). You may also note that calibrated plates are marked as being thinner than the bumper and Olympic plates.
↘️They make you more streamlined and a lot of times we use these for the squat, bench, deadlift where we wish to keep increasing weight from 10 to 300 kgs where bumper plate large thickness leaves no room or improvement.
You can rest assured that every plate is accurate and you could include as many 25 kgs as you select, and a pair each of 20, 15, 10, 5, 2.5, and 1.25 kg plates.
There are two calibrated types of weight plates, one made of cast iron and the other made of steel, either has a difference in the price, durability and finish. Whichever material is used to construct them, it's hard to take the eye of them.
Though your first preference should be only to buy a calibrated steel plate, like available at Challenge India, that's going to only lead to fewer cracks in the future. 😊
The thing to Note: Calibrated or any iron/steel plate is suitable to be used on rubber flooring only. 
✔️ How to put calibrated plates on the barbell?
The best way to put them on is, put one so like the inside is facing outside and then every plate after that you put in the regular direction so this will face out for both sides.
➡️ But if you ever used powerlifting plates, you may know that they are super thin, which makes it hard to grip them from the floor and stack them on a barbell.
So calibrated plates are made keeping this problem in mind, and you would get a machined groove with most plates, which gives easy grip and on the edge of the plate for easy handling in competitions where speed in changing the plates is important. 💨
Price Comparisons For 25 Kg Calibrated Plate Pair.
2.2✅ Non-calibrated Machined plate
If I was to ask you to imagine what your idea of a vintage or classic weight plate was. Chances are you're going to think of either an INVANCO or a York plate. Machine plates for most people are the best value, & best plate to go with.
✔️ What are Machined Plates?
These plates are the refined product of powerlifting gyms and are far better than cheap plates. If you can't spend on calibrated plates but need an estimate of how much weight you are lifting, machined plates that follow an IPF style colored scheme are always recommended vs cast iron plates if you're a serious lifter. 🏋️‍♂️
✔️ How machined plates are made?
In order to oversimplify the process for those unaware, Machined plates are made from a cast iron and are then machined using a lathe machine.
Similar to cast iron plate, here also first iron is poured into a case that is the shape of the plate and then left to cool for some time. Machined gym weight plates take one steel block, and using a machining tool, often by a CNC machine, iron is cut to give it the shape of a weight plate.
Then all the excess weight material is later shaved off to give a smooth finish, followed by polishing, nickel plating so that they are not open to elements and become less susceptible to rusting. Which is the reason why it's less prone to cracking and is more precise.🥇
✔️ Are machined plates calibrated plates?
No, they are different from calibrated or iron plates. Machined plates are superior because the material here is precisely cut with accuracy, so what is left out is the much slimmer profile weight plate. 😇
For several reasons, these plates are in fact so precise, that they guarantee weight tolerance: +/- 10 grams (i.e.0.05% of 20 kg) of the stated weight, for this reason, they fit well on the powerlifting bar and less wiggle.
It comes at a higher price tag🏷️ but speaking of quality they are very impressive.
Price Comparison of Machined Iron Weight Plates
3. ✅ Tri grip plates
Tri grip plates are also called plates with handles and they come in all materials, rubber-coated, urethane, and cast-iron. While there are different materials you can choose of Tri-grip plates, but it in normal case rubber and urethane material is most used.
These plates provide an easier way to lift, carry, or load a plate from any angle. They are built for everyday, heavy traffic use for commercial gyms. 🚥
✔️ How they are made?
Plates are encased with a thick polyurethane rubber covering with 3 symmetrical grip holes spaced out around the circumference of each 25kg, 20kg, 10kg plates. The smaller plates like 2.5kg are just made smaller with the same 3 holes for easy gripping. 😇
The holes are precision-cut with Guaranteed weight tolerance +/- 3% and in close proximity to the raised lip at the edge of each plate, although they allow for a unique look, but don't compromise the weight of the plate in any form. 😇 You still can get them in the 20, 25kgs weight range.
(These specifications can vary from manufacturer to manufacturer)
4. ✅ Urethane Plates
This is your general all-purpose plate. They're not made to be dropped like bumper plates but they're the most durable — and also the most expensive — option of weight plates.
➡️ These plates are great for use on machines, bench press, and anything like that and are used commonly by big commercial gyms that have enough cash to disperse.
They select these plates because they're quieter, cleaner, and more professional-looking than the cast-iron plates normally. And they can easily behold with handles/ holes to move around the gym.
Their cost is nearer to the bumper plate, but certainly, they're not bumpers. So for Olympic weightlifting and CrossFit, they are worthless.
Because of this, and the fact they aren't really any cheaper, in fact, they are the costliest material plate, this form of weight plate in a personal gym is actually not necessary. But if you want to have a clean look and no clanging, then by all means get urethane plates. 💯
5. ✅ Change Plate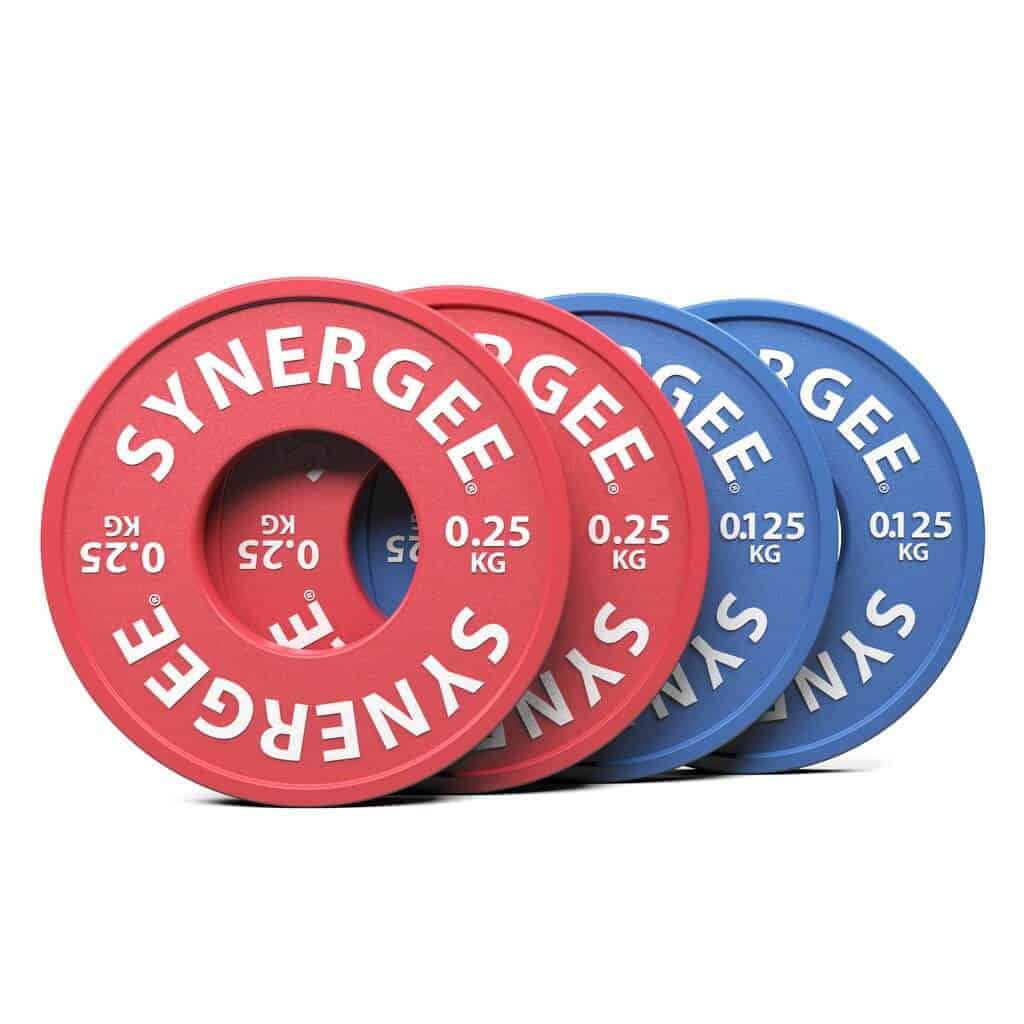 Change plate is very similar to a small lb plate and designed for micro-loading, personal records, and custom weight selection in advanced stages of the competition where it is only possible to increase a max load at a gradual pace. 😇
These plates are useful for advanced powerlifters and Olympic lifters, for the purpose to increase the load in small increments. This bit of small extra weight is helpful in boosting motivation during big lifts.
✔️ Who needs them?
Lifters who push their limits and hit PRs, every fraction of weight does matter. With 50.40MM collar opening change plates you can create a uniform look when loaded. 😊
➡️ Probably, if you are a beginner you can get away without them but if you already train to the roof, then making small/ fractional jumps in load is what accompanies you to remain at the top. And ultimately you do need them.
✔️ How many weight plates to buy?
Consider buying a full set or six pairs of kilogram change plates, or if you workout with pounds there are only 3 change plate pairs you can get.
Change Plates come with 10 plates total: 1 pair each of 0.5KG (White), 1.0KG (Green), 1.5KG (Yellow), 2.0KG (Blue), 2.5KG (Red), to 5.0KG (White). Each painted in beautiful colors, to quickly identify what weights you are using. 💯
6. ✅ Fractional Plate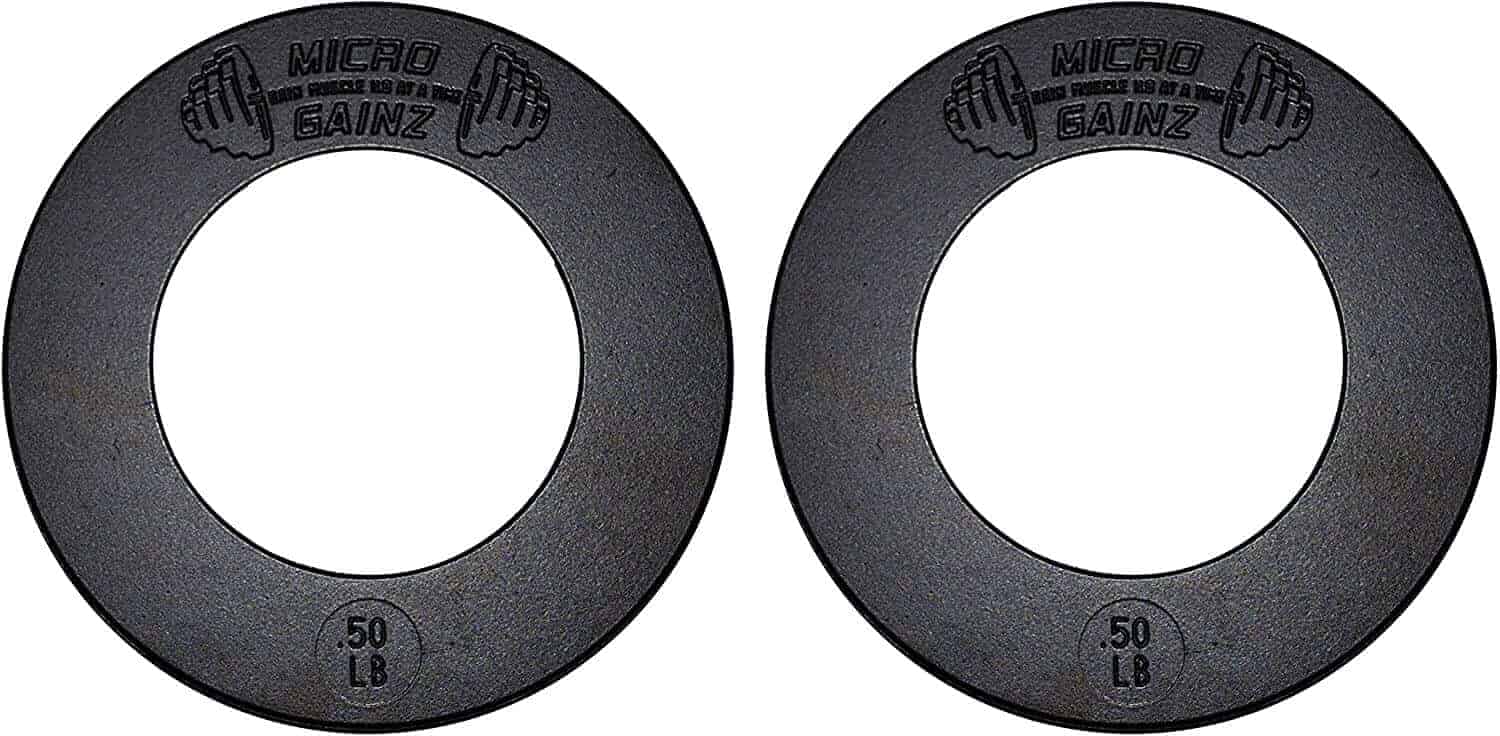 And then there are fractional Plates, these are smaller, lighter-weight plates that are similar to change plates, the only difference is the smallest weight here being 0.125kg which does help you push past your 1 rep max.
The idea of these plates is simple, sometimes 5lb or even 2.5lb weight is too large, therefore fractional plates are available in 0.25lb to all the way up to 1lb. They have high weight tolerance accuracy within +/- 5 grams of the stated weight.
The inner diameter of the fractional plate set plays little with the sleeves which you ever want with every plate. This same inner diameter is used throughout all the plates and fits just as well on specialty bars. 😊
✔️ What weight do you get fractional plates?
➡️ Fractional plates do allow for many smaller increments than change plates; a fractional set in pounds would consist of a pair of ¼-lb, ½-lb, ¾-lb, and 1-lb discs.
Unlike change plates, there are not many color codes available to indicate the weight which makes them extremely simple to store.
✔️ Who needs fractional weight plates?
I feel that most people can make a leap in weight which a change plate would allow for and do not require to micro-load with a fractional plate, especially people who use kilos, not lbs.❌ Lastly, it's up to you.
Now, the question you may ask?
Why Spend On Weight Plates- Is It A Big Rip Off?
Because believe it or not "All weights are not created equal". ❌
➡️ I say that I'm fully aware that I spend way too much money on gym equipment but having the experience of posting a lot of this stuff online and dealing with commentary I know a lot of people are of the opinion- Weights don't really matter.
So there's no reason to spend a lot of money on let's say a set of 45lbs when it's still going to weigh as much as a cheaper pair of 45's.
Certainly, that is not the case, but that being said it doesn't always matter for everybody based on your own preferences, your own likes, as well as your own budget.💲
And even though these things may not apply to you. I think it's important to keep top of mind when deciding on weight plates, as there are some trade-offs with going the cheap route.😅
✅ Which Weight Plates to Buy? (For whom, which is BEST?)
Therefore, although these options include some specialized weight plates if you can afford them they are valued for money.
☑️ Recommended for powerlifting, strongman, and bodybuilders:
A staple for powerlifting gyms, the Calibrated KG steel plates approved for use by IPF, are plates that ensure your lifts are true and accurate. 😍
These are a bit expensive compared to cast-iron plates but are the best options for advanced powerlifters who insanely dialed in the accuracy of their stated weight. You can also consider Machined Plates for that matter.
☑️ Recommended for CrossFit gyms, and Competitions:
Color Bumper plates are essential in this regard, but as they are training plates, without paying the cost connected with them, you receive all the benefits of 🏋️‍♂️ Olympic Version Calibrated Bumper Plates.
If you have a lifting platform, these plates are a must-buy. Do buy them in KGs, because that's how you'll be competing. 🙂
☑️ Recommended for Commercial Gyms:
A great man once said ain't nothing sweeter than the sound of 45s slapping together. The noise makes up the harmony in the gym.
You can go for an old-fashioned iron weight plate for gym, but if you are worried about their rupture a urethane plate that is smartly designed with either steel or iron and coated with urethane is very durable, and a need in gyms.
☑️ Recommended for home use:
🙂 Black bumper plates, hands down the way to go for home gyms. 🏠 Working out at home gives all the freedom, but dropping metal weights on the floor can disturb neighbors or even damage the floor.
The fact they are made of recycled rubber, with a large surface area and softer durometer rating makes all the due difference. Their cheap price compared to Training Bumpers gives them a buy signal. But they often bounce higher😱, so if that an issue go otherwise.
Most Frequently Asked Questions
What are the best bumper plates in India?

Do weight plates get heavier or lighter over time?


Weight plates don't get heavier or lighter, the logic lies in the variation in volume. If you continue to lift 10kg for years instead of challenging yourself, they will get lighter. "Virtually" and it's just a psychological feeling. Weights are not getting lighter, you are getting stronger.

How to put weight plates on a barbell?

Let's take an example of a Calibrated iron weight plate. These plates are designed with a lip that is grabbed with four fingers, not one thumb. Always hold the plate with 8 fingers of both hands, and slide it into the barbell sleeve securely. Do use the same 8 fingers when you need to unload the plate. See this video on youtube.   

What is PVC weight plates?

PVC plate is a durable type of plastic made of vinyl. It's lighter, cheap but can't be compared to rubber or steel in terms of durability and resilience to drops. These plates have an outer casing of plastic and under them, the cement or cheap fill is filled to calibrate their weight equal to the weight plate.

Are iron weights better than rubber?

The iron plates are cheaper in cost than rubber, which gives them a certain upper hand. However, rubber plates are a better choice than chrome or iron plates for the reason of their durability, finishing that is long-lasting and maneuverability to be also used for Olympic lifts. NOTE: If you're allergic to latex or want a compact plate to load the bar to the max, then iron plates should be your pick.  

Why does cast iron plate feel so heavy compared to bumper plates of same weight?

The heaviness of the substance depends on the density of the material, metal being of very high density as compared to rubber, hence it feels heavier than rubber. Although this is true, considering the lesser drag rubber has, due to less air resistance rubber has, makes them feel lighter.

What should be the gap between barbell sleeve and bumper plates?

On an Olympic barbell with a sleeve diameter of 49.5 to 50 millimeters, the weight plates have a much smaller tolerance, between 50.2 and 50.8 millimeters. Bumper plates are designed for a snug fit and smaller gaps use them for heavier lifts. Beyond that, you can choose metal plates.

Does all size weight plates fit in 7 feet barbell rod?

Not all weight plates fit in, all barbells. The most obvious difference is 1" hole size plates will fit in 1" barbell and the same for 2" plates. If you want to load as much weight, you need to choose the densest plate.   

Who should not buy bumper plates?

Not most people drop the weight and bar significantly in an uncontrolled way from time to time. If done, weight plates are gonna clang and bang between each other and hit a surface very hard. For them bumper is good, but for rest, even steel plates would do the job. But in case you don't have a floor mat or platform, you always prefer bumpers over steel plates.
Ending.
If you have any questions on the different types of weight plates or which one is the best weight plate for home gym and work for you, or for your CrossFit, garage gym, just put your questions into the comment box or shoot us an email at [email protected] and we'll get you hooked up with whatever you need.
Thanks for reading! You may show some love by sharing this blog post.
Sharing is caring. 💖