If you're familiar with the full body vibration machine, good. But when I first saw this on a commercial, I thought it was some type of gimmick and it wasn't until my aunt who's 67 she was raving about how it helped her to lose weight and allowed her to exercise.
Even though she has implants in her knees and it's just improved her mobility and her balance to a great extent.
That's why I started doing some research of my own. Now what sold me onto this machine is that "Just 15 minutes of working out on this vibration platform is equal to an hour of jogging, an hour of biking, an hour of cardio at the gym, 30 minutes of swimming or 30 minutes of yoga"
But, I wonder how?
Because when you go to the gym you use weights or resistance, but when you're on the vibration platform/ vibration plate machine, the vibration acts as a resistance.
Typically, people perform exercises such as squats, pushups, or crunches on the vibration machines. These vibrations when set at different intensities make your muscles work harder to function and can help you lose fat, build muscle, and get stronger. (As claimed.)
It also causes a reflex muscle contraction because when you step on this full-body vibration machine, your body then naturally contracts hundreds of times in a minute which helps improve muscular strength, power development, kinesthetic awareness, and decreased muscle sore substantially.
Even though when you are on the vibration platform, this is not under your conscious control, but it still requires energy and allows you to burn calories.
I can't confidently say "It's better than 30 minutes of swimming, yoga, cardio at the gym". But is there any evidence that does vibration machines work or is it just another weight loss fad?
Let's find out.
Do vibration platform machines work?
The concept of a vibration machine is- it transmits the vibration signals to body tissues, tendons, and muscles, which enhances muscle contractions and gradually improves muscle strength, coordination, and balance.
Such contractions will in the long-term increase muscle mass and energy expenditure, thus leading to better control of blood sugar levels. The current theory also indicates that bone cells are receptive and respond by increasing bone density. This has an added effect on better sugar control..
But full-body vibration therapy was initially developed for athletes to boost their training performance. Vibration platforms will then have to be used in some regular conditioning and gym exercises, such as squats, press-ups, and step-ups.
As can you feel just by standing (on the machine) this is working out your entire core, your lower body, your upper body, and depending on how you stand determines what part of your body it works.
So if I slightly bend my knees. I'm really feeling it in my thighs. If I stand up straight, it's then going from my bottom part down my feet all the way up to the back and I feel it throughout my whole core here. Also, if you slightly lean forward, you'll then really feel it in your torso as well as your lower part of your body.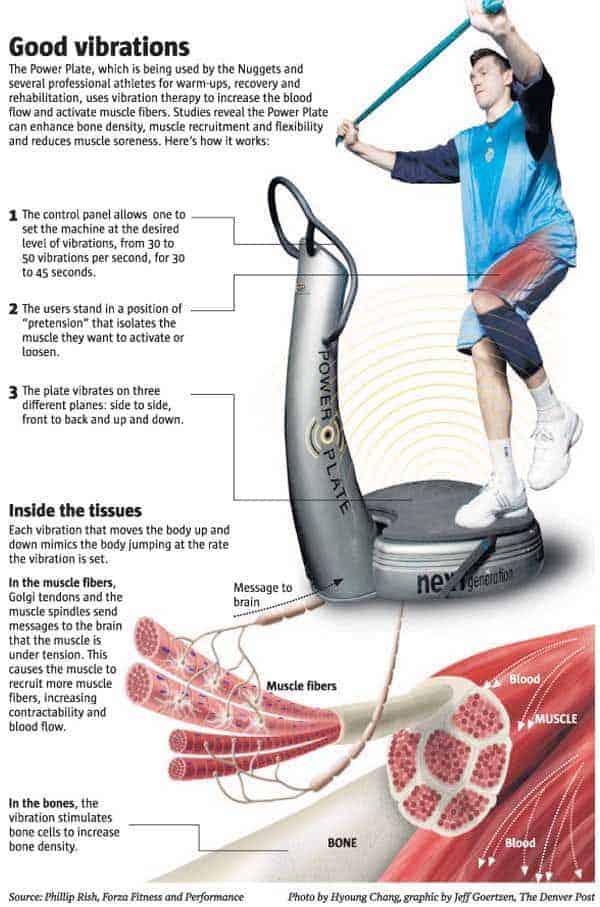 So this machine is really beneficial if you can't move enough or are really stiff, it trains your full body as a whole. But…
Marketing and hype now go far beyond science and scientific evidence—but from a conceptual point of view, it will possibly boost the strength and stability of the muscles and increase bone density.
I do not believe that it will help you lose weight or reduce cellulite formation on your back and hips. There is no sound medical proof to support these or other health claims.
What are the whole body vibration machine benefits?
Just to discuss some benefits of this machine, I want to mention that I've had this constant pain behind my knee all summer. I've been walking. I've been biking, and it hasn't gone away. I've been stretching it'll go away for a little bit and later it'll come back.
Now when I've been using this vibration machine for 2 weeks and though I haven't even been consistent in using it for 2 weeks and in just that little bit of time, that pain has subsided.
So it worked for me, for a reason.
Some other whole-body vibration machine benefits are:
Now it's also recommended to notice a difference to work out in increments of either 5, 10, 15, or 30 minutes max for each session.
Don't go over 30 minutes max so you can do a workout in the morning, afternoon, or at night, but for every single session don't go over 30 minutes.
Another great advantage to this machine is that you can receive benefits by even just sitting down.
That's why this is suitable for senior citizens, whether they're beginner, advanced, or professional athletes. They have this machine in doctor's offices and wellness centers because this helps with the recovery of the body, and actually doing this has really helped with that pain that I've had in the back of my knee.
The seated position really helps with your pelvic floor activation. For example, if you have bladder control issues, or if you are a few months post-c-section or post-hysterectomy you will feel the benefits because the vibration coming from your feet going all the way up to your legs to your lower pelvic and your lower torso and helps in the recovery process.
As I have mentioned earlier, this concept has been around for years.
That means Vibration machines have been the more expensive machine that's been in doctor's offices, but doctors have been using this in the rehabilitation of fibromyalgia, ms rheumatoid, arthritis, and a variety of other ailments.
Best vibration machine for weight loss in India.
Top Pick
Kobo 200W Vibration Plate Machine
Intelligent multiple circuit protection.
Intelligent monitor.
Frequency: 50Hz
2 Different Strength Resistance Bands
Just to show you the model I have this Kobo 200W Vibration Plate and I like this lot better because it is lightweight, so it comes with these armbands mostly I just took them off because it was a kind of rattling there.
Herewith this vibration plate which goes from 1 to 180 you can maintain a top with variants of the speed range, from 60-speed levels, low-speed and high-speed modes for intensity adjustments, and with 8 exercise modes that include: walking, jogging, running, yoga mode and so on.
You can set it and can switch between and be at the highest mode of walking and then simulate jogging, to pump this all the way up to 120 to 180.
I also love that it has overheat protection, with 10 running programs that set for 10 minutes and it goes through a variety of vibrations during those programs.
It also comes with a remote, so you don't have to keep bending down to operate this. You can just change the vibration and the speed right from the remote, and I also failed to mention that this particular model allows a max weight of 150kgs of a person.
Try it for your home and office, it takes so less of space.
Are vibration machines good for weight loss?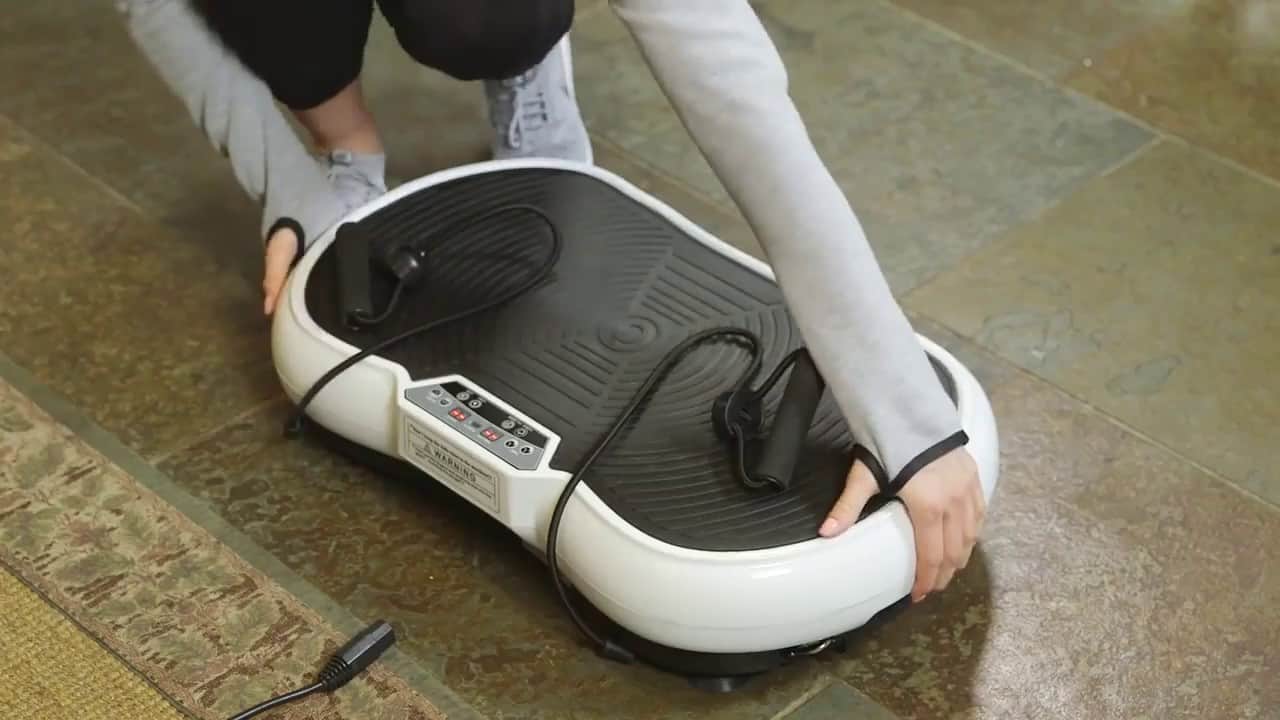 It is not clear how effective are vibration machines for weight loss compared to traditional weight loss techniques. As there is no fast & best weight loss secret exists, but the only fact is eating fewer calories or burning more calories throughout the day than you consume is the ultimate solution for weight loss.
But full-body vibration machine exercises are a good addition to your fitness regime, but they shouldn't be a substitute for eating right and regular exercising.
When working out using the vibration platform, you're using far more muscle activity than you would be doing that same workout on the floor.
Here your body is working harder and eventually the muscles around your joint will grow and throughout the time you will notice a change in your balance, your posture, flexibility, and your coordination.
Generally, people who focus on "steady and slow weight loss approach" are the people who most successfully keep their weight in control in the long run.
Speaking science and studies, Healthline mentioned a study from 2019 which studied the potential fat loss effects of whole-body vibration machines on people. They noticed that whole-body vibration led to a significant amount of fat loss, but did not change the body fat percentage in the long run.
So to confirm are vibration machines good for weight loss, larger and longer studies are required for a systematic review of full body vibration machines.
Takeaway
At this point, the usefulness of vibration machines to help burn fat or build muscle is not evident. Some studies have shown that weight loss occurs, but most of these studies have limited samples or only study people who are overweight.
We suggest never completely replace your workouts with vibration therapy, but it could be added to your existing workout plan and can prove to be equally effective as an aerobic program with a diet program over 9 months.
If you are a young professional who is short of time or a senior citizen who can't exercise regularly, you can grasp whole body vibration machine benefits.
As with any exercise equipment, make sure you reach out to your doctor if you have any type of underlying medical conditions just to be sure that you're not further damaging anything.
Let me know if you have any questions in the comments section.
I'd love to know if you have a vibration platform machine that you use, and of which brand that you guys prefer?
Read more blogs from our library:
Thanks for reading.
Stay strong!
Sharing is caring. ❤