---
No one likes the game of swapping out multiple weight plates during heavy deadlifts, especially if in the gym there is a single deadlift bar to be shared. It takes away a huge portion of your energy & time at the start of your deadlift workout.
In order to do them, most of us likely have used 2.5 or 5-pound plates at some point in time, but that can still be tricky ✨and can even damage the weight plates in the long run.
😀 If your gym is legit, you might be lucky enough to have use of a full deadlift bar jack because these make lifting and unloading the bar super easy.
The problem is most gyms don't have these pieces of gym equipment and they can take up a good amount of space.
For those looking for the benefits of a deadlift jack but aren't willing to shell out thousands or so, or something that doesn't take space-🏋️‍♂️ Bullrock Mini Deadlift Jack might be the perfect solution.
The price point is relatively inexpensive when compared to other pieces of equipment, unlike other specialty items for deadlifting like belts or shoes.👞
What is a mini deadlift jack?
➡️ A mini deadlift Jack is a small, somewhat portable version of their standard Jack, and whether standard Jack lifts and supports both ends of the bar, the mini version allows you to lift one side at a time.
It gives athletes more a more space-efficient option for elevating a loaded bar off the ground without the hassle of having an additional spotter or partner.
👍Ideal when working out alone in the home gym.
How to use a mini deadlift bar jack?
Follow these steps:
1️⃣ Just prop the deadlift' jack under the bar.
2️⃣ Pull it back to elevate.
3️⃣ Then slide in or remove as many weight plates as you want, like you would do if the bar is racked.
4️⃣ When completed, uninstall the jack by pushing it forward.
5️⃣ Now, your bar again rests on the floor ready for the deadlift. Repeat.
What are the specifications of the BullRock Deadlift Mini Jack India?
It's an affordable, convenient, and tough alternative as previously mentioned. The main selling points for this jack are its form factor, price, and overall convenience for the job it does. 🥰
Specifications Table:
| | |
| --- | --- |
| Product Dimensions: | 27 x 6 x 14" |
| Weight: | 5.64 kg |
| Finish: | Black powder Coated |
| Padding Material: | 6mm polyurethane |
| Material used: | 2 x 2" 11-Gauge CR Steel |
SOLID CONSTRUCTION
✔️ The Bullrock jack is made from 2×2 inch 11 gauge steel construction with powder coating on it, which provides it enough strength to lift/ carry hundreds of kgs using the leverage physics principles.
KUNRL PROTECTION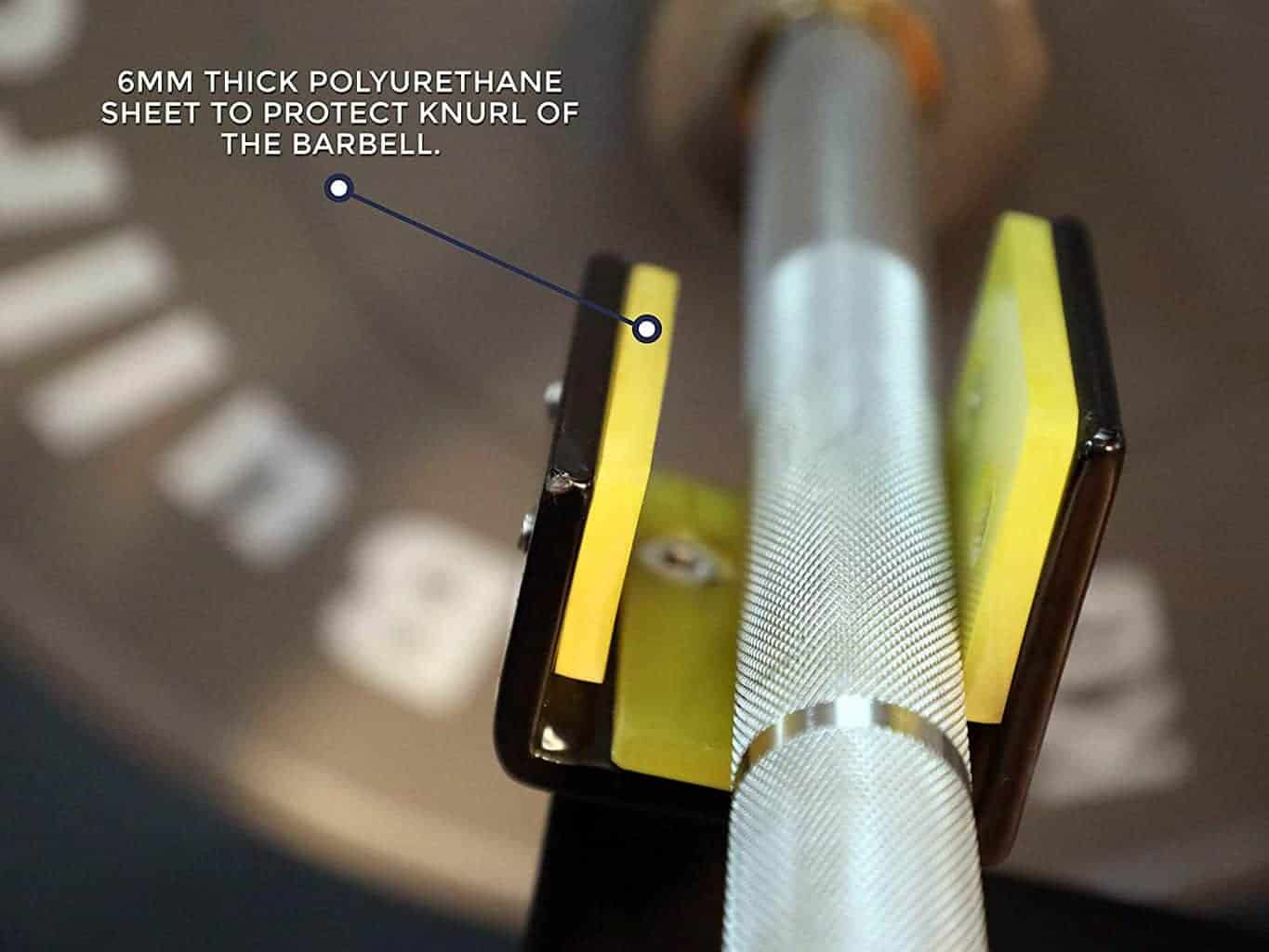 ✔️ A 6 mm Thick Polyurethane sheet protects the barbell knurling and finishes. It's also nice for people who care about prolonging the life of their bars and waits for the UHMW plastic, which is the same Rogue uses. Though Polyurethane does have outstanding impingement resistance, which will help from not damaging both the jack and your barbell over time.
EASY STORAGE
✔️ A footprint of measuring just 27 x 6 x 14" inches can be easily stored at any corner of your gym. Whether it's for deadlifts, cleans, hip thrusts, or whatever else you have planned, just bring it out and install it under the bar. Good for serious lifters working out alone.
DEADLIFT BAR WITH STEEL HANDLE
✔️ The solid steel handle design is protected by non-slip and anti-corrosion PE dipping. The anti-wear gasket around it can effectively protect your pole and prevent any wear. Overall mini jack is the ultimate solution to the problem of levering your bar and slide weights on and off with humanitarian effort.
Who can use the Mini deadlift jack?
The deadlift loading jack can be used by anyone regardless of their own personal statistics.📈
Finally, the fact that Jack raises the end of the barbell completely off the floor means that you can ensure the weights are as close to the collar as possible when the weights are resting on the floor or another plate.
Most lifters will find the weights tend to move around a bit and need to be adjusted while the size and price of the mini Jack are well below that of a full-sized one.
For whom it is not meant?
✔️ For many people, it's still not ideal, so those who train at a commercial gym might find it difficult to travel with or be even skeptical about leaving it at their gym alone.
There are those who also believe that using a small weight plate underneath is fine enough or a Dead Wedge.
There are also many other ways athletes use to Load the bar with ease. Which you may look at.
Any issues I faced with the Bullrock mini deadlift jack?
An issue I had with the many deadlift jack is that the side of the barbell that is not lifted has the tendency to roll around a bit when the other side is raised, which can be annoying and distracting at the same time. 🥵
But overall, for the price and form factor, the mini deadlift jack is worth looking into.
➡️ For anyone serious about deadlifting now if you're at the point you're lifting career where you're only really deadlifting 315 pounds or fewer.
I don't think you'd see as much benefit from it as someone who can lift twice that much, and if you have space and budget. I'd likely suggest the full-size deadlift jack version before this, but either way, you're getting a solid product at a solid price.💯
Best Deadlift Jack India Recommendations:🔰
Bullrock Fitness Mini Deadlift Jack
Take the pain out of loading and unloading the deadlift bar, every time you approach the deadlift platform. Mini deadlift bar is made exactly entirely for this purpose. Very doable even with heavyweights and after you're recovering from a PR.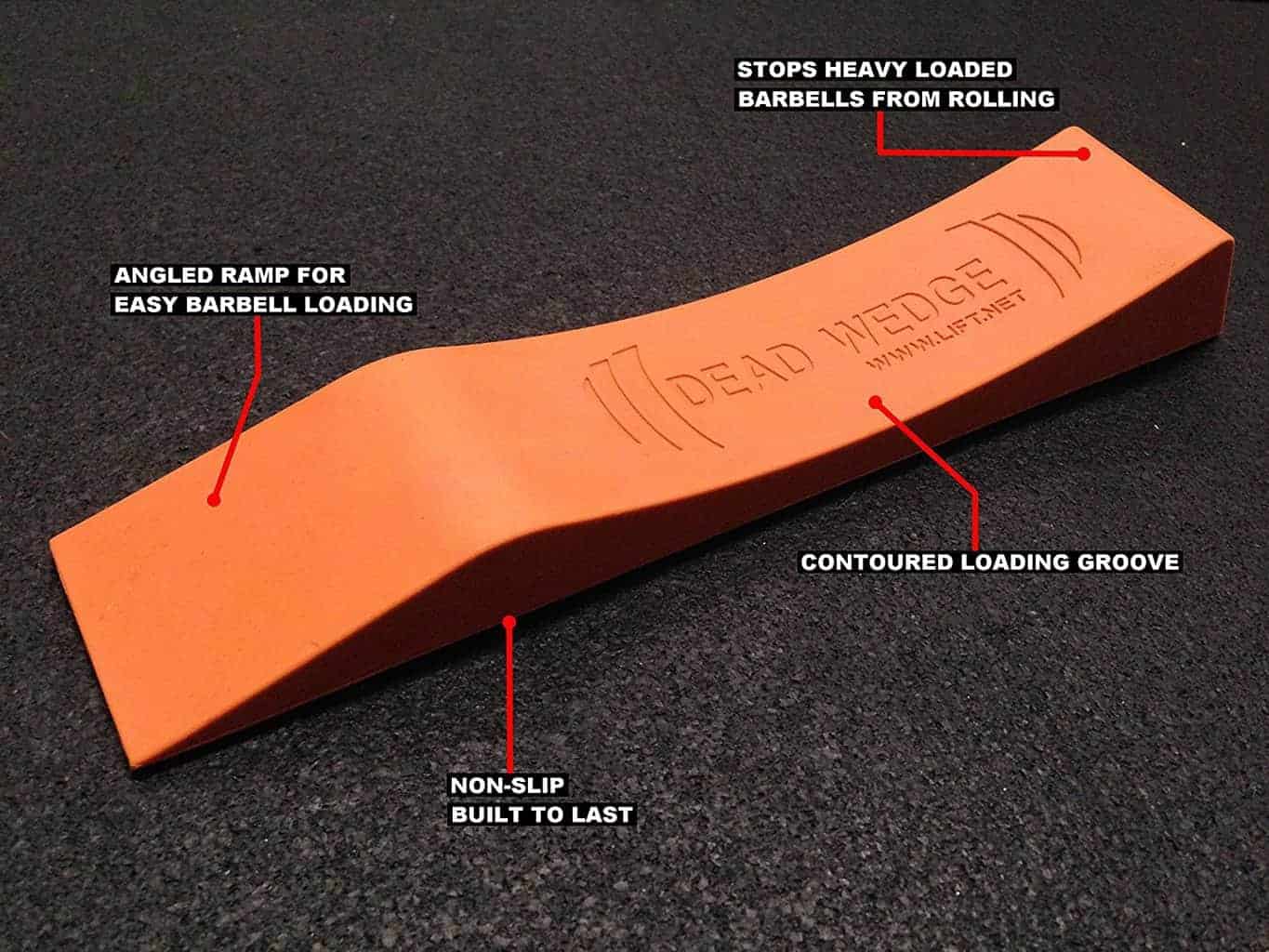 Dead Wedge- The Deadlift Jack Alternative.
Dead wedge is a piece of well-shaped high-density rubber. This makes the larger jack look little and can be kept easily in your gym bag. It is a perfect alternative to a deadlift bar jack, with this you can roll the plate onto the wedge and it stays right there.
---
That's all for this blog "Bullrock Best Mini Deadlift Jack Review India: Why have a Mini Deadlift Jack?"
I hope you get some insights.
So, here is a question for you, "Do you love Deadlift Mini Jack to Load and Unload Plates from Barbell for Weightlifting?" If you have any comments, leave them down below.
Sharing is caring. ❤️